Independence Realty Trust (NYSEMKT:IRT) reported earnings Friday morning, and results came in a bit light. FFO missed by a penny and revenue was short $350K on an expectation of $12 million. Investors sent the stock down Friday almost three percent before a very late rally trimmed the losses to 1.5% on the day. This is to be expected with an earnings miss but in the case of IRT, investors are focused on the wrong thing. In this article I'll take a quick look at why I think the market was wrong to react to the earnings release the way it did and what I'm doing about it.
IRT is a growth company in every sense of the word. It's a young REIT that has been aggressively acquiring new properties and raising capital to keep pace with its voracious appetite. The company owns apartment buildings in markets where it thinks the demographic trends support high rental prices and occupancy rates and judging by the stock's performance, I'd say it's working pretty well.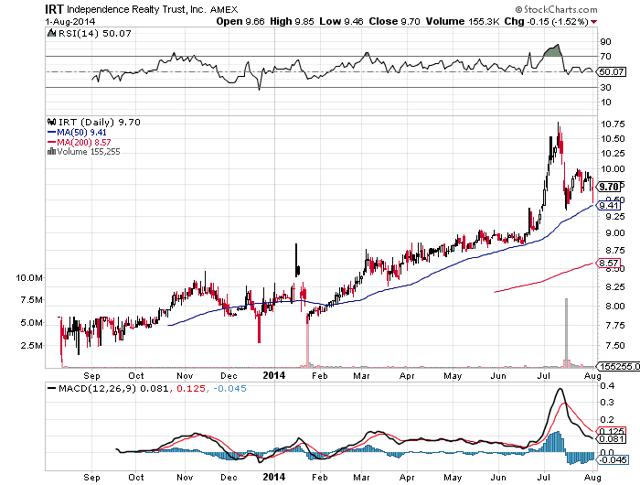 Click to enlarge
As you can see IRT has been a publicly traded REIT for right at one year, and in that time we've seen shares jump from the high $7 range to just under $10 where it settled today. The slow and steady uptrend was punctuated with a melt-up and subsequent melt-down in July, capping the year-long rally in shares. These guys really know what they're doing and it shows.
Since IRT is such a young enterprise, focusing on one quarter's results is meaningless and misguided. Why do we care that FFO came in a penny light? Why do we care that revenue was $350K below estimates? None of that matters when the company is in a rapid growth state like IRT is right now. What we should be focused on is the fact that IRT is still growing its portfolio of properties in a prudent manner and that it had absolutely no problem raising additional capital earlier this summer. There will be a lot more of these capital raises to come, and the fact that it was so easy for IRT is a very positive sign.
Then, there are the substantial distributions from IRT that shareholders receive. IRT's current dividend is six cents per month, or 72 cents per year. That is good for a current yield of 7.4% at Friday's closing price. This is a great dividend but it's even better because it is delivered monthly. This gives investors seeking current income a check every month instead of every quarter or allows investors to reinvest proceeds more often than once a quarter. Besides that IRT's dividend is well covered by operations and given the increase in 2014's dividend to 6 cents from 5.3 cents, we can reasonably expect next year's monthly dividend to be 6.5 to 7 cents, if I had to guess.
So what am I doing with the pullback from the highs to the $9.70 area? It just so happens I was turned on to IRT by Dane Bowler's outstanding article from this past January and I'm so glad I was. I was fortunate enough to get long IRT at $8.25 and collect some dividends before selling at $9.85 on the way up. It turns out I sold too early but with shares back below where I sold them, I'm ready to take a look again. I will be looking in the coming week or so to get back into IRT based upon the bull case Dane laid out in his article, as it is all coming true.
IRT is a fantastic franchise that is in its infancy. Reading too much into one quarter's results is the wrong thing to do with a very young company like IRT. The fundamentals are well intact with IRT and the management team has proven to be quite talented. Shares have reflected this and with the prospect of dividend raises in the future and the recent pullback, IRT shares look too good to pass up here.
Disclosure: The author has no positions in any stocks mentioned, but may initiate a long position in IRT over the next 72 hours. The author wrote this article themselves, and it expresses their own opinions. The author is not receiving compensation for it (other than from Seeking Alpha). The author has no business relationship with any company whose stock is mentioned in this article.