Over the last six months, as economic data has continued to shed light on the domestic landscape, it has become quite clear that the United States is showing real industrial progress. Unemployment and jobless claims are at their lowest levels since 2008, ISM manufacturing data is showing robust growth, and consumer spending ranks among their highest levels in four years. These trends point to a steadily improving U.S economy, and investors need to position themselves for a continuation of these trends for the foreseeable future. The challenge, however, is finding stocks tied to economic growth that haven't already rallied into fair or over-valued territory. Enter Acuity Brands (NYSE:AYI). This mid-cap industrial has mastered a cyclical business model and is in perfect position to take advantage of any future economic progress. However, due to a slight earnings miss in its most recent quarter, the stock has taken a hit, and is now valued below its normal level of growth and performance. If investors or traders have missed a part of the huge rally in stocks since 2012-13 and want to find a way to catch-up, AYI could be the solution. The company sees massive future potential in its various markets, and has a dedicated management team and new products to take advantage of its opportunities in a favorable industrial landscape.
Overview
Acuity Brands is the leading domestic provider of lighting solutions for commercial, industrial, and residential applications throughout North America and abroad. Customers in its various business channels include electrical distributors, retail home improvement centers, utilities and energy service companies. Acuity's largest single client is Home Depot, which accounts for 13% of total sales and has a large presence in the United States. AYI perfectly fits the definition of a cyclical stock - earnings and revenues are directly "…affected by volatility from a number of general business and economic factors, such as GDP, employment levels, energy costs, and commodity costs" (Form 10-k). The company's primary market is non-residential construction, which provides exposure to a highly cyclical business without relying too heavily on new home sales or consumer real estate. A major component of current and future cash flow for Acuity Brands involves not only installation of lighting during construction, but renovation of old or out of date products. AYI's management has referred to this market as a $250 billion opportunity, which not only gives the company a large market to grow into (50x its current market cap), but a guaranteed steady stream of future income. Investors can feel confident that demand for Acuity's products will continue to increase as efficiency standards for lighting become stricter and construction spending in the United States picks up.
At the helm of Acuity Brands is CEO Vernon Nagel, who took over his position in 2004. Before taking the CEO job, Nagel served as CFO since 2001 when the company first went public. This means AYI has an experienced and time-tested manager leading the company going forward, with an impressive track record to show for it. During Nagel's 10 year career as CEO, AYI's stock price has risen by an average of over 38% per year, including the crisis years of 2008-09. This performance should certainly raise eyebrows compared to the 8% per year average return for the S&P 500 over the same period.
If Nagel's past performance doesn't give confidence to investors, then his expectation of future success should. Nagel currently owns close to 200,000 shares of AYI stock, which translates to more than $22 million at current prices. To put this in perspective, Nagel has over 3 years of his current annual compensation invested in his company - if this doesn't show his belief in the business, I don't know what does. With the amount of autonomy and clarity Nagel has over Acuity Brands, the amount of money he has riding on the company's future shows how bullish the future is for Acuity Brands.
Historical Data

Current

1 Mo. Ago

2 Mo. Ago

3 Mo. Ago

4 Mo. Ago

5 Mo. Ago

6 Mo. Ago

Net Insider Transaction

16,404

16,800

15,469

-531

-1,195

-2,834

-2,834

Shares Bought

16,404

16,800

128,229

112,229

112,565

54,366

54,366

Shares Sold

0

0

112,760

112,760

113,760

57,200

57,200
Apart from the CEO, other company insiders have been scrambling to up their positions in Acuity as well. As you can see above, insider selling has turned into insider buying over the past few months, with close to 50,000 shares purchased, or $5.4 million at today's prices. When company employees and executives are buying their own stock, investors should buy alongside them, because insiders usually have better knowledge about future results and are motivated enough to put their hard-earned money where their work is, so to speak.
Earnings
One reason insider buying might have picked up recently is due to the 21% drop AYI's stock has experienced since the beginning of July. The fall was attributed to the company's most recent quarter, where earnings and revenue both missed Wall Street expectations. Keep in mind, however, that Acuity Brands doesn't give earnings or revenue guidance, which could mean higher than average volatility around its quarterly reports than other companies. Opportunity or risk, consider it however you wish.
On the conference call, Nagel talked about the current situation for the company, and where he expects business to progress. Specifically for the company's LED division, business was reported as booming, with sales doubling year over year. Nagel put it into perspective:
"If the sales of our LED-based luminaires were measured as a separate business today, we believe it would easily be the fourth largest lighting company in North America; and remember, it is still only one third of our total business" (Q3 Conference Call)
Management also talked about the introduction of new products, which should continue to increase future demand. Acuity's R&D division, as well as its recent acquisition of eldoLED in 2013, allowed it to win the coveted Innovative Product of the Year Award at the Las Vegas light fair (yes, a light fair does indeed exist…). AYI's eldoLED acquisition seems to be paying off, as the opportunity for the LED driver market was discussed as "a $1 billion potential within the next 10-12 years." Management sounded quite confident about their plans for the future of the company given the reaction the stock took the following day, and showed no concern over increased competition or regulatory intervention. In fact, they took competitors head on, stating that their products are the best on the market and rival producers such as Eaton or Phillips can only compete by shrinking their margins to offer lower prices to consumers.
While investors may have been spooked by AYI's earnings miss and subsequent price drop, many saw the quarter for what it was - a strong performance building towards a successful 2014-15. A week after Acuity unveiled results, BB&T upgraded the stock to a Buy with a $138 price target. This is a gutsy analyst call, because in most other situations where a company reports misses on both the top and bottom lines, analysts revise their estimates down to keep pace with the declining share price. Instead, BB&T went against the current and called for shares to appreciate more than 16% from where they were on July 7th when the call was made. For an analyst to make a contrarian call in the face of a declining stock price, there had to be evidence that the company wasn't in as bad shape as investors first presumed. If any positive news is announced about Acuity in the future, look for other analysts to follow suit and send the stock price higher.
Valuation
With these earnings in mind, the value of Acuity Brands can be compared to the recent performance of the stock, which has had a rough few weeks since it reported earnings. At current prices AYI trades at 28 times earnings, which is lofty compared to the S&P 500 and other more mature industrial companies. However, when taking into account earnings growth of this relatively small and young company, AYI's multiple can be easily understood. Over the past 4 years, Acuity has grown EPS by 27% annually, underscoring the success management has had in building a strong brand and growing its product portfolio to meet increasing demand. Given this growth rate, AYI's PEG ratio, or multiple/growth rate, is quite reasonable, especially compared to its competitors:
AYI PEG Ratio (TTM) data by YCharts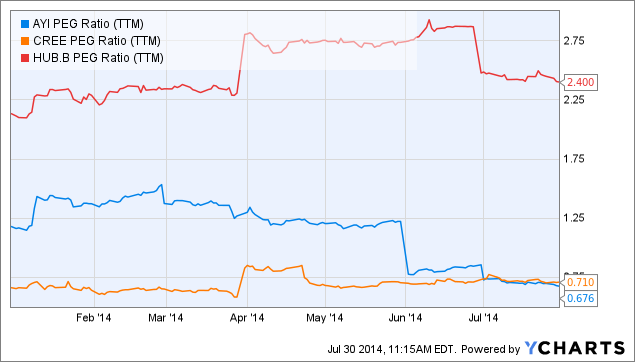 AYI PEG Ratio (TTM) data by YCharts
Despite a stellar share performance over the past decade, Acuity Brands is still growing at a significant rate, and should be rewarded with a higher multiple as a result.
Catalysts
Looking ahead for the rest of 2014 and 15, Acuity Brands has a number of developments that could contribute significantly to its top and bottom lines. The first, and potentially most important, is the debate over government spending on infrastructure in the United States. As has been discussed for many weeks and months now, roads and bridges across the country are aging rapidly, and many are becoming unsafe to use. Amid the budgetary debates of 2012-13, many in Congress and the White House brought up the issue of repairing the nation's infrastructure to maintain adequate safety standards and spark much needed - if only temporary - job growth. If more money is allocated to infrastructure spending in the future, Acuity Brands is the company that would benefit directly from it. AYI's 10-K mentions that "construction spending on infrastructure projects such as highways, streets, and urban developments has a material impact on the demand for the Company's infrastructure- focused lighting solutions". This is the exact need that Washington is discussing solving, which could mean large-scale projects coming Acuity's way in the future.
Other catalysts for AYI involve its seasonality of earnings towards the second half of the year. With an earnings report that triggered large blocks of selling, many investor and analyst expectations are likely to be shifted downward for the rest of the year. Coupled with a lack of earnings guidance given by the company, many are unsure of growth numbers for AYI for the remainder of 2014, which could provide a short-term opportunity. Until AYI reports earnings again, the stock is unlikely to show any momentum to the upside, which allows investors to buy into the company at depressed levels. When the company reports its results next quarter, which should include seasonally higher business growth, analysts and other potential investors would react positively to an upside surprise, which would send prices back to their highs. Just last January when AYI reported an upside surprise, shares jumped 17% in one day. The company's last quarter could be setting investors up for another positive surprise like this, which means significant gains in a relatively short amount of time.
To gauge AYI's results without earnings guidance from management, I would look to Home Depot's performance for a clue. Home Depot accounts for 13% of Acuity's sales, which represents a large portion of total business in one client. If Home Depot's earnings show growth, it could translate positively to Acuity's earnings as well. If HD's earnings disappoint, however, it may be an omen of weakness from suppliers. This connection between companies can be seen through their earnings trajectories: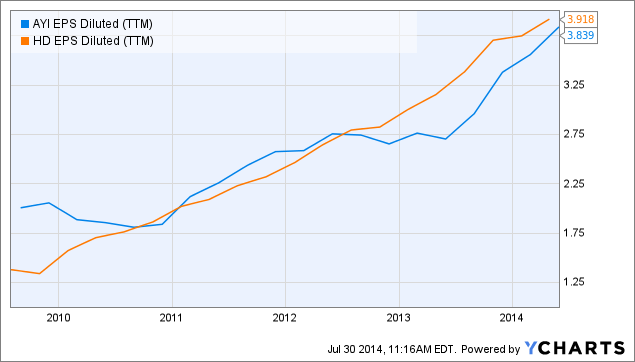 AYI EPS Diluted (TTM) data by YCharts
If either companies' earnings diverge from each other, it could mean either a change of business strategy or a sign that the other company's earnings will follow suit. With this indicator in mind, investors can discern AYI's potential results without relying on management forecasts.
Conclusion
As the economy improves, cyclical stocks are sure to show appreciation in both earnings and share price as investors clamor for a piece of the industry. For those of you who need to play catch-up, AYI provides the opportunity needed to up your return in this bullish cycle. With an impressively strong business, increasing demand for its products, and a valuation at a discount to its recent growth trend, Acuity Brands is a company that insiders love and a stock that should rebound significantly in the future. Even though shares have underperformed over the past few weeks, a noticeable increase in insider buying and analyst upgrades since its last quarter suggest better times are ahead for the stock. Before its next quarter, potential buyers can pick up a rapidly growing business that has been taken off the community spotlight, and is sure to return there once the 2nd half shows progress in earnings. With help gauging future results from companies like Home Depot, downside risk is muted in shares of AYI until growth numbers impress again.
Disclosure: The author has no positions in any stocks mentioned, and no plans to initiate any positions within the next 72 hours. The author wrote this article themselves, and it expresses their own opinions. The author is not receiving compensation for it (other than from Seeking Alpha). The author has no business relationship with any company whose stock is mentioned in this article.