After reporting earnings and missing, shares of Kraft (KRFT) sold off nearly 7%. With the overall market dropping by nearly 2%, losses were accelerated which added insult-to-injury. This puts shares in an interesting position as they approach the 4% yield mark, however, as well as from a total return perspective.
Rising costs and price increases
Kraft increased prices during the quarter on around half of its portfolio to match increasing commodity costs. This was during an "intensely promotional holiday quarter," according to CEO Tony Vernon, who noted a late Easter was coupled with Memorial Day and Fourth of July. Rising input costs also led to an increase in inventory levels.
The company's largest segment, Cheese, was impacted by record costs related to milk and cheeses. The company responded by raising prices across its Cheese portfolio by 5% to 12%. This is probably the right move long-term, but in the short-term raising prices when most competitors don't often leads to losses in market share.
Challenging top-line growth, healthy free cash flow
Kraft's segments include: Cheese, Refrigerated Meals, Beverages, Meals & Desserts, Enhancers & Snack Nuts, Canada, and Other Businesses.
| | | | |
| --- | --- | --- | --- |
| | Net Revenues | Year-over-year change | % of sales |
| Cheese | $952 million | 1.60% | 20.05% |
| Refrigerated Meals | $916 million | 2.60% | 19.30% |
| Beverages | $748 million | flat | 15.76% |
| Meals & Desserts | $518 million | -5.00% | 10.91% |
| Enhancers & Snack Nuts | $600 million | 1.40% | 12.64% |
| Canada | $523 million | -3.10% | 11.02% |
| Other Businesses | $490 million | 6.10% | 10.32% |
Overall revenues for the quarter were roughly $4.7 billion, an increase of 0.7%.
At first glance, it appears that operating income dropped by about 37.5% year-over-year, but after excluding a $604 million benefit from market-based impacts to post-employment benefit plans, things look much better. Operating income for this quarter came in at $874 million versus $794 million if excluding the benefit last year.
Earnings missed by a penny, coming in at $0.80 a share, versus $1.38 last year. Excluding last year's $0.62 benefit, however, earnings-per-share were actually up this quarter from $0.76 in 2Q of last year.
The company also saw a double digit increase in free cash flow during the last six months, which totaled $450 million.
More on that cash flow
While growth in free cash flow appears healthy, free cash flow productivity is a different story. This was brought up during the conference call by an analyst with Deutsche Bank, Eric Katzman, who noted that the company was running way below its free cash flow efficiency goal of 90% at only about 45%.
Kraft's CFO, Terri List-Stoll clarified this situation by explaining that:
Two things. One it definitely is below the goal for the year, but it isn't unexpected or inconsistent with our seasonal pattern. So, typically the second quarter in particular is where we have the biggest working capital demand. And so, the second half cash flow generation historically is much better and that's exactly what we had predicted and expect for 2014.
List-Stoll also explained that the company bought back $235 million in shares, but this was largely offset by a higher number of exercised stock options triggered by an increasing share price.
Valuations and fundamentals
I will compare Kraft to competitors General Mills (NYSE:GIS) and Kellogg (NYSE:K), two similar companies in the food industry:
| | | | |
| --- | --- | --- | --- |
| | P/E | Forward P/E | Dividend (yield) |
| KRFT | 11.65 | 15.57 | $2.10 (3.92%) |
| GIS | 18.39 | 15.57 | $1.64 (3.23%) |
| K | 11.48 | 14.18 | $1.84 (2.70%) |
When looking at Kraft's yield and valuation amongst some of its peers, it looks like a fair value in today's market after the drop. All packaged food companies will likely continue to face headwinds from higher costs going forward as well. As Kraft's dividend gets closer and closer to 4%, I will be layering in to my existing position.
There's also a good chance the company will increase its dividend soon, around October if the past is any indication. The last increase was 5%, so if we extrapolate that out and extend it to the current dividend, we get around $0.55, which would give us an estimated forward yield of 4.1%.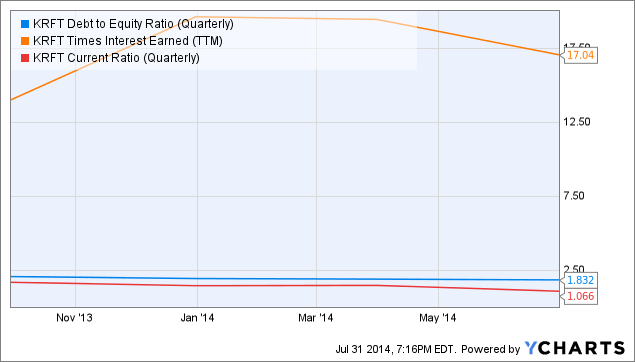 KRFT Debt to Equity Ratio (Quarterly) data by YCharts
While Kraft may appear to carry a larger-than-normal debt load, this isn't out of the ordinary for its industry and is relatively in line with peers - General Mills carries a debt/equity ratio of roughly 1.34 and Kellogg sits at 2.18.
Risks
Continued headwinds from cost increases
Rates rising quicker-than-expected could put pressure on high-leveraged balance sheet
Loss of market share if competitors keep prices low in relation to Kraft's recent increases
Geopolitical tensions/overall market correction
The bottom line
Kraft got hammered for its earnings miss, and rising input costs will likely remain a headwind for not only the company, but the industry as a whole. As competitors are forced to increase pricing along with Kraft, this should theoretically bode well for the company's market share further down the road.
Its above-average yield should also prevent it from facing too much further downside, and an upcoming dividend increase will cement this fact further into the share price. The company appears fairly valued at current levels, specifically as an income play with the potential for a little capital appreciation if the share price recovers. I will be adding shares on any weakness.
Disclosure: The author is long KRFT, GIS. The author wrote this article themselves, and it expresses their own opinions. The author is not receiving compensation for it (other than from Seeking Alpha). The author has no business relationship with any company whose stock is mentioned in this article.
Additional disclosure: Articles I write for Seeking Alpha represent my own personal opinion and should not be taken as professional investment advice. I am not a registered financial adviser. Due diligence and/or consultation with your investment adviser should be undertaken before making any financial decisions, as these decisions are an individual's personal responsibility