Date Launched: Sep 20, 2010
Links: Factsheet (pdf), Website, Prospectus
Investment Strategy:
BABZ is an actively-managed ETF that provides investors with exposure to taxable municipal debt securities issued under the Build America Bond program. The fund invests in investment-grade debt and provides daily transparency of holdings. PIMCO conducts issuer-specific credit analysis to analyze each issuer in order to avoid municipalities with deteriorating credit quality. The active management pursued by the portfolio managers enables the portfolio composition to change when credit conditions change. At the date of writing, the fund held 37 different securities which had an average duration of 13.22 and an average maturity of 28.5 years. BABZ had a 30-day yield of 5.17%. The fund does not utilize any derivatives and does not invest in options, futures or swaps. The benchmark for the actively-managed fund is the Barclays Capital Build America Bond Index.
Portfolio Managers:
PIMCO serves as the investment manager of MUNI. PIMCO has more than $940 billion in assets under management as of Sep 30, 2009.
Danford O. Peterson – Senior Vice President at PIMCO, joined PIMCO in 2010 before which he served as Vice President at Goldman Sachs in the municipal bond trading group.
The Numbers:
Current Market Cap – $21.7 million
Expense Ratio – Capped at 0.45% till Oct 31, 2011 (by contractual agreement), 0.57% without fee waiver.
Average Volume – 18,634 shares
What's special about it?
1. There are only 3 ETFs in the US that provide exposure to the Build America Bond sector. BABZ is the only fund that provides active management in the space in ETF form. The other two index ETFs are the PowerShares Build America Bond Portfolio (NYSEARCA:BAB) and the SPDR Nuveen Barclays Capital Build America Bond ETF (NYSEARCA:BABS).
2. BABZ managers can pick and choose which issuers they want exposure to through Build America Bonds and are not obliged to own the bonds just because they are part of the index. This discretion shows in the number of securities held by the fund. Where BABS held 93 securities and BAB held a whopping 301 securities, BABZ held only a select 37 securities.
Analysis:
Positives –
- Considering the relatively poor fiscal condition of various municipalities around the US due to budget deficits, active management in this space may be necessary to avoid holding onto each and every Build America Bond, regardless of the credit quality of the issuer.
- Unlike index bond ETFs, which depend on the rating agencies for credit analysis, PIMCO analyzes each municipality's fundamentals and BABZ provides access to that expertise.
Negatives –
- BABZ has a marginally higher expense ratio which is 10 basis points more than the 0.35% expense ratio that BAB and BABS have. However, that 10 basis point difference may be justified given that investors are getting an actively-managed portfolio in return, as opposed to a passive one.
- The performance of BABZ in its short history has been nothing to call home about. While the Build America Bond sector as a whole has declined by about 7%, BABZ has not been able to beat its index counterparts as shown in the chart below.
Performance to Date, compared to the PowerShares Build America Bond Portfolio (BAB) and the SPDR Nuveen Barclays Capital Build America Bond ETF (BABS):
click to enlarge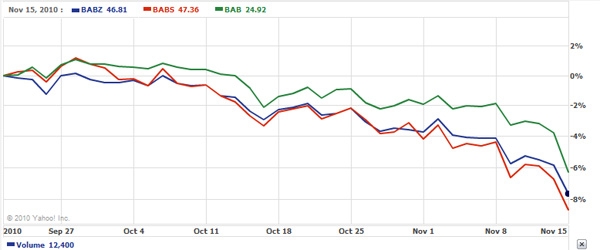 Disclosure: No positions in above-mentioned names.
Disclaimer: Views and opinions expressed on EtfsHub are those of the author alone and do not in any way represent the official views, positions or opinions of the employers – both past or present – of the author in question, or any other institutions and corporations associated with the author. Etfshub is not an investment advisor, neither the information nor any opinions contained or expressed above and elsewhere on EtfsHub constitutes or should be construed as a solicitation or offer by EtfsHub to buy or sell any securities or other financial instruments or to provide any investment advice or recommendations. None of the material above and elsewhere on EtfsHub is intended to endorse or promote any company or its products. EtfsHub shall not be liable for any claims or losses of any nature, arising indirectly or directly from use of the information on or accessed through the site. Please see full disclaimers here.