The market measured by the S&P 500 had its worst weekly decline in two years this week. The Dow Jones Industrial Average is now negative for 2014. The Russell 2000 is in even worse shape as it continues to struggle as investors continue to flee "risk on" trades. This can be seen in how significantly it has underperformed the S&P 500 over the past half year. This divergence is not a good sign for the overall health of the market which was recently noted on MarketWatch.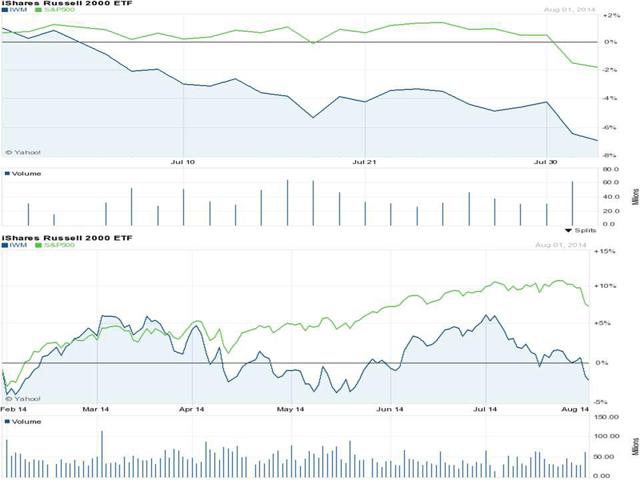 I noticed the energy sector was a significant laggard this week. Small cap E&P plays were particularly hard hit. Oil majors like ConocoPhillips (NYSE:COP) performed better but still were down nicely for the week. High yielding energy partnerships were also hit hard which is somewhat surprising given that the ten year treasury yield moved down to 2.5% this week. Declines in interest rates usually are supportive of this sector of the market.
Prices for oil and natural gas have declined somewhat recently, but not in my opinion enough to justify this sort of market action. The high yield energy space seems to be offering some attractive entry points for patient long term investors seeking yield. Here are a few plays I added to this week in the market downturn.
*Note I am not advocating going "whole hog" to buy this dip, just actioning incremental moves*
Memorial Production Partners (NASDAQ:MEMP) dropped around $1.50 a share this week to ~$22 a share, a roughly 5% that looked actionable. Memorial is an upstream Master Limited Partnership (MLP) focused on the acquisition, production and development of oil and gas properties in the United States. Its diverse properties consist of mature, legacy oil and natural gas fields. Memorial has grown consistently via strategic acquisitions.
The partnership is one of my favorite operators in the space. Since the company came public it has done a solid job in diversifying its resource base geographically and also making its production more "oily" which helps mitigate the higher volatility of natural gas prices.
Memorial has also done a solid job incrementally growing its distribution payouts and now offers a yield just north of nine percent (9.1%). Also encouraging is a director bought over $450K in new shares around this price in June. The company has done a stellar job of acquiring acreage and increasing reserves and production since coming public and I expect it to continue to do. ACCUMULATE
I also added to another of my favorite upstream MLPs, Atlas Resource Partners (NYSE:ARP), late in the week after it also dropped approximately 5% on the week. Atlas is one of the lowest beta plays in my portfolio and this type of move is rare. What Atlas does deliver consistently is a robust distribution yield that now stands at over eleven percent (11.5%) after its decline this week.
This is another serial acquirer and efficient operator of productive acreage. Revenue growth is currently tracking to better than 50% year-over-year gains in FY2014 and analysts project ~15% increase in FY2015. Insiders also like these shares and an insider acquired more than $1 million in new shares in May. Noted billionaire value investor Leon Cooperman owns over a 10% stake in the partnership as well. ACCUMULATE
Disclosure: The author is long ARP, MEMP. The author wrote this article themselves, and it expresses their own opinions. The author is not receiving compensation for it (other than from Seeking Alpha). The author has no business relationship with any company whose stock is mentioned in this article.