Monday, November 15, 2010 at the American Heart Association meeting in Chicago, Johnson & Johnson (NYSE:JNJ) presented data from the ASCEND-HF program. ASCEND-HF (Acute Study of Clinical Effectiveness of Nesiritide in Decompensated Heart Failure) was an enormous trial looking at the clinical effectiveness of nesiritide (Natrecor) in decompensated heart failure. The program enrolled 7,141 patients at 398 clinical sites in 30 countries around the world, and cost an estimated $100 million to complete.
A little background info
In February 2003, J&J paid a hefty $2.4 billion to acquire biotechnology company, Scios, and with it, Natrecor (recombinant B-type Natriuretic Peptide). At the time of the deal close, Natrecor had trailing twelve-month sales of only $50 million. However, the trajectory was straight up, and J&J had hopes that Natrecor was going to be a blockbuster. Unfortunately for J&J, by 2005 physicians began having safety concerns with Natrecor doing damage to kidneys (worsening renal function) and potentially increasing patient mortality. Together with the FDA, J&J placed strict recommendations for use on the drug, and sales languished as a result. In response to these restrictions and dwindling sales, J&J initiated the massive ASCEND-HF program designed to demonstrate the safety and effectiveness of Natrecor in patients with decompensated heart failure.
Results from ASCEND-HF demonstrated that Natrecor is indeed safe to use in these patients, but has little effect on outcomes. The Co-primary endpoint of the trial was 30-day all-cause mortality or heart failure rehospitalization. Five years, 7,000 patients, and $100 million later, we present a summary of the data below:
ASCEND-HF

Natrecor

Placebo

30-Day Death

3.6%

4.0%

HF Rehospitalization

6.0%

6.1%

Cumulative Endpoint

9.4%

10.1%

(p=0.31) / Hazard Ratio 0.93 (95% CI: 0.8, 1.08)
Secondary endpoints also failed to impress, including a lack of statistical significance in improvement in dyspnea (shortness of breath) at 6 and 24 hours:
| | | |
| --- | --- | --- |
| ASCEND-HF | Natrecor | Placebo |
| Well Being at 6-hours | 41.4% | 40.3% |
| Well Being at 24-hours | 65.7% | 63.7% |
| Days alive and outside hospital | 20.9 days | 20.7 days |
| CV death or CV rehospitalization | 10.9% | 11.8% |
Although safety concerns of renal dysfunction and mortality were quashed, hypotension was markedly higher for patients on Natrecor:
| | | |
| --- | --- | --- |
| ASCEND-HF | Natrecor | Placebo |
| Any Hypotension | 26.6% | 15.3% |
| Asymptomatic Hypotension | 21.4% | 12.4% |
| Symptomatic Hypotension | 7.1% | 4.0% |
Nesiritide is the recombinant form of the 32 amino acid human B-type natriuretic peptide (B-NP), which is normally produced by the ventricular myocardium. Nesiritide works to facilitate cardiovascular fluid homeostasis through counter-regulation of the renin-angiotensin-aldoesterone system, stimulating cyclic guanosine monophosphate, leading to smooth muscle cell relaxation. The product was believed to provide all of the vasodilating characteristics of nitroglycerine, with the diuretic and natriuretic properties of furosemide, while also reducing cardiac filling pressure. This was virtually a homerun in terms of treating patients with HF, as long as the risk of hypotension (low blood pressure) could be effectively managed.
The rise and fall of Natrecor sent physicians back almost a decade in treating ADHF. Natrecor's was headed towards blockbuster sales before the "Dear Doctor" letter in June 2005. Nitroglycerin and furosemide (Lasix) returned as the standards of care despite significant limitations. In our view, ASCEND-HF does little to change the treatment paradigm.
| | | | | | |
| --- | --- | --- | --- | --- | --- |
| Clinical Profile | Ideal Drug | Lasix | Nitro | Inotropes | Natrecor |
| Diuretic & Natriuretic | Yes | Yes | - | - | - |
| Preserve / Enhance Renal Function | Yes | No | - | No | No |
| Reduce Cardiac Filling Pressure | Yes | Yes | Yes | Yes | Yes |
| Low Risk of Hypotension | Yes | Yes | No | Yes | Mod |
The market for an effective product is wide open. The objectives are simple, increase cardiac output while offloading fluid and preserving renal function. Natrecor was thought to improved renal function by causing dilation of the afferent renal arterioles and constriction of the efferent renal arterioles. B-NP stimulation also leads to relaxation of renal mesangial cells, increasing the surface area for filtration, thus increasing glomerular filtration rate (GFR). Unfortunately, there were significant indirect effects that actually lead to a decrease in GFR (worsening in renal function) in the real world setting. B-NP, a rather potent vasodilator, lowers systemic blood pressure, decreasing renal blood flow and hence decreasing GFR. In addition, B-NP inhibits angiotensin II production. Angiotensin II normally causes constriction of the efferent renal arterioles (increasing GFR). Inhibition of angiotensin II results in a decreased GFR.
Nile's CD-NP
Nile Therapeutics (OTC:NLTX) is developing CD-NP, a chimeric natriuretic peptide currently in phase II clinical studies for the treatment of acute decompensated heart failure (ADHF). CD-NP was rationally designed by scientists at the Mayo Clinic's cardio-renal research labs. The scientists at the Mayo Clinic developed the drug combining the n-terminus of the C-NP molecule, preserving the favorable venodilating and hemodynamic properties of the molecule, with the c-terminus of the D-NP molecule, preserving the potent direct renal activity. Data demonstrates the drug has both natriuretic and diuretic properties.
CD-NP was designed to preserve the favorable effects of current therapies while eliminating or attenuating the hypotensive response, and enhancing or preserving renal function. The drug takes the best characteristics of two natriuretic peptides, C-NP and D-NP, to form one compound, CD-NP.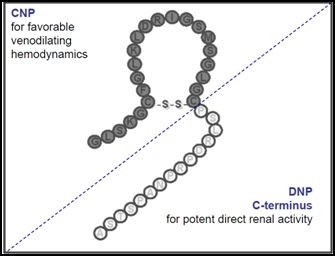 Natrecor and the ASCEND-HF program failed because B-NP has a negative affect on renal function. Prevalence and severity of renal dysfunction in patients with HF, along with mortality rate, demonstrates the relationship between worsening kidney function and heart failure. An effective HF drug must have preserve or enhance renal function.
| | |
| --- | --- |
| Characteristics | Clinical Endpoints |
| Diuretic & Natriuretic | Improvement in dyspnea |
| Preserve / Enhance Renal Function | Reduce end-organ damage |
| Reduce Cardiac Filling Pressure | Rapid improvement in dyspnea |
| Low Risk of Hypotension | Safety |
We believe the favorable hemodynamic effects of C-NP and the potent renal activity of D-NP combined to create the ideal treatment for ADHF. Earlier in November 2010, Nile presented encouraging phase II data. A safety analysis showed minimal effects on blood pressure at the lowest doses studied, with clear positive trends in secondary efficacy endpoints such as renal function and cardiovascular health biomarkers. Full data from this phase II program will be presented during the first half of 2011.
The next step for Nile is to meet with the U.S. FDA to discuss plans for a large-scale phase IIb study. We expect this program to test 2 doses of CD-NP and enroll roughly 300-400 patients, with endpoints to include relief of symptomatic dyspnea, as well as analysis of biomarkers for kidney function and ischemia, as well as safety assessments including risk of hypotension, renal function, cardiovascular events, and mortality. We expect Nile to see to partner CD-NP in 2011.
An Enormous Market
Acute decompensated heart failure (ADHF) is the sudden onset of heart failure, and can lead to severe consequences, including acute respiratory distress. In the U.S., approximately 5.5 million people (~2% of the population) suffer from heart failure. The incidence is even higher for patients above the age of 65, where approximately 6% to 10% of the population is at risk. There are an estimated 650,000 new cases diagnosed annually. There are an estimated 1.2 million hospitalizations each year in the U.S. with the primary admission cause of ADHF. And, nearly three-quarters of these patients also have stage II or stage III chronic kidney disease (CKD). A product specifically indicated for the treatment of patients with ADHF with mild to moderate CKD, which is safe to use on top of furosemide, could have significant sales potential. The opportunity outside the U.S. is equally as attractive. We think that makes CD-NP a potential $500 million + product within a few years after launch.
Nile Worth More
Above we note that we expect Nile to seek to partner CD-NP in 2011. There are four deals between large-cap pharmaceutical companies and small biotechs that act as excellent road-maps for a potential deal between big-pharma and Nile.
Clearly this is an area big pharma is interested in. Nile's CD-NP, a rationally designed molecule that builds and improves on the FDA approved foundation of Natrecor, is a highly attractive molecule with positive phase II data in hand. A partnership along the lines of the above four deals, would provide tremendous upside to Nile shareholders. And, even at a highly discounted rate, Nile Therapeutics looks significantly under-valued today based on the potential for a partnership in 2011 with CD-NP.
Additional information available upon request.
Disclosure: No position