By Chris McKhann
The PowerShares DB Base Metals Fund (NYSEARCA:DBB) has fallen dramatically in the last four days, and traders are selling the upside in options.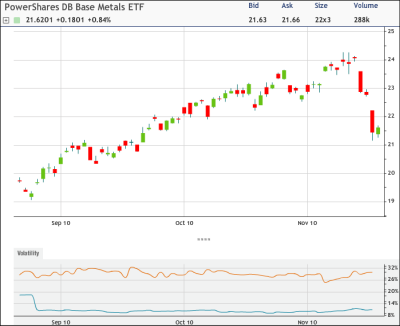 The option volume is already 10 times the DBB's meager average daily volume, with essentially all of the 2,150 contracts traded in the January 24 calls against previous open interest of just 37. A trader sold 2,133 of those calls for $0.15 on the bid. The ask is up at $0.35, which means that the position -- if priced at the ask at which the trader would have to buy the options back -- has already lost more than the potential gain just because of that bid/ask spread.
The DBB put in a 52-week closing high on Thursday above $24 after shares had run up from the 52-week low below $17 in early June. But today the stock is down at $21.5 after dropping substantially on Friday and yesterday.
In the minute before the calls were sold a block of 213,300 shares of the DBB were bought for $21.35. This creates a covered call position and is therefore bullish, as it will take a maximum profit with the DBB at or above $24 at expiration. It also gives a very small cushion to the downside though this will come mainly through time decay.

Disclosure: No position