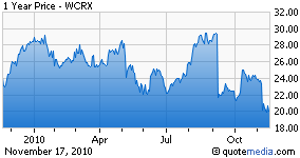 Warner Chilcott Limited (NASDAQ:WCRX) posted third-quarter earnings of 86 cents per share, beating the Zacks Consensus Estimate of 82 cents and the prior-year earnings of 41 cents per share. Higher revenues accounted for increased earnings.
Revenues
Quarterly revenues, at $703.2 million, increased substantially from the yaer-ago revenues of $252.8 million, but came in way below the Zacks Consensus Estimate of $745 million. The astronomical year-over-year increase resulted primarily from contributions of products (mainly Actonel and Asacol) acquired from Procter & Gamble Co. (NYSE:PG) in October 2009. The products acquired from Procter & Gamble added $504.4 million to Warner Chilcott revenues.
Revenues from oral contraceptives went up 17.3% to $97.0 million. Improved sales of Loestrin 24 FE (up 30.8% to $84.51 million) helped boost revenues.
Warner Chilcott's dermatology product sales declined $62.5 million, primarily due to the termination of the company's distribution agreement with Leo Pharma A/S.
The company was Leo Pharma's exclusive licensee of Taclonex and Dovonex in the United States. In September 2009, Dovonex and Taclonex were reacquired by Leo for $1.0 billion in cash. Warner Chilcott was booking sales on these products until June 30, 2010, when its distribution agreement with Leo expired under a transitional agreement.
Doryx sales went down 20.1% during the quarter to $38.5 million, compared with $48.2 million in the prior-year quarter. A hike in sales-related deductions and contraction of pipeline inventories relative to the previous year led to the decline.
Revenues from sales of products purchased from Procter & Gamble included Actonel ($267.6 million) and Asacol ($180.8 million). Unfortunately, Actonel is losing market share with managed care organizations supporting the use of generic versions of competitive products. Moreover, Actonel itself will face generic competition in certain parts of the European Union from the fourth quarter of 2010.
Enablex sales came in at $23.1 million in the third quarter. In September, Warner Chilcott terminated its agreement with Novartis AG (NYSE:NVS) for the co-promotion of Enablex in the US. Warner Chilcott purchased the US rights of the drug from Novartis for $400 million in cash. As per the terms of the agreement, Novartis retained all ex-US rights to Enablex.
Expenses
Warner Chilcott's research and development (R&D) expenses were $33.3 million during the quarter, compared with $11.6 million during the year-ago quarter.
Third quarter 2010 R&D expenses include milestone payments of $6.4 million to TaiGen Biotechnology Co. Ltd. and Paratek Pharmaceuticals Inc. The increase in R&D expenses resulted from continued investment in the pipeline and the addition of R&D projects from Procter & Gamble coupled with higher expenses associated with an increase in personnel and facilities.
Selling, general and administrative (SG&A) expenses amounted to $251.4 million, up from $59.1 million in the prior-year period. Increases in advertising and other promotional spending, infrastructure costs and increased head count, all related to the acquired Procter & Gamble products, led to elevated SG&A expenses.
EPS Outlook Raised
For 2010, Warner Chilcott expects adjusted earnings to range from $3.35 to $3.45 per share on revenues of $2.80 billion to $2.85 billion. Earlier, the company was expecting earnings to range from $3.25 to $3.35 per share on revenues of $2.90 billion to $2.95 billion.
Despite a decline in the revenue guidance, earnings guidance has gone up as a result of lower than previously SG&A expenses and the timing of R&D spend.
The current Zacks Consensus Estimate of $3.43 per share lies within the company's earnings guidance range.
Our View
We currently have a Neutral recommendation on Warner Chilcott, which is supported by a Zacks #3 Rank (short-term Hold rating). Although the company is set to face a number of patent expiries in the coming years (including Actonel in December 2010 in Europe and in 2014 in the US; Doryx in mid-2011; and Asacol in 2013), we believe Warner Chilcott's diversified product base will help withstand the generic threat.
Disclosure: No position