By Timothy Lutts
As for the market, we've just had a great 10-week surge, in the big 2010-2011 bull market. But now it's time for a rest, what technicians call a correction.
The correction, according to fundamentalists, began when Cisco's (NASDAQ:CSCO) management said the future was not so rosy, and it accelerated when fears of a Chinese interest rate hike spread. If you need such "news" to explain the decline, I understand.
But here's my two cents. The market needed this correction. It was too strong, too overheated. It needed a bucket of cold water dumped on it. And now it needs to inflict a little pain, most likely on the investors who bought most recently, near the recent top. So it will.
But this correction, regardless of whether it runs two more days or six more weeks (my outside guess), is not the end of the bull market, and here's why. Bull markets top out slowly. They're characterized by divergences, and narrowing leadership, and we've seen none of that recently.
Furthermore, bull market tends to end quietly, with the market turning down while the official news is wonderful. And that's not the case today.
So I'm happy to see Cisco's dour projections. And I'm happy people are worried about Chinese interest rate hikes. It tells me there's more upside ahead, and not until I hear the "all is well" signal from the mainstream press will I truly start to worry.
So what to buy?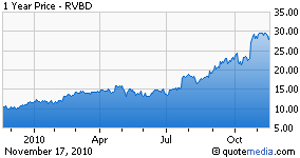 Well, how about the next Cisco? I suggest Riverbed Technology (NASDAQ:RVBD), a San Francisco company whose hardware/software packages improve the performance of a wide variety of applications over wide area networks. Named Steelhead and Whitewater, these appliances optimize the performance of wide area networks. They accelerate the performance of applications. They optimize the use of bandwidth. And they consolidate IT resources, so management gets more productivity for its investment.
And business today is booming! In fact, revenue growth at the company has been accelerating in recent quarters, and if you've been reading my letters a while, you know this is one of my favorite metrics for a stock:
In the third quarter of last year, revenues grew 18% to $102 million.
In the fourth quarter of last year, revenues grew 22% to $113 million.
In the first quarter of this year, revenues grew 27% to $112 million.
In the third quarter of this year, revenues grew 39% to $126 million.
In the third quarter of this year, revenues grew 45% to $148 million.
In that same quarter, after-tax profit margins were a robust 18.0%.
And every time the company grows faster, analysts have to revise their estimates upward … which brings new buyers into the stock … which pushes the stock higher and higher.
Where it will end, I don't know, but I do know the whole world is getting more wired every day, depending on big networks for information and entertainment. And I know this company is a pipsqueak compared to tired old Cisco, so it has much more growth potential ahead.
Disclosure: No position