Introduction:
Investors buy on emotion. Buying a stock on emotion is a big mistake. Apple Inc. (NASDAQ:AAPL) is still a Wall street darling. In my opinion AAPL currently has a low probability of a 40% correction from the 100 level, it is more likely to drop 25%-35% from the 100 level taking it down to $65-$75/ share. This would be a much more attractive entry point. I think the dividend and large share buybacks have saved AAPL from a worse fate.
What inspired me to write this article:
A close friend called yesterday and wanted to buy AAPL. They told me they were going to hold it for a long term investment in their ROTH IRA. I explained to them it was close to its all-time high and that if they were patient a much more attractive entry point would become available. They did not seem to understand that AAPL had recently undergone a 7:1 split. So I explained that the current price had been reduced by 1/7, meaning that when it traded at 700 back in 2012 its equivalent current price would be 100. I knew they understood, however I realized the psychological effect of buying at $95 was a strong pull on their emotions. I also know buying based on emotion will lead to poor results.
Strategy:
I wrote this article mainly for new investors who are considering buying AAPL. I think the downside risk is 25%-35% (a moderate probability). My bottom line is that AAPL will have a much more attractive entry point over the next 6 months- 1 year. I could see a new investor buying AAPL in several lots, for instance good entry points would be $75, $70, $65 and more at $60 if it gets that low (low probability to drop to $60). This type of incremental buying on dips has served me well over my investing career.
Investor psychology and technical analysis:
I have two major reasons for my AAPL call. First and most importantly is investor psychology. Many people are asking me: "Should I buy AAPL"? I have not heard this question as frequently since AAPL's last major correction in 2012. This phenomena is because they think it is cheap. Many do not understand that AAPL is less than 5% below its all time high. They are fooled by the $95 price.
I do have a documented record here at Seeking Alpha. I called the last big sell-off in 2012 from about the 609 level to the 385 level. I also stated in my comments that if AAPL declared an increased dividend, that would help stop the bleeding. They finally declared a dividend increase and it did indeed set a floor at about 385.
I was a very active member who commented regularly here at SA for over two years prior to writing my first article this month. My comments on AAPL in 2012 and 2013 were, for the most part, accurate. I was not 100% accurate, no one is, but I consider my past AAPL comments to be on target. I apologize in advance if anyone finds my past comments to be rude or overly aggressive. Since I have started writing articles I have learned to tone down my commentary.
A double top formation:
The AAPL graph shows the parabolic move from 2008's bottom to 2012's peak. It has been about 22 months since the peak and now we are in a retest mode of that peak. AAPL failed in its first attempt to break 100 (its old high). If it breaks 100 during the next 2 weeks, it will trade below and above several times before it gains momentum upwards or downwards. Eventually, I am convinced AAPL will go below 100 again by at least 15% and it has a moderate probability of trading below 100 by more than 25 -35%. Even if I am 100% wrong about the sell-off and AAPL goes to 200 over the next several years (extremely unlikely, less than a 1% chance of occurring in my opinion), the resultant sell-off from that level would eventually take AAPL back down below 100.
I see a double top formation in AAPL forming, some could argue a triple top. I see a high probability of a downward trend occurring. It looks very similar to the S&P 500's double top before the severe sell off (the financial crisis).
Definition of 'Double Top'
A term used in technical analysis to describe the rise of a stock, a drop, another rise to the same level as the original rise, and finally another drop.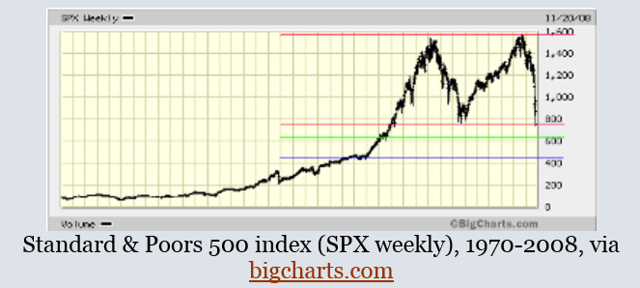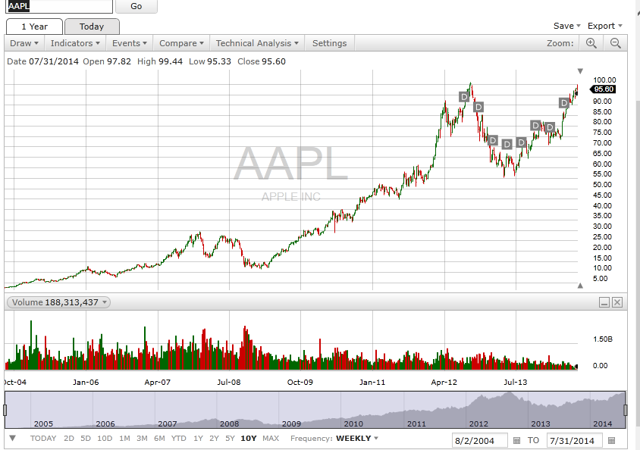 Market sentiment on AAPL is extremely bullish again as it was in 2012 when AAPL peaked:
As of today (7/31/2014) out of 36 analysts who cover AAPL, 23 rate AAPL a strong buy, 5 rate AAPL a moderate buy and 8 rate AAPL a Hold. There's not one single SELL call. My source is here.
It is clear as day to me that the extreme bullish sentiment is a strong contrarian indicator. The majority of the articles I read on AAPL are bullish. There are few buyers left.
Conclusion:
A much better entry price will eventually become available for AAPL. The market sentiment (analysts ratings and market participants) is overwhelmingly bullish regarding AAPL. This reminds me of the 2012 peak when sentiment was also extremely high.
AAPL has not been able to break its all time high established in 2012. Technically speaking this is a negative sign (indicator). AAPL will eventually pass 100 (a key psychological level, similar to DOW 10,000) and 100 is notoriously a special round number that will have to have a support level established, and that takes years. Therefore 100 will be breached on the downside in a big selloff. I see a double top forming in AAPL (see charts above) indicating a sell off. I think the dividend and large share buybacks have saved AAPL from the worst fate I saw prior to them instituting the dividend and buybacks. I welcome all comments and questions. I will answer as many as I can.
Disclosure: The author is long AGNC, MO, KMR, PSEC. The author wrote this article themselves, and it expresses their own opinions. The author is not receiving compensation for it (other than from Seeking Alpha). The author has no business relationship with any company whose stock is mentioned in this article.
Additional disclosure: Final Note: Each investor's BUY, SELL, or HOLD decision is based on one's risk tolerance, time horizon, and dividend income goals. My personal recommendation may not fit each investor's current investing strategy.