If you have access to the Internet, chances are that you have already heard of BlackBerry's (NASDAQ:BBRY) upcoming Passport. Its unconventional and distinctive design has been discussed recently by investing and tech communities. Some have declared that the Passport is an outright and abject failure, while others believe it's a potential disrupter. One commenter went to the extent of saying, "Words haven't been invented to describe this monstrosity."
Let's take a closer look at the device's SWOT.
Strengths
This may sound like a broken record, but the Passport houses perhaps the safest mobile operating system. The security aspect is generally under-rated, until there's a major breach in security. With the launch of Passport, therefore, security and safety-focused enterprise and retail clients will now have another BB10 device to choose from.
Also, the Passport is a businessman's phone - be it an architect, writer, medical professional, or an investment banker. The very point of housing a large 4.5-inch square screen was to make web browsing, communicating via email and viewing spreadsheets more comfortable. Passport reportedly displays about 50% more characters per line than similar rectangular smartphones.
Professionals -- like doctors and architects-- often carry a separate tablet just to be able to enter form data or view schematics on remote sites. Rectangular smartphones can do that too, but they don't have the real estate to facilitate seamless typing. BlackBerry Passport targets these power-users, and is built with the intent to cannibalize these tablet sales.
The very fact that this is a businessman's device is another advantage. Since the device solves several productivity issues, enterprise clients would like to distribute these devices amongst their fleet of touring or traveling employees -- under a corporate-owned structure, of course. These bulk purchases should, in turn, drive BlackBerry's hardware and enterprise revenue higher.
The 4.5-inch square display, sporting a 1440x1440 screen resolution, eliminates the need to tilt the smartphone to gain more real estate. This can be a major time saver and efficiency booster for power-users. More importantly, there will be very few apps available for this resolution.
At first, I thought of putting this bullet under the weaknesses section. But this is actually a positive for enterprise clients. The lack of apps means Passport users won't accidentally install malware in their devices. This lack of flexibility will reduce the workload on IT departments, thereby giving enterprise clients another reason to go with BlackBerry.
Weaknesses
Speaking of drawbacks, consumers looking for an enriching and entertaining experience will obviously be disappointed. In addition to having limited entertainment apps, playback of videos with a 16:9 aspect ratio will utilize only a fraction of the screen. But the Passport is not an entertainment device, right?
4.5 inches is a fairly large size when considering a smartphone's width - excluding bezel. In comparison, Samsung's (OTC:SSNLF) 5.7-inch Galaxy Note 3 is only 3.12 inches wide. This suggests that seamlessly typing on the Passport, with one hand, will require prior training. Maybe the phrase, "No pain, no gain" fits here perfectly.
Opportunities
Passport is aimed at business-focused power users. But given its distinctive style, the device can also go on to become a fashion accessory. Fellow contributor Corey Sommers recently pointed out that this disruptive trend has already begun -- something that can propel Passport's sales going forward.
As I mentioned earlier in the article, Passport may go on to de-clutter and simplify workflow is several professions - like in the medical profession. Entities like hospitals and healthcare institutions will now be more willing to adopt BlackBerry's cloud-based enterprise apps. This will not only boost BlackBerry's unit sales, but also strengthen its market position in the enterprise segment.
Threats
Distinctive design means consumer education will be required. BlackBerry will have to launch a massive eye-catchy ad campaigns to promote flexibility and functionality of its Passport. Failure to successfully execute this task will impede Passport's growth.
Contrary to the general belief, phones sporting square screens have been around for a while. None of them however, were successful in the past because of their limited functionality and app availability. Consumers who have struggled with these devices might not find Passport appealing.
Wider phones, not necessarily square in shape, can catch-up going forward. Samsung is known for its aggressive marketing strategies, and it might consider launching a wide-screen phone as well if Passport sales takeoff. But by that stage, Passport will have to have become a raging success.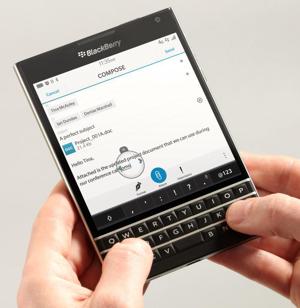 (Source: BlackBerry)
Takeaway
Passport's width may not necessarily be detrimental to its adoption. A lot of business people keep their smartphones in their suit jackets anyway. So, I believe it will have its fair share of buyers.
Regarding adoption, the device targets a niche market of enterprise clients. Therefore, it will most likely be a high-margin product, which should go on to strengthen BlackBerry's position in the enterprise segment.
And speaking of BlackBerry as a company, I believe things are about to turn around. Passport's distinctive style highlights management's aggressive and proactive approach to do things differently -- something that's vitally important to grow in highly competitive industries.
Please do your own due diligence before investing.
Disclosure: The author has no positions in any stocks mentioned, and no plans to initiate any positions within the next 72 hours. The author wrote this article themselves, and it expresses their own opinions. The author is not receiving compensation for it (other than from Seeking Alpha). The author has no business relationship with any company whose stock is mentioned in this article.
Editor's Note: This article discusses one or more securities that do not trade on a major U.S. exchange. Please be aware of the risks associated with these stocks.