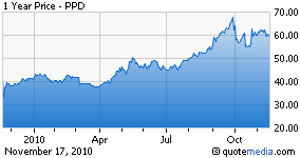 Pre-Paid Legal Services (NYSE:PPD) underwrites legal-expense plans in a manner similar to medical-reimbursement plans, generally allowing members to gain access to legal services through a network of independent attorneys under contract with the company. The company's plans are sponsored by such organizations as labor unions, the American Association of Retired Persons, and military services.
I have come across PPD as a potential value idea many times (one of Joel Greenblatt's magic formula stock, saw it in GuruFocus and Validea etc.). Over the last month the stock has traded between $55 and $65. (Please refer to the stock review explained post if you have questions on what I look for in this analysis. Click on this annotated Surfmark if you want to see the source data for this stock review.)
Business Performance Risk (+/=) and Intrinsic Returns (+/=)
| | |
| --- | --- |
| | Status |
| FCF / Sales | Last Twelve month at 13.7%, at the high end of performance over the last 10 years, usually between 7% and 14% |
| ROE | LTM 96%!, lower than the average over the last 5 years of 150%+!!! |
| ROA | LTM: 34%, in line with the average over the last 5 years of 30% |
| Revenue Growth | Growth has been rather slow in recent years with a 3 year average of 1% and 3.5% on a 5 year basis |
| Cash distribution to shareholders | PPD unfortunately does not pay a dividend, but has been buyback shares aggressively, with a 30%+ repurchase of shares over the last 5 years |
PPD is somewhat of a paradox: its returns are just incredible and it also has a very good FCF generation… however its growth appears to be very limited, even using operating income growth, which has averaged 4.4% over the last 3 years. In terms of cash distribution, I wonder why the company is not paying a dividend when it does so much on the buybacks front.
In terms of intrinsic returns, given its high returns PPD can growth at 4% by retaining only 5% of its earnings and using the rest to buyback almost 10% of its stock back!...The critical question is how much the company can really grow.
Balance Sheet Risk (+)
| | |
| --- | --- |
| | Status |
| LT Debt / Equity | Now only 0.14x, coming down from a much higher leverage of 3.16 in 2007. |
| Current Ratio | 1.2x, which seems fine for an asset light company like PPD. |
Current B/S structure is satisfactory but coming down from a fairly highly levered position, which I should evaluate further if I decide to dig deeper into the stock.
Valuation Risk (+)
| | |
| --- | --- |
| | Status |
| Cash Return | 12.1% |
| P/E | 9.9x, below the S&P and slightly below the company's 5-year average of 11.5x |
PPD's valuation appear very attractive both on a cash and earnings perspective. PPD reminds me in some way of USA Mobility (USMO) (except it doesn't seem that PPD is winding down the business) with good cash generation and extremely aggressive buybacks…while the valuation is not high and it may never really improve, however, the value investor becomes protected as the # of shares declines on constant earnings, leading to improved share prices over time.
Conclusion
PPD seems to be a bit of a complicated story, but it seems like it is worth looking into more given its very high returns, low leverage and potential to buyback almost 10% of its shares back every year. I will perform a "Company Analysis" of PPD.
Disclosure: No position