Cisco (NASAQ: CSCO) has seen flat-to-declining revenue for three consecutive quarters, mainly due to the increasing threat of SDN, or software-defined networking, which is growing at the expense of Cisco's traditional networking products.
Not surprisingly, Cisco has been looking for new revenue streams to replace the rapidly fading ones. Two of its latest are UCS servers and engineered systems. Cisco has a joint venture with NetApp (NASDAQ: NTAP) to manufacture and sell FlexPod products. The FlexPod reference architecture consists of Cisco UCS+ Nexus, and also NetApp's FAS. FlexPod is used in servers, networking components, and storage products.
Cisco revealed in June that they had managed to sell FlexPod products worth about $3 billion since 2010, and shipments had reached a $2 billion annual run rate. Can Cisco count on FlexPod sales to offer the much-needed boost to its topline growth, or will its UCS servers do the trick?
Impressive growth for Cisco/NetApp FlexPod products
Cisco entered the server business in 2009. Cisco sells UCS servers equipped with sophisticated virtualization software. The company saw its server revenue grow 37% during the last quarter to reach $616.6 million. Cisco now owns 5.4% of the server market. That's impressive growth. But, the server business commands low-margins, and strong growth in the segment might not do much to improve the company's bottom-line, which has also been on a free-fall. Cisco's corporate gross margin is around 60%, compared to 24% for the leading server vendor, HP.
FlexPod products seem to be a better bet for Cisco.
FlexPod shipments are growing at 81% annual clip with a current annual run rate of $2 billion. In June, the IDC unveiled the first-quarter fiscal 2014 engineered systems shipments for the leading vendors. Cisco/NetApp FlexPod integrated infrastructure shipments grew 49.8% year-over-year to $268.4 million, while Vblocks by Cisco's joint venture with VMware (NYSE:VMW) and [[EMC]], aka VCE, grew 43.8% to $254.3 million.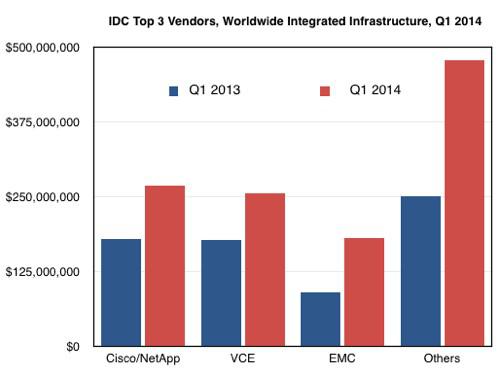 Source: The Register
Engineered systems are broadly categorized into two tiers: integrated platforms by companies such as [[IBM]] and Oracle (NASDAQ:ORCL), and integrated infrastructure by companies such as Cisco and NetApp. The overall integrated infrastructure market grew 69.4% during the first quarter to $1.18 billion. The integrated platform market is growing much slower than the integrated infrastructure market-the market grew 8.3% during the quarter to $769.9 million. Integrated infrastructure products can be used in a wider range of enterprise applications than integrated platforms. That's perhaps the reason why the integrated infrastructure market is growing much faster than the market for integrated platforms.
Assuming Cisco has a 50% stake in the FlexPod partnership with NetApp, and a 33% stake in the VCE joint venture, the company realized revenue of $219 million from integrated infrastructure solutions during the first three months of the current fiscal year.
Bull case for Cisco
Cisco revealed that FlexPod product shipments were growing at a 81% annual clip, with a current annual revenue run rate of $2 billion. Meanwhile, Cisco's 33% stake in VCE would give it revenue of $83.9 million with an annual run rate of $335.6 million. Cisco reports VCE revenue in its own quarterly and annual reports.
FlexPod products seem to be doing much better than Vblocks. Assuming Cisco's FlexPod solutions grow at a 60% CAGR through 2017, and Vblock shipments grow at a CAGR of 40% over the same timeline, Cisco will realize revenue of $4 billion from FlexPod products and $920.8 million from Vblocks. Cisco and EMC have, however, been booking losses from Vblock sales, although it's not clear why this is the case.
Cisco's second-quarter fiscal 2014 results were particularly bad since its revenue plunged by $1.05 billion, or an annual run rate of $4.19 billion. Assuming things play out this way over the next several years (which does not seem very likely), growth in the company's FlexPod and Vblock products will be enough to offset the revenue shortfall in about three years' time. If the rate of revenue decline slows down to around half our assumed rate, then Cisco should be able to start seeing revenue growth in 7-8 quarters. However, this might turn out to be a pretty pessimistic outlook, and the company is likely to start growing its revenue again much sooner.
Disclosure: The author has no positions in any stocks mentioned, and no plans to initiate any positions within the next 72 hours.
Business relationship disclosure: This article was written by Alex Kimani, the chief analyst of Syncopy Research. We are not receiving any compensation for this article from any other source other than Seeking Alpha.