EntreMed (NASDAQ:ENMD) is a clinical-stage pharmaceutical company committed to developing ENMD-2076, a selective angiogenic kinase inhibitor, for the treatment of cancer.
ENMD-2076 is currently in a multi-center phase 2 trial in ovarian cancer, and also in several phase 1 trials in solid tumors, multiple myeloma, and leukemia.
click to enlarge images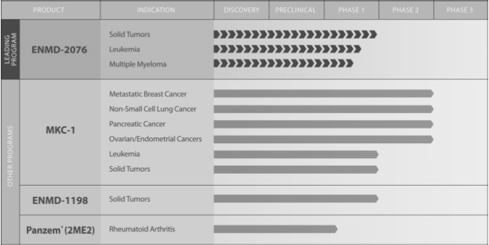 At the annual ASH (American Society of Hematology) meeting this December, EntreMed will be presenting phase 1 trial results of ENMD-2076 in myeloma and leukemia. These trial results will be published in the print and online November 19, 2010 supplemental volume of Blood.
After the ASH meeting, let's fast-forward to early 2011. EntreMed stated in their third quarter earnings call that they are will start presenting initial results from their phase 2 trial of ENMD-2076 in ovarian cancer in early 2011. If these initial results are positive, it could mean big things for EntreMed - possibly a partnership or buyout.
Several things that investors look for in a biotech stock are low share count, and cash on hand (to remove possibility of dilution after positive news).
EntreMed has 11.5M outstanding, due to an 11-1 reverse stock split executed in June 2010. After the reverse split, the stock slid to a 52wk low of $2.26. Since then, the stock has partially recovered to a price of $4.66 - their 52wk high is $13.64.

In September, EntreMed raised $5M in a registered direct offering. As of Nov. 12, 2010, EntreMed stated that they currently have $8.4M in cash and short-term investments, and that they believe that those resources, coupled with anticipated royalty inflows, will provide them with sufficient resources to cover planned operations through 2011.
This month, the EntreMed Chairman of the Board wrote a letter to shareholders (it can be found here).
EntreMed is, in our opinion, undervalued, and we are looking forward to the Blood publication on November 19, their presentation at ASH in December, as well as initial phase 2 ENMD-2076 results in early 2011.
Disclosure: Long ENMD