Stocks took their first tumble in nearly four months late last week. While the magnitude of the pullback has thus far been modest at just over -3%, some investors are left wondering given already high valuations and a slowly retreating Fed at this advanced stage of the third longest bull market in history whether last week's decline might be the start of something more severe. With this in mind, three key leading indicators are worth watching in the coming week, for they may foretell whether far greater declines may soon be in offing even if the broader market manages to find its footing.
U.S. Small Caps
The first key to monitor in the coming days and weeks is the performance of the small cap (NYSEARCA:IWM) segment of the U.S. stock market. The fact that small caps have been struggling in recent months is certainly not news. But precisely how they perform in the coming weeks may prove telling in terms of what to expect from its large cap counterpart in the S&P 500 (NYSEARCA:SPY) as we move into the fall.
Why does the performance of small caps matter to the rest of the stock market? Because small caps have lead large caps in failing at the earliest stages of the past two major bear markets.
In 2000, the S&P 500 Index peaked on March 24 before correcting into April. But through the remainder of the spring and summer, the large cap index rallied back strongly to close within less than half of a percent of its all-time closing high on September 1. Only then did the S&P 500 Index finally capitulate and begin its descent into the next bear market.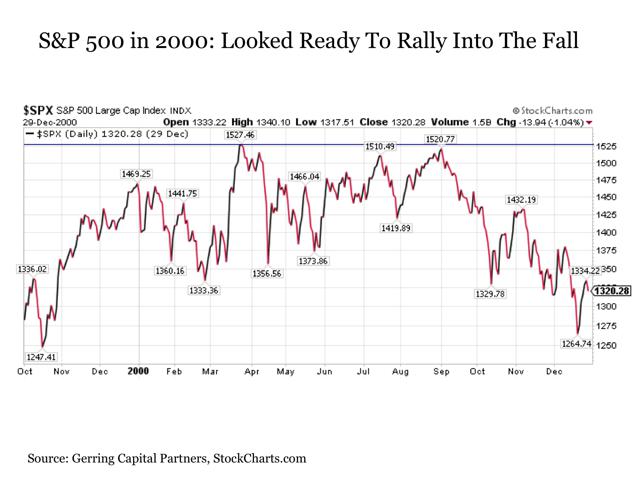 Click to enlarge
During this same episode, small cap stocks as measured by the Russell 2000 Index reached their closing peak on March 9. And like their large cap counterparts, they corrected into April before eventually finding their footing. But unlike large caps, they did not rally strongly through the spring and summer. By the beginning of September, the Russell 2000 Index was struggling to breakout above much lower mid July peaks. So while the broader market looked like it was ready to continue the party in early September, the lights had already gone out for small caps long ago.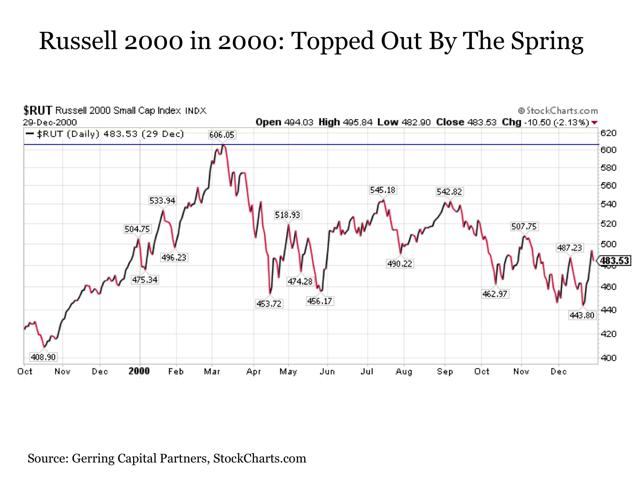 Click to enlarge
A similar set up took place in 2007. The S&P 500 Index peaked in mid July that year before entering into a sharp correction. It quickly stabilized in mid August, however, and went on to rally strongly all the way to fresh new highs by early October. On the surface, it once again appeared that all was well heading into the seasonally strong holiday season for stocks.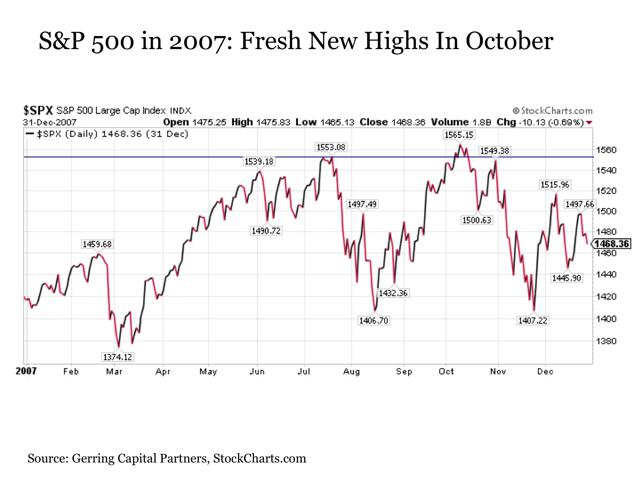 Click to enlarge
But small caps were telling a different story once again. The Russell 2000 Index also peaked in July 2007, but they declined more severely in the subsequent correction. And in the rally that followed, small caps fell over -1% short of reaching new highs before surrendering and moving lower for the remainder of the year.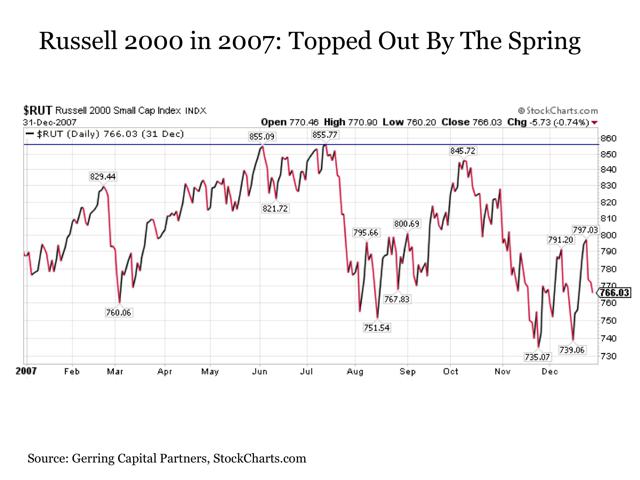 Click to enlarge
So where do we stand today? The S&P 500 Index closed at a new all-time high only a few trading days ago on July 24. And the recent drop has been very modest thus far, as a -3% decline over two days would not even register on the radar screen in a market that was more toughly conditioned to the daily volatility that comes with a normally functioning environment. Once again, it seems that all is well with the large cap segment of the market.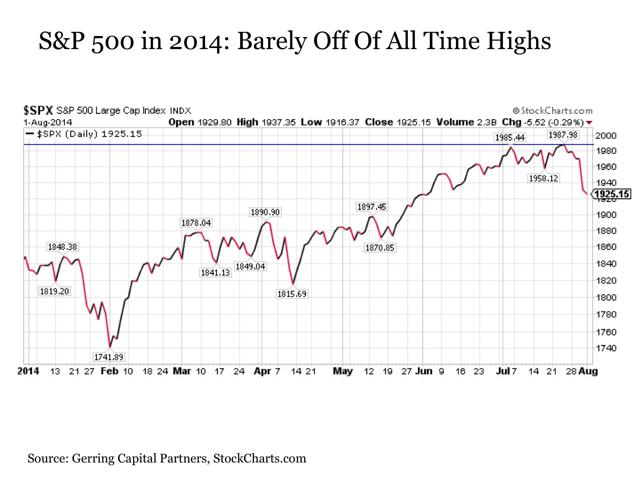 Click to enlarge
But the setup among small caps raises some notable concerns. First, the Russell 2000 peaked in early March and the once solid uptrend is no longer intact for small caps. Small caps attempted to claim a new closing high in early July only to stall within fractions of a point of its March peak. And over the last several weeks the Russell 2000 Index is making a hard charge at neckline support in the 1093 to 1096 range. Just as we saw in 2000 and 2007, small caps are no longer sharing the same ebullience as their far more closely covered large cap counterparts.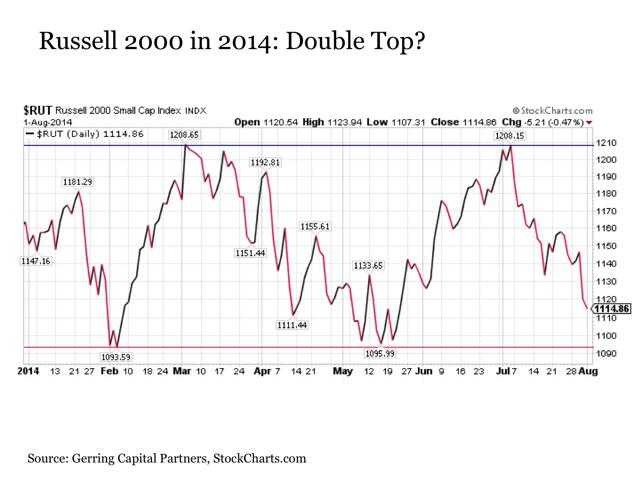 Click to enlarge
So what to watch for in the days ahead? The Russell 2000 has already decisively broken critical support at its 200-day moving average. If small caps continue lower and break decisively below the 1093, this would be an important development in potentially confirming a double top peak in the Russell 2000 and that far greater declines may follow. And if history is any guide, if small caps decisively fail, large caps may not be very far behind.
High Yield Bonds
If small caps provided early warning ahead of past stock market peaks, high yield bonds provided even earlier warning for the stock market in general. Thus, the fact that high yield bonds have been struggling over the last several weeks is something that should not be overlooked by stock investors as we move through the remainder of the summer.
One way to monitor the performance of high yield bonds is their spread relative to Treasuries adjusted for embedded options. Put simply, if option adjusted spreads are sustainably widening, this implies that the market is factoring in greater risk including default risk. And when such risks are rising, it is often accompanied by underlying prices going down.
In 2000, U.S. high yield bond spreads began widening notably as early as February that year. This, of course, was several weeks ahead of the peak in small caps in March and more than half a year ahead of the double top peak in large caps in September.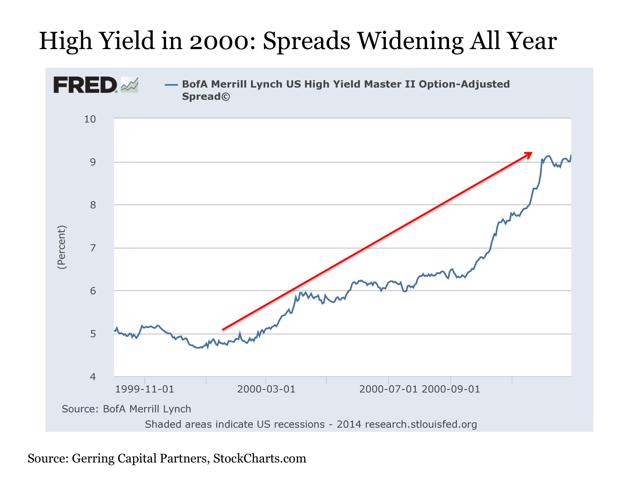 Click to enlarge
In 2007, high yield spreads bottomed in late June and subsequently began blowing out sharply throughout the remainder of the year. This, of course, was a full month before the small cap peak in July and several months before the final peak in large caps in October.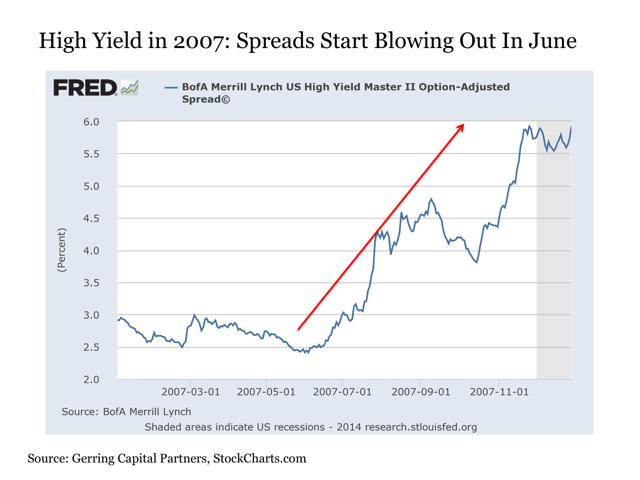 Click to enlarge
So where are we today? High yield bond spreads bottomed in late June and spreads have since widened. The move thus far has been relatively modest, as the FRED graph below is amplified with a scale of just over one percentage point versus six for the 2000 chart and four for the 2007. But the initial moves in 2000 and 2007 also appeared relatively modest before eventually exploding higher.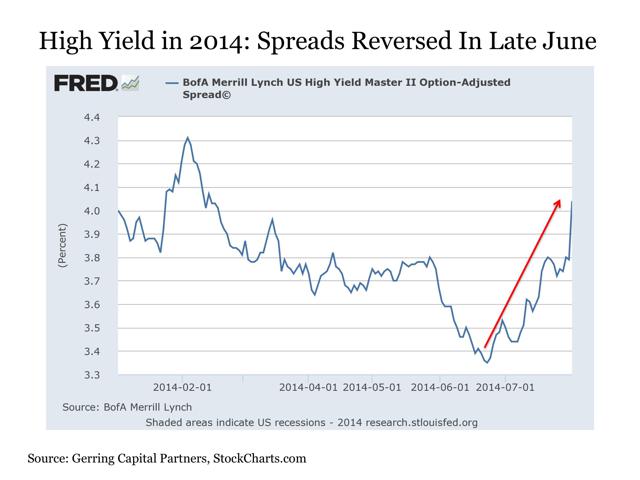 Click to enlarge
So what to watch for in the days ahead? Most directly, the continued rise of U.S. high yield bond spreads bodes ill for stock prices going forward. Another way to monitor high yield would be through the price performance of the iShares iBoxx High Yield Corporate Bond (NYSEARCA:HYG) or the SPDR High Yield Bond (NYSEARCA:JNK) ETFs. Focusing on the HYG, support at its 200-day moving average is currently under fire. A decisive break below this support level would be notable with the next critical support level at previous resistance of a dividend adjusted $89.54, which also happens to be very close to a final major line of defense in the 400-day moving average.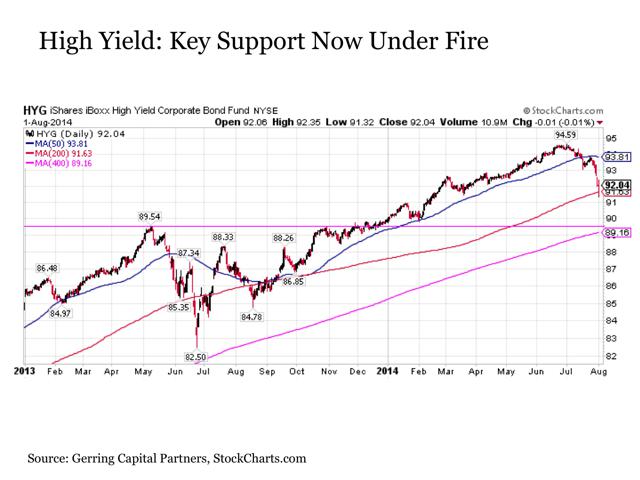 Click to enlarge
Retail
As the consumer goes, so goes the economy. As the economy goes, so goes the stock market (assuming of course it is not hopped up on the relentless adrenaline of monetary stimulus from global central banks, which of course is scheduled to end at least in the form of QE related asset purchases by October). And in so far as the consumer is concerned, signs are not encouraging if the performance of retail stocks is any indication.
Back in 2007, retail stocks peaked at the end of May, nearly two months in advance of the first broader market peak in July and more than four months ahead of the final market peak in early October. Retail stocks sold off sharply through the summer that year and never bounced back in any meaningful way, instead continuing lower through the remainder of the year.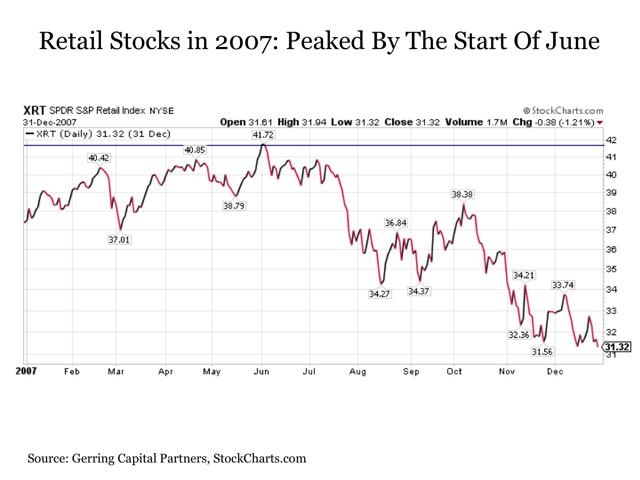 Click to enlarge
In 2014, retail stocks were sharply sold from the very start of the year. And while they eventually regained their footing at the beginning of February and managed a resilient climb higher through the end of June, they are still trailing both the S&P 500 Index and the Russell 2000 Index year to date. Moreover, the SPDR S&P Retail Index (NYSEARCA:XRT) recently made its third decisive break below critical support at its 200-day moving average while also breaking the upward sloping trendline that had been in place since its February bottom. Lastly, it is worth noting that 12 of the 31 names in the S&P 500 Index that are currently in an individual stock bear market hail from retail or retail related industries. Notable names on this list include Amazon.com (NASDAQ:AMZN) and Whole Foods Markets (NASDAQ:WFM), highlighting the fact that the notable declines from sector are not confined to slowly dying bricks-and-mortar retail relics.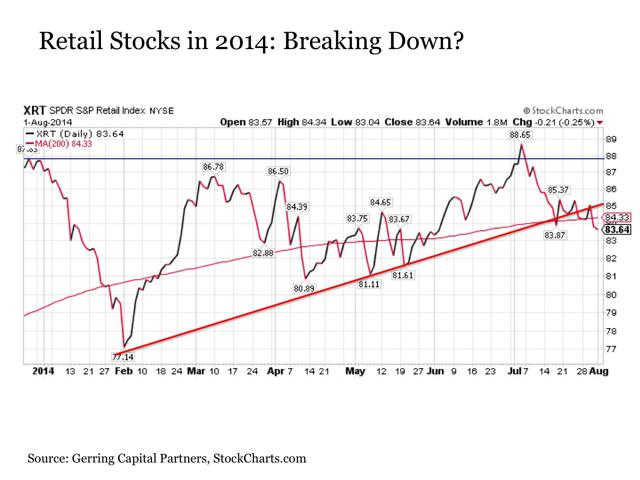 Click to enlarge
So what to watch for in the coming days? If retailers continue to struggle and the XRT in particular breaks below first the $80 to $82 range and then more importantly the $76 to $77 range, this would imply that the upside in retail at least in the current cycle may be definitively over. And the broader market will increasingly struggle without the support of the retail sector and their consumers.
Bottom Line
It promises to be an interesting week ahead following what was late last week the first drop in stocks for several months. Stocks may rally to start the week, and the concerns that recently bubbled their way to the surface will quickly be forgotten for another day. But if stocks continue to move lower in the coming days, it will be worthwhile to monitor related signals such as those listed above to help determine whether the market is simply working its way through a long overdue correction within a sustained uptrend or if we are drawing close to the precipice of a major market shift to the downside.
Disclosure: This article is for information purposes only. There are risks involved with investing including loss of principal. Gerring Capital Partners makes no explicit or implicit guarantee with respect to performance or the outcome of any investment or projections made. There is no guarantee that the goals of the strategies discussed by Gerring Capital Partners will be met.
Disclosure: The author has no positions in any stocks mentioned, and no plans to initiate any positions within the next 72 hours. The author wrote this article themselves, and it expresses their own opinions. The author is not receiving compensation for it (other than from Seeking Alpha). The author has no business relationship with any company whose stock is mentioned in this article.
Additional disclosure: I am long stocks via the SPLV and XLU as well as selected individual names. I also hold a meaningful allocation to cash at the present time.