JAKKS Pacific (NASDAQ:JAKK), a Malibu, Calif.-based toymaker, has hit a rough patch in the recent year. After hitting a multi-year low last October, the stock rebounded to $9 price levels in April this year. But, then, lost most of its gains after the company reported a soft bottom line improvement in the second quarter.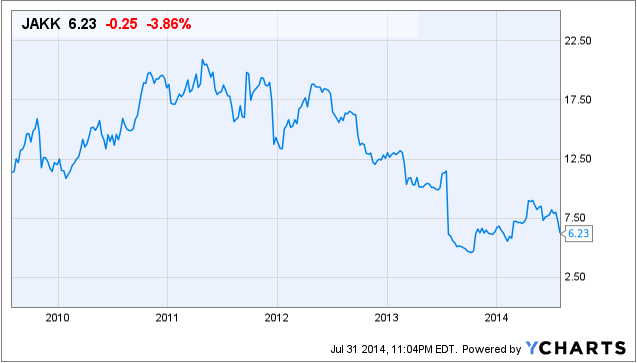 Notwithstanding those who might think the bearish trend in the stock would continue, below I highlight the reasons why investors should look to buy the stock at current levels.
Toymaker has finally turned the corner
The award-winning licensee of several popular trademarks announced narrower year-over-year losses for the first and the second quarter of 2014.

On May 23, 2014, JAKKS reported a loss of 74 cents per share for the first quarter of 2014, an improvement of 52 cents per share from the same period a year ago, not to mention, the earnings beat analysts' estimate by 2 cents. For the quarter, the company posted revenue of $82.51 million, beating analysts' estimate and year-ago revenue of $76.13 million and $78 million, respectively. In spite of that, it would have been premature and presumptive to say that the company had really turned the corner after the first quarter results. But, clearly, the positive momentum that the company achieved in its first quarter carried into the second quarter.


On July 23, 2014, despite the challenges that the company faced in the second quarter, it delivered another strong performance. It reported revenues of $124.2 million, 17% above $106.23 million reported for the same quarter last year, while also blowing past analysts' estimate of $112.86 million. Accordingly, it reported a net loss of $9.1 million, or $0.43 per diluted share, which included pretax restructure charges of $1.2 million or $0.05 per share, higher than expected product testing and development costs of $2.1 million or $0.10 per share, and the aggregate dilutive impact of $0.03 per share. This compares to a huge Q2 2013 loss of $46.9 million, or $2.14 per diluted share, which included charges for license minimum guarantee shortfalls of $14.1 million and inventory impairment of $12.2 million.
While the company managed to significantly shrink its losses in the second quarter, the earnings still fell short of analysts' estimate of ($0.29) per share. However, the factors that led to earnings miss were not per se negative developments. For instance, development of new products in response to the growing demand for JAKKS' licensed product lines and higher sales during the second quarter resulted in higher than anticipated product testing and development costs. Additionally, the dilutive impact was due to increased interest expense on the recently completed convertible note issuance and reduction in the share count resulting from the recently completed 3.1 million shares repurchase.
So, the company reported revenue that smashed forecasts and earnings that despite a significant year-over-year improvement apparently fell short of analysts' estimates for the quarter. With strong back-to-back performances, the company seems to have turned the corner.
String of acquisitions and ventures
Ever since its inception back in 1995, JAKKS has sought to consolidate its position in the toys and leisure products industry through product development, licensing agreements and strategic acquisitions. In fact, the company's early growth was marked by a dozen acquisitions of companies that manufacture toys and import them from the Far East. This string of acquisitions has added substantially added to JAKKS' top and bottom line over the years.
Among recent developments, the 2012 acquisitions of Maui, Inc. and JKID Ltd. have already added to the company's revenue and are expected to improve it further in upcoming quarters. Additionally, the company's joint venture with Pacific Animation Partners to manufacture the Monsuno toy line will further add to its top line as the show grows in popularity. The company has also entered into definitive agreements with technology innovator NantWorks to create a joint venture company, "DreamPlay Toys." The new company aims to develop, market and sell toys and consumer products incorporating NantWorks' proprietary iDream image recognition technology. The novel technology enables the user to create magic in the real world - using a smart phone or tablet device - to instantly link the physical toy video content, animation and interactive game play. The venture aims to bring toys to life, which is what children are increasingly inclined to play with these days. As a result, it is expected to have a significant impact on JAKKS' revenues in coming years.
In May 2014, JAKKS announced a long-term licensing agreement with California-based footwear manufacturer Skechers USA (NYSE:SKX) to create a line of toys and products inspired by the latter's lifestyle and entertainment brand, and the Twinkle Toes children's footwear brand. Not only will this strategic partnership provide JAKKS the opportunity to leverage a top girls' brand across a variety of toy lines, including miWorld and Cabbage Patch Kids, but also help the company to gain market share in the competitive industry. Additionally, the company's partnership with Nickelodeon, Cabbage Patch Kids, Disney and Saban Brands for the popular Power Rangers line is forecast to help its top line in the near term.
Short squeeze in the offing
JAKKS Pacific is one of the most heavily shorted stocks of late. On June 1, 2014, the stock traded for $8.83 a share with 49.61 percent of the float sold short. By July 1, 2014, the stock fell to $7.82 a share with 69.46 percent of the float sold short.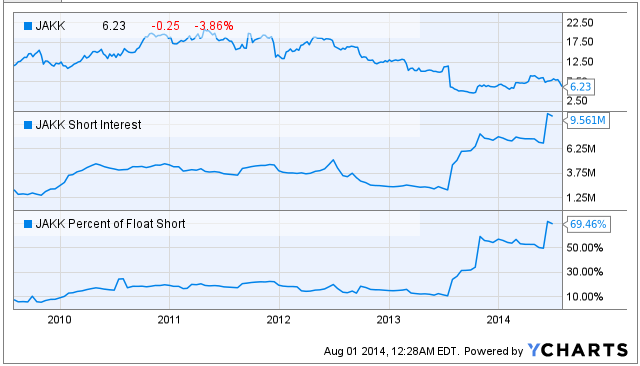 Since then the stock has been further knocked down to trade for $6.23 a share at the time of this writing, while its short interest has risen even further. According to ShortSqueeze.com, 9.56 million shares of JAKKS sold short, representing 74.05 percent of the float. It is uncommon for a stock to even have 50 percent of its float sold short. As a result, the event significantly increases the chances of a short squeeze in the near term. Usually in such cases, it doesn't take much good news to drive the stock price higher and, that too, in a short period of time.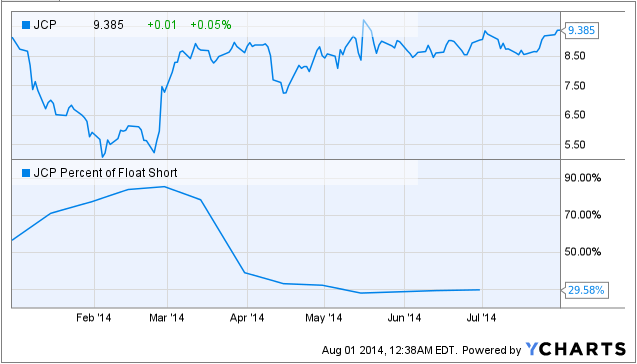 A similar activity was seen in J.C. Penney (NYSE:JCP) earlier this year. As illustrated in the chart above, the stock was trading under $5.23 a share with nearly 85 percent of its float sold short in February. In March, the shorts rapidly exited their positions and the stock rose 69 percent in value to $8.84 a share in just a month. Given the rising short interest and improving fundamentals, JAKKS Pacific is fated to face a similar short squeeze anytime soon.
Looking forward: Fall offerings and guidance upgrade
The Frozen line was an important highlight of the company's second quarter sales. The Disney's massive box office success was much more popular than anticipated and kept parents racing to score pretty much anything that was "Frozen"-themed this year. Looking ahead, the company expects the demand to continue at retail for its new Frozen merchandise.
The company also anticipates strong demand for the Disney licensed dolls, dress up and role play including Princess, Fairies and Sofia the First, Disguise Halloween costumes and its preschool foot-to-floor ride-ons and ball pits. For boys, the company is looking forward to launching large-scale figures such as Teenage Mutant Ninja Turtles and Star Wars Rebels, new Hero Portal Plug It In & Play TV Games titles, and Max Tow Truck vehicles.
Strong performances from the toy industry usually come during the second half of the year, driven by Halloween and holiday-season sales. The consensus analysts' estimates on Reuters forecasts JAKKS to report sales of $320.92 million in the third quarter, which would represent a 3.1 percent year-over-year increase.
Improvement in fundamentals has led the company to revise its full-year 2014 guidance upwards. The company now expects net sales for the full year of 2014 to be in the range of $660-$670 million, a sizable increase from its previously issued guidance range of $633-$640 million.
For 2014 earnings, the company's previously issued guidance was in the range of $0.30-$0.40 per diluted share. However, this guidance figure excluded the impacts of the convertible note issuance, stock buyback and restructuring charges. Accounting for these impacts, the previous earnings guidance would have been in the range of $0.15-$0.25 per diluted share. And in reference to which, the company has now raised its earnings guidance range to $0.20-$0.30 per diluted share for the year.
July 29, 2014 offered a glowing consumer confidence report all the way up to 90.9 versus 85.2 last month, which also marks the highest reading since the start of the Great Recession. Non-essential purchases, such as toys, usually benefit from more confident consumers.
Closing thoughts
The toy industry has had some tough times of late. With the onset of the digital era, many toymakers are struggling with a changing market for toys. Children, once satisfied with simple, traditional toys, have less desire to play with them and expect more from the modern offerings. In fact, kids are increasingly turning to smart devices for play and entertainment. And JAKKS Pacific not only brings the most advanced technology to play world, but also has a diverse portfolio that includes Action Figures, Electronics, Dolls, Dress-Up, Role Play, Halloween Costumes, Kids Furniture, Vehicles, Plush, Art Activity Kits, Seasonal Products, Infant/Pre-School, Construction Toys, Ride-On Vehicles, Wagons, Inflatable Environments and Tents, Impulse Toys and Pet Products.
Despite turning the corner in recent quarters, its shares have been the victim of a ruthless bear assault. With nearly three-fourths of its float sold short, it is set up for a huge short squeeze in the near term. In view of the improving fundamentals, strong offerings, improved guidance and sharp price decline, the stock provides a golden contrarian opportunity to the investors.
Disclosure: The author is long JAKK. The author wrote this article themselves, and it expresses their own opinions. The author is not receiving compensation for it (other than from Seeking Alpha). The author has no business relationship with any company whose stock is mentioned in this article.