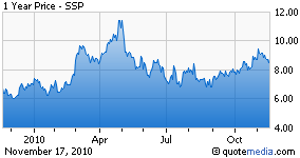 Is it possible that newspaper companies are making a comeback?
I began to ponder this question after a few traditional media companies reported solid results in the third quarter. As the owner of a publishing company, I find the story of traditional print media outlets somewhat fascinating. The recession has been especially tough on many companies in this sector, hit by the double whammy of advertising dollars drying up and people relying less on papers in lieu of online media.
So I consider the company EW Scripps (NYSE:SSP) to be quite interesting. EW Scripps is an old-line newspaper company that has actually become a media pioneer as the times have changed. With many stocks looking a tad stretched entering the final months of 2010 I view a company like Scripps as a hidden profit opportunity. That's because a lot of the easy money in stocks has already been made, so we need to look to stocks that haven't been overbought.
Scripps was founded in 1878 and grew into one of the largest US newspaper chains. Cable TV delivered Scripps an opportunity to become a service provider because the company could wire homes and depend less on the peaks and valleys of advertising dollars.
It turned a healthy profit in 1995 by selling cable properties serving 800,000 subscribers to Comcast (NASDAQ:CMCSA) for $1.6 billion in stock.
Scripps' next transformation was to become a provider of cable programming, starting with HGTV. It then built on its success to create six popular lifestyle channels, including the Food Network. It also acquired the Travel Channel and GAC (Great American Country).
Scripps essentially turned itself into a small cap when it decided to spin off its cable networks by creating Scripps Networks Interactive (NYSE:SNI). This company went public in 2008, and is now a behemoth with a market cap of $8.5 billion — far out of our small cap focus.
To keep shareholders happy, newspaper companies like Scripps have slashed costs by downsizing staff and cutting back on newsprint use. Those cuts helped keep profit margins up during the downturn. But while Scripps has lost money the past three calendar years, the company just posted its third profitable quarter out of the last four, earning 10 cents per diluted share compared with a loss of 6 cents per diluted share a year ago. Newspaper advertising revenues fell 7.1 percent from the prior-year quarter, but TV revenues shot up 31 percent year-over-year.
Investors have driven the stock up 22 percent this year, the company is debt free, and is sitting on $194 million in cash, having spent just a few million on several small online companies this year. What's propelling the stock? It trades with a forward P/E of 27 times 2011 earnings so it's not exactly cheap.
Two of the three analysts covering the company rate it a buy, with a consensus 12-month price target of $11.50, or 35 percent higher than where the stock is currently trading. Clearly these analysts see improving trends in this traditionally tough industry, or consider Scripps to be undervalued for other reasons. I believe it just isn't in a popular industry, and investors have gone with broader investment themes so far this year.
The driving force behind websites is content, and Scripps is a pioneer here. With its local content push at newspaper and TV station websites the company benefits from name recognition in its markets. To bulk up its newspaper sites, the company is hiring 40 "fellows" for 6 or 12 months to produce multimedia content. Scripps also has signed a five-year extension to keep its six biggest stations affiliated with ABC (NYSE:DIS).
Company officials are saying that local advertising conditions have stabilized, and the recession's end could mean increased ad spending. Also, the company said in October that it would buy back one-sixth of its outstanding shares, which should drive up the price.
With just a few positive trends, there could be profit potential with this stock. I'm not suggesting it's a double, but 20-40 percent upside is realistic in my opinion over the next year. While a lot of the "easy money" has been made as stocks rallied from their 2009 lows, undervalued and under the radar stocks like Scripps could present compelling investments for those willing to dig to find opportunities.
Disclosure: No positions