The Nutshell
Utilities is a sector that tends to become attractive as market conditions deteriorate and investors seek safety. When the economy faces a downturn, utility companies benefit in the sense that demand for their services remains unchanged, as people still need electricity, water and natural gas to flow uninterrupted. This steady demand makes them an exceptional defensive play during harsh times. It is unclear if we are currently on the brink of a full-blown market crisis but there is a growing number of evidence, macroeconomic, technical and geopolitical, that financial markets face imminent danger.
Natural gas utilities in particular should continue to enjoy increasingly strong economic fundamentals, as the energy crisis escalates. The use of natural gas is already growing as a more cleaner and efficient way to deal with the growing global energy needs.
Atmos Energy Corporation (NYSE: ATO) is one of the largest natural gas distributors in U.S, operating in 12 states and serving over 3.1 million customers across the country. It is engaged in the transportation, storage and distribution of natural gas. It also provides natural gas marketing and procurement services to industrial, commercial and municipal customers primarily in the Midwest and Southeast and manages company-owned natural gas pipeline and storage assets, including one of the largest intrastate natural gas pipeline systems in Texas, with links to major oil and gas reserves like the Barnett Shale.
It was one of the first utility companies in the country to earn regulatory approval for weather-normalized rates that guarantee a steady stream of cash flow regardless of the temperature swings. This is particularly important as the weather becomes more and more extreme and unpredictable. Regulation is designed to ensure that utility services are accessible but can still turn a profit, without passing cost fluctuations on to consumers.
Valuation
Atmos Energy had a robust financial performance in the second quarter with consolidated net income of $133 million or $1.38 per diluted share compared to $116 million or $1.27 per share a year ago. That was the primary reason it decided to lift earnings guidance from the previous range of $2.66-$2.76 to $2.80-$2.90 per diluted share.
As a result of this, it offered its 122nd consecutive quarterly cash dividend and it projected the indicated annual dividend rate for fiscal '14 at $1.48, which is a 5.7% increase over the 2013 annual dividend rate.
About 95% of Atmos Energy earnings is derived from regulated operations and it projects 9-10% annual rate base growth and 6-8% annual earnings growth through fiscal 2018, with no equity offerings anticipated through that same period. Coupled with the 3% dividend yield, total annual shareholder return is expected to be in the 9-11% range through fiscal 2018.
Competitors
The company has successfully maintained an edge over its main competitors. The recent leap of its revenue growth is a very encouraging sign and accentuates the way it is starting to dominate in its field.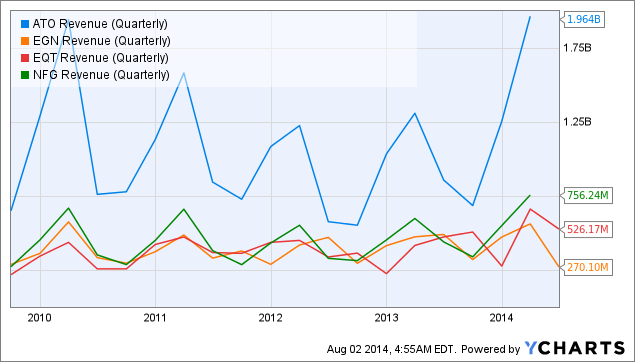 Furthermore, its free cash flow is beginning to grow at an impressive pace. This is normally a very bullish sign, as the cash that it generates will allow the firm to actively pursue opportunities that enhance shareholder value.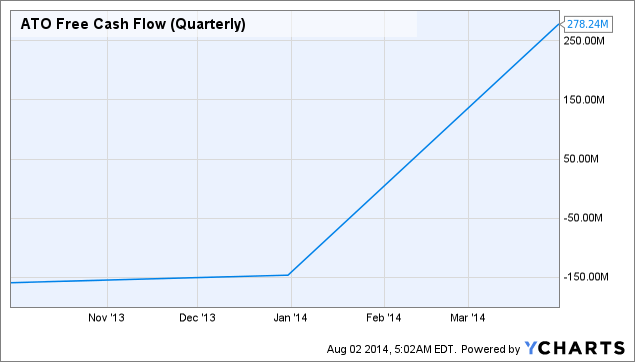 Another important metric which sets it apart from its competitors is the quarterly dividend, which has been growing steadily, even through the market collapse of the previous decade. With a 3.07% dividend yield, Atmos Energy is measurably outpacing inflation as well as its peers.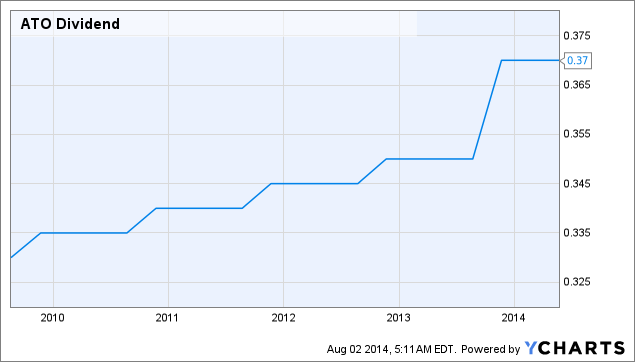 Strategy
Cornerstone of its plan towards achieving these numbers lies in investing in the safety and reliability of its system, in its regulated infrastructure. It is a strategy that has continued to contribute exceptional operational and financial outcomes. Its system was tested operationally during the sustained periods of cold weather this winter and it delivered smooth and reliable service to meet the increased customer demand. And this has been critically important, a direct result of the recent capital investments, spent to fortify its systems.
Another notable accomplishment was the approval of the Atmos Pipeline-Texas GRIP filing on May 6 by the Texas Railroad Commission. The pipeline executed a 10-year contract with Targa Resources, which will commence in October 2014. That contract will enable the company to add infrastructure and compression in the Permian Basin to increase the capacity of its pipeline by 210,000 mmbtu per day and it will provide valuable and new sources of gas supply over that 10-year period.
The effectiveness of its overall strategy is reflected on the way the company's stock has behaved in the last two decades. Despite the great financial crisis and the huge challenges the market had to go through, the share price of Atmos has been on a steady rise with relatively little volatility. This is a confirmation that, while being a defensive stock, it also has the potential to greatly outperform the broad market.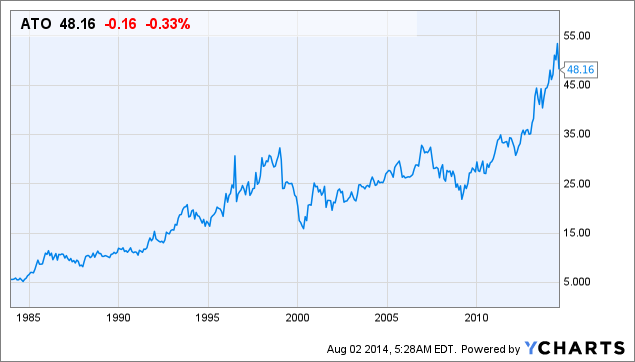 Risks
The volatility of the price of natural gas can sometimes make the company's margins unpredictable, as the costs change while regulations keep prices fixed. Another factor to consider that can hinder profitability is the way the weather dramatically affects the demand for natural gas. Unpredictable or extreme weather can lead to demand fluctuations putting all plans and projections at risk. However, Atmos Energy Corporation operates one of the largest pipelines in Texas. The production business insulates the company against these known issues. There is no doubt of course that the utility's revenue will continue to be more or less erratic - a fact of life for any gas distribution company.
Another thing to consider is the momentum of the stock. In the last 12 months it has appreciated at an unusually rapid pace. This creates a possible value trap and one should be expecting a reversal in the near-term, something that is already starting to materialize. However, this is a purely technical matter and it doesn't alter the firm's true fundamentals or prospects. It simply indicates that at the present moment the timing may not be perfect to initiate a position.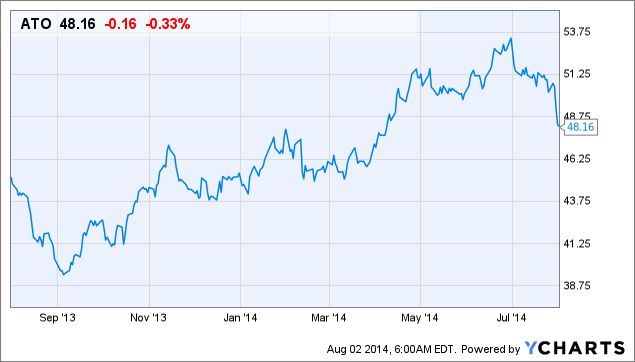 Conclusion
It is apparent that the combination of impressive numbers, the sophisticated and time-tested growth strategy, the safety of the utility sector and its exceptional management make Atmos Energy Corporation a possible safe haven investment in this difficult period we are entering. As the natural gas industry as a whole gains steam, the future looks bright for Atmos, a franchise with a proven resilience similar to that of its name, which in Ancient Greek literally meant 'Steam'.
Disclosure: The author has no positions in any stocks mentioned, and no plans to initiate any positions within the next 72 hours. The author wrote this article themselves, and it expresses their own opinions. The author is not receiving compensation for it (other than from Seeking Alpha). The author has no business relationship with any company whose stock is mentioned in this article.