With Coach, Inc. (NYSE:COH) set to report earnings on August 5, I wanted to take a closer look at not only the company's upcoming quarter but also highlight a number reasons as to why I'm staying long on shares of this particular luxury retailer.
Company Overview
Headquartered in New York City, Coach, Inc. designs and markets bags, accessories, business cases, footwear, wearables, jewelry, sun wear, travel bags, watches, and fragrances for women and men in the United States and internationally. The company offers handbags, money pieces, wristlets, rings, charms, and cosmetic cases for women; and business cases, computer bags, messenger-style bags, totes, wallets, card cases, belts, as well as time management and electronic accessories for men.
It provides wearables, such as scarves, jackets, gloves, and hats; jewelry comprising bracelets, necklaces, rings, and earrings made with sterling silver, leather, and non-precious metals; and travel bags, including luggage, travel kits, and valet trays. The company also offers fragrances comprising eau de perfume spray, eau de toilette spray, purse spray, body lotion, and body splashes for women; and fragrances for men, as well as footwear, watches, and sunglasses. In addition, the company licenses rights to distribute the Coach brand products, including footwear, eye-wear, watches, and fragrances.
Recent Trend Behavior
On Friday, shares of COH, which currently possess a market cap of $9.24 billion, a forward P/E ratio of 17.72, and a PEG ratio of 3.64, settled at a price of $33.70/share. Based on a closing price of $33.70/share, shares of COH are trading 2.32% below their 20-day simple moving average, 8.24% below their 50-day simple moving average, and 27.55% above their 200-day simple moving average.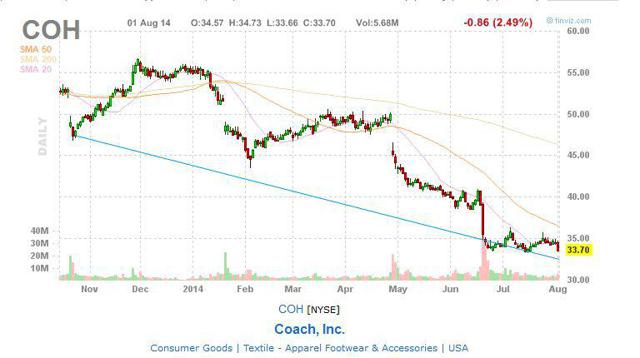 Click to enlarge
Although these numbers indicate both a short-term and a long-term downtrend for the stock, which generally translates into a selling mode for most near-term traders and many long-term investors, I strongly believe the company's trend behavior will could improve even after it announces its FQ4 results on August 5.
Upcoming Earnings Outlook
When it comes to the company's upcoming FQ4 earnings, there are a number of things potential investors should consider. For instance, analysts currently calling for COH to earn $0.53/share in terms of EPS (which is $0.15/share lower than what the company had reported during FQ3 2014, and $0.36/share lower than what the company had reported during the year-ago period) and $1.10 billion in terms of revenue when its latest earnings are released on August 5.
In order to meet and/or exceed estimates Coach is going to have to turn things around in terms of its North American sales (which fell 18% during FQ3). I strongly believe that if the company take the same ideology that has driven its International sales higher over the past 6-12 months and apply it to key segments here in US, US-based retail sales have the potential to improve quite considerably.
Three Reasons To Start Buying Shares of Coach
So now that its shares are trading at or near their 52-week lows, should we establish a position in this beaten down retailer? I certainly think that we should and here are three reasons why I think we should.
A Solid Balance Sheet That Looks Promising: As of the company's most recent quarter (FQ3 2014) the company had zero debt and $550 million in cash on its books. If the company can continue to enhance its cash position on a full-year basis over the next 12-24 months, there's a very good chance its share price could head in an upward direction.

Shares of Coach Are Fairly Cheap: As of Friday's close shares of Coach were trading at just under 10.3x trailing earnings whereas the shares of both Michael Kors (NYSE:KORS) (just over 17.3x) and Ralph Lauren (NYSE:RL) (just under 18.4x) were trading at higher multiples.

An Attractive Yield At Current Levels: As of Friday's close, shares of COH were yielding 4.01% ($1.35) which to me creates an excellent point of entry for income-driven investors who may be in the market for higher-yielding play with considerable upside potential. If the US jobs market continues to improve and consumer confidence follows its lead, US-based luxury retailers including names like Coach, Michael Kors, and Ralph Lauren stand to benefit. Comparatively speaking, and of the three names mentioned, Coach offers the highest yield at 4.01%, Ralph Lauren is next in-line with a yield of 1.16% ($1.80) and shares of Michael Kors do not currently offer a dividend.
Conclusion
For those of you who may be considering a position in shares of Coach, there are a number of things I'd continue to keep an eye on over the next several months. On one hand, shares may not yield 4% for very long, and therefore income-driven investors should jump on the opportunity to establish a position in shares of Coach. On the other hand, if the company can demonstrate a fairly solid quarter when it announces earnings on August 5, even in the midst of a revenue warning, there's a chance shares could come off their current bottom and begin trading at higher levels which is why I think growth investors should consider establishing a position in the company.
Disclosure: The author is long COH. The author wrote this article themselves, and it expresses their own opinions. The author is not receiving compensation for it (other than from Seeking Alpha). The author has no business relationship with any company whose stock is mentioned in this article.