Netflix (NASDAQ:NFLX) reported $1.34 billion revenues and EPS of $1.15in the second quarter of 2014. Both figures are in line with the analyst consensus estimates. After the earning release there was a huge run on NFLX. This was a much needed correction as NFLX was trading at a price higher than its fundamental value. NFLX has warned that in the next quarter profits will be hurt due to expansion plans. One apparent reason in NFLX's fall in price is the fact that its results were not as explosive as the market wanted.
The earnings announcement came with some good news. Firstly, NFLX continues to grow its subscriber base and it reached a new level of50 million. This is an important milestone and going forward there are good reasons to believe that NFLX's subscriber base will continue to show growth in the coming years. NFLX's expansion outside of the US is going to drive future growth. It's encouraging to see that NFLX's recent price hike didn't stop new users from subscribing although NFLX suffered the wrath of users following the 2011 price hike.
According to the second quarter report, NFLX succeeded in adding 570,000 new members domestically and its total number of users increased to 36.24 million subscribers including 2 million unpaid members. The US subscribers showed a significant growth of 25% YOY. On the international front NFLX managed to vigorously expand its user base by adding 1.12 million new users at a YOY growth rate of 77%. The international subscriber base has reached 13.8 million.
In the upcoming 3rdquarter of 2014, NFLX expects to add further net additions of 3.69 million subscribers; 1.33 million in the domestic market and 2.36 million in the international market.
Contribution margins in both the US and international markets have improved in the 2nd quarter. The US positive contribution margin reached 27.1% YOY from 22.5% in the second quarter of 2013. The contribution margin in the international markets that has remained negative is showing improvements. It has reached -5% compared to the figure of -39.7% reported in the second quarter of 2013.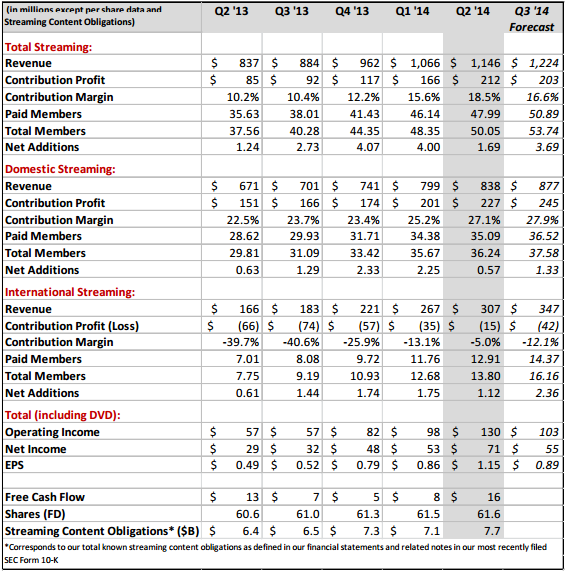 Source: NFLX Investor relations
NFLX Warns that its Growth will Hurt Earnings
It is important to note that NFLX has doubled the profit it earned in the 2nd quarter of 2013 when EPS were $0.49. However, NFLX warned that its 3rd quarter profits will be hurt by international expansion. NFLX estimates that its EPS will fall to $0.89 in the upcoming quarter reflecting a 23% fall in EPS compared to EPS of $1.15 in the current results. However this pain is important for growth and as the saying goes, "No pain, no gain". The execution of the growth plan will hurt the contribution margin in its international operations and it is expected to deteriorate in the coming quarter from -5% to -12.1%. This would result in the deterioration of the overall contribution margin of NFLX. The US contribution margin is expected to remain almost flat at 27.9%compared to the figure of 27.1% reported in the second earnings release.
International Growth
Netflix is targeting the European markets. Netflix is planning to expand further in the next two months in Germany, France, Austria, Switzerland, Belgium and Luxembourg. Its target market will be double that of the US market. Expansion would increase its total international target market to 180 million households.
For the long term, NFLX is eyeing 728 million global broadband households. Even after the announced expansion to increase its target market to 271 million subscribers, NFLX will be addressing only one third of the total number of global broadband households. This means that there is a far bigger market that Netflix still isn't catering to. This means that NFLX has growth potential in the future and that its growth won't end soon. NFLX's healthy growth in Latin America was recently boosted by the adoption of Smart TVs during the World Cup. The percentage of viewing from Smart TVs in Latin America is higher than any other region.
Great Growth Potential in China
Now Netflix is planning to enter into the vibrant and thriving Chinese market. Netflix's entry into China will unlock the door for healthy growth as China is a huge market where consumer buying power is rapidly improving. This can allow NFLX to enjoy the healthy growth coming from the Chinese market.
Valuation
Average analyst estimates for NFLX's mean target price is$432.76 and the median target price of $343.50. The current share price is at the same level as the consensus estimate. NFLX's volatility is high and its share price is expected to decrease further.

Multiples also suggest that NFLX is overpriced at its current price level. The PEG ratio that incorporates growth into the P/E multiple is 3.17 and it's higher than the industry, sector, and S&P 500. This is a clear indication that the stock is not at a suitable buying price at its current price level.

After this correction is made the price may once again become attractive for long and medium term investors that currently don't own positions in NFLX. Investors with long-term positions in NFLX should hold the stock at this price because NFLX's price is expected to increase in the future as it continues its growth at explosive rates.
Conclusion
Netflix's 2nd quarter earnings and revenue are in line with analysts' estimate. Netflix is in a strong position to monetize the growth potential presented by the huge international market. Its user base has reached 50 million and it is expected to continue to increase at a healthy rate in the coming years. However, Netflix says that there will be some growth pains as it expands further in Europe and its EPS is expected to be negatively impacted. Netflix's share price dropped after the earning release. The medium and long-term investors that have long positions in Netflix should hold the stock to gain growth in price. Investors that don't currently have exposure should wait for the price to be corrected to around $400 before taking a position.
Disclosure: The author has no positions in any stocks mentioned, and no plans to initiate any positions within the next 72 hours. The author wrote this article themselves, and it expresses their own opinions. The author is not receiving compensation for it (other than from Seeking Alpha). The author has no business relationship with any company whose stock is mentioned in this article.