Amazon (NASDAQ:AMZN) is an economy leader when it comes to enhancing the experience for the buyer, whether that is making a one-time purchase, or offering other services through their website. Amazon has done a phenomenal job the last five years on providing an excellent buying experience for the customer due to the ease of buying from your living room and having the product at your doorstep in a matter of days and skipping the long lines in a brick-and-mortar retail store.
Recently, Amazon reported 2Q earnings that did not live up to expectations. Although net sales increased 23% to $19.34 billion in the second quarter, Amazon posted a net loss of $126 million for the quarter. Shares tanked and fell about 10% in aftermarket trading when they reported on July 24th. For me, this was great. Part of my trading strategy is to find high-quality companies who have a bright future, but tank after poor earnings causing the market to react in a selloff, and provide a better entry point. I believe this is exactly what has happened to Amazon.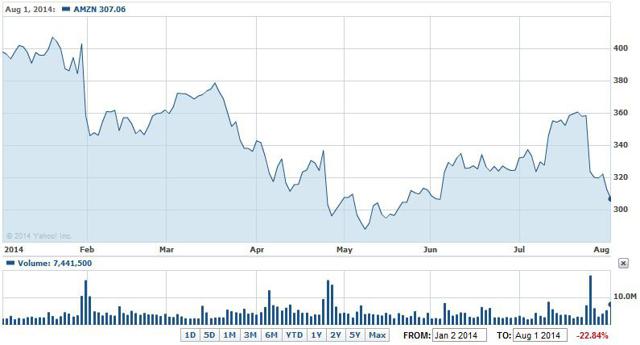 Source: Yahoo Finance
Amazon can often offer cheaper prices for many of their items compared to brick-and-mortar stores due to less overhead expenses. One major competitive advantage Amazon offers is their Amazon Prime package. Amazon Prime, launched in 2005, is a membership offering free two-day shipping to all orders along with other premium content including Amazon Instant Video, Amazon Prime Music, and access to the Amazon Kindle Lending Library. This membership is perfect for those individuals who purchase multiple items a month and can offset the membership cost, $99 a year, with cheaper prices and free shipping. Amazon also recently added different membership models tailored to students and moms, allowing them to take advantage of similar incentives for a lower amount per year. The quickness of two-day free shipping only adds to the positive buying experience.
Last week, Amazon announced the arrival of Fire, Amazon's first smartphone, exclusively on AT&T. A 32GB Fire is only $199 with a two-year contract, and for a limited time, you will get one year of Amazon Prime for free. It is hard to forecast the success of Amazon Fire, mainly because Apple and Samsung own the smartphone market share. However, this branch of Amazon will increase quarterly revenue and will also help promote other areas of Amazon's vast digital ecosystem. I cannot see this smartphone making a big splash in the smart phone industry, but it doesn't need to be a homerun to add value to Amazon.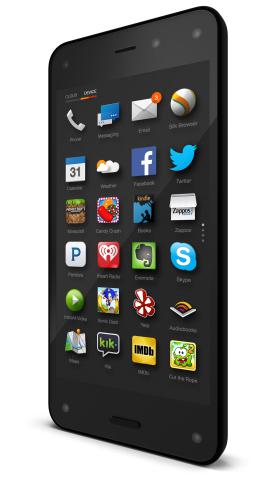 Source: Amazon Website Press Release
A huge opportunity for Amazon's growth is the implementation of Amazon Prime Air. If approved, this could revolutionize the shipping and logistics industry. Still in beta phase, Prime Air would use unmanned drones to deliver small packages within approximately a 10 mile radius. This also would allow packages to be delivered within 30 minutes of a buyer playing an order. There are many obstacles standing in the way before full scale implementation, including approval from the FAA, but if approved, could save Amazon millions of dollars in shipping expenses over the years.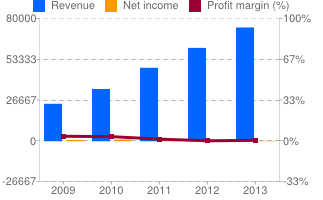 Source: Google Finance

Source: Yahoo Finance
Earlier in the year, Amazon was trading close to $400 per share. It is down roughly -23% YTD, of which 14% has occurred in the last week. As an investor, usually a drop of 23% in 7 months would cause a red flag to go up, but I am incredibly happy that has occurred. My opinion of Amazon has not changed from one poor quarter. Increased year-to-year sales and gross profit margins only solidify my opinion for signs looking upwards for continued growth. The company has an incredibly strong brand, a wide customer base, and online retail sales continue to increase all across the board. Looking forward, I plan on entering a position at $300 a share and looking for a 20% return in four to six months.
Disclosure: The author has no positions in any stocks mentioned, but may initiate a long position in AMZN over the next 72 hours. The author wrote this article themselves, and it expresses their own opinions. The author is not receiving compensation for it (other than from Seeking Alpha). The author has no business relationship with any company whose stock is mentioned in this article.