The surprising success of El Pollo Loco Holdings (NASDAQ:LOCO) following their IPO last week leaves me wondering why Zoe's Kitchen (NYSE:ZOES) hasn't seen the same level of excitement.
Both restaurant chains operate in the fast-casual segment and have investors comparing each to the success of Chipotle Mexican Grill (NYSE:CMG) and hoping to avoid the recent mis-steps of Potbelly Corp. (NASDAQ:PBPB).
The odd part is that recent results suggest a more favorable investment in the Mediterranean-inspired concept of Zoe's Kitchen. El Pollo Loco is much loved and the IPO was probably underpriced, but the stock gains appear to have investors ignoring the pre-IPO numbers.
Why is El Pollo Loco Soaring?
El Pollo Loco focuses on fire-grilling citrus-marinated chicken in a Mexican-inspired restaurant. The concept has 401 locations and forecasts reaching 2,300 locations in the U.S. Comp sales grew 7.2% in Q1 '14, but revenue only grew 5.7% to reach $81.4 million. The company though only owns 168 of the stores with 233 franchise locations spread across Arizona, California, Texas, Utah, and Colorado. Even more concerning is that it began 2011 with 412 stores and has closed a net 11 stores during that period. The difference in sales figures is due to the net closure of 1 store during 2013.
The IPO priced at $15 and with the recent massive gains is now worth over $1 billion. The stock was clearly underpriced for a concept with strong comp sales.
The ironic part is that El Pollo Loco is more hype than reality. The recent financials suggest the company has limited ability to replicate the growth trajectory of Chipotle. It only plans to grow the store base around 10% per year with plans of only opening 8 to 10 locations this year. After a huge surge in the stock price, it should shine some light back on the valuation offering of Zoe's.
Zoe's Kitchen Offers Better Growth
While Zoe's Kitchen has performed well since going public, it hasn't seen the outsized gains and excitement following the first-day pop after the initial IPO pricing at $15. The stock ended the first day at around $25 and now trades near $29. El Pollo Loco priced at the same level and now trades at over $38. Ironically though, Zoe's Kitchen is generating better sales growth and offers more long-term growth potential with a significantly lower store base.
Zoe's Kitchen ended 2013 with only 102 restaurants and expects to expand to over 130 this year. The long-term goals of over 1,600 stores appear on the low side compared to where Chipotle Mexican Grill expects to end up. Remember, Chipotle already has over 1,600 locations open.
With the fast store openings, revenue is surging at Zoe's that produced a 47.4% gain in Q1 '14. The numbers were based mostly on new store openings, but the comp sales increased a solid 5.7%. The only real fly in the ointment is the company still produces a small net loss at $0.02 in Q1. Analysts forecast a slight full-year profit and only a small improvement in 2015 of $0.07.
The following slide from the investor presentation probably sums up the opportunity for investors in Zoe's Kitchen the best: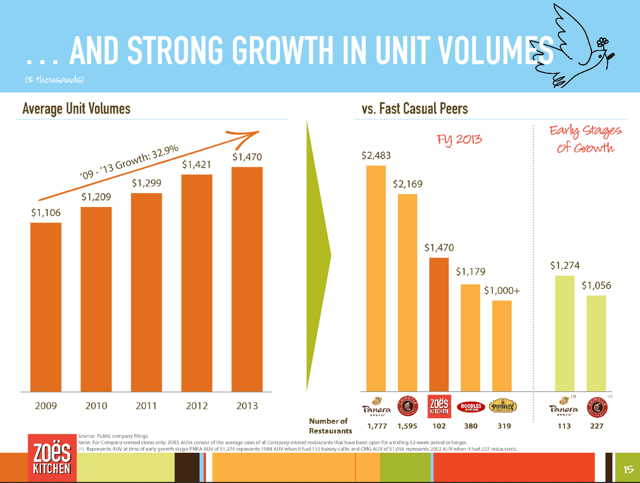 Click to enlarge
The unit volume growth has been exceptional and the size of the company compares very favorably to the history of Chipotle, Potbelly, and other comparable chains.
Valuation Matters
The valuation is very intriguing for a stock that recently produced 47% revenue growth. It compares very favorably to Chipotle and naturally exceeds the numbers of Potbelly that has disappointed the market since going public at the end of 2013. Also, the Potbelly numbers highlight what could happen if Zoe's were to ever disappoint and see growth stall.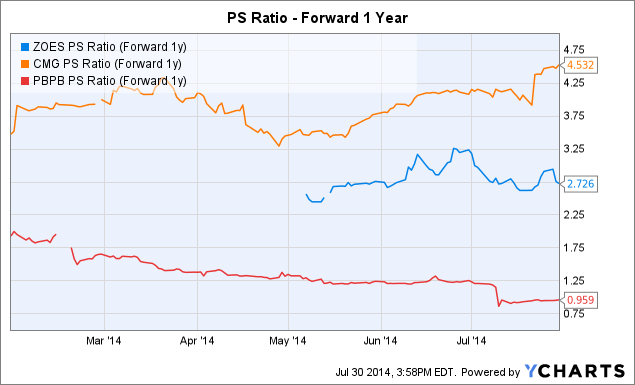 ZOES PS Ratio (Forward 1y) data by YCharts
Conclusion
Zoe's Kitchen is a potential heir apparent to the Chipotle story for a prime reason that it offers a different food segment that fits into the recent trend for healthy eating. The recent filing by pre-IPO shareholders to unload another 4.6 million shares is a concern. Brentwood Associates has 8.7 million shares so it isn't dumping all of the shares it owns, but it is nevertheless an issue that could further pressure the stock.
The recommendation is for investors to use any weakness from the secondary to purchase Zoe's Kitchen. Don't get too excited about El Pollo Loco when Zoe's sits at the attractive valuation of only $530 million with revenue expected to surge to over $200 million next year.
Disclosure: The author is long ZOES. The author wrote this article themselves, and it expresses their own opinions. The author is not receiving compensation for it (other than from Seeking Alpha). The author has no business relationship with any company whose stock is mentioned in this article.
Additional disclosure: The information contained herein is for informational purposes only. Nothing in this article should be taken as a solicitation to purchase or sell securities. Before buying or selling any stock you should do your own research and reach your own conclusion or consult a financial advisor. Investing includes risks, including loss of principal.