One of the biggest mistakes most investors make is ignoring the global markets and simply focusing on the major U.S. stock market indices. As many of you know, Marco Polo was an Italian merchant famous for his travels to Asia (specifically China) in the 13th century. I believe more investors should channel their "inner Marco Polo" and examine the incredible investment opportunities that exist in China today. In this article, I will lay out my investment thesis for Chinese stocks.
Potential Catalyst
Alibaba (Pending:BABA) is an e-commerce giant based in China and is widely considered the Amazon (NASDAQ:AMZN) of China. Alibaba has shown explosive growth, reporting net income of $1.35B on revenue of $6.5B for the twelve months ended 12/31/13. The Alibaba IPO is one of the most hyped and anticipated IPOs in history. Alibaba is expected to offer around 12% of its shares, raising around $20B. This would make Alibaba the largest IPO in history, surpassing Visa's (NYSE:V) record $19.65B IPO in 2008. The Alibaba IPO may be just the catalyst Chinese stocks need to attract momentum and buying pressure.
Technical Analysis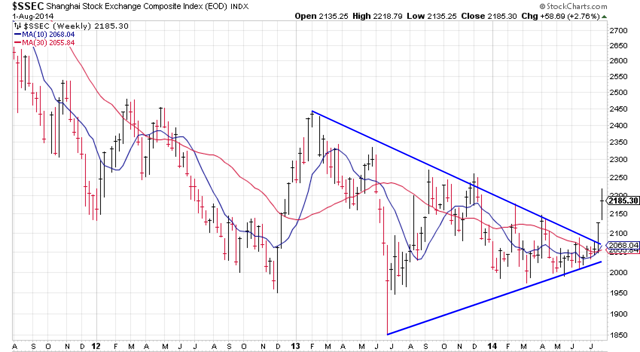 The chart of the Shanghai Stock Exchange Composite (SSEC) paints a perfect picture. The SSEC has traded in a "boring" sideways pattern for much of the last two years. As volatility contracted, the SSEC broke out of its wedge. Despite the dismal week for global stock markets, the SSEC held its breakout and the pattern continues to look very constructive.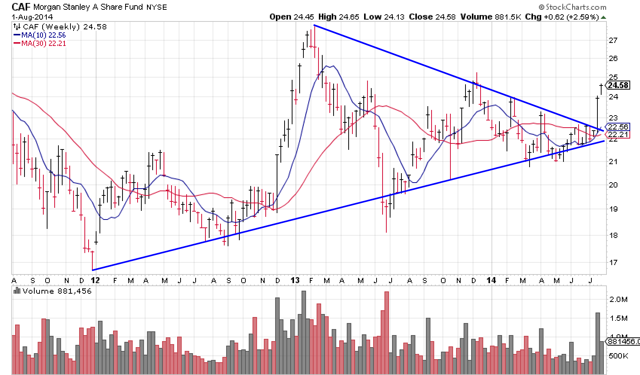 Above is the chart of the Morgan Stanley A Share Fund (NYSE:CAF). This fund invests 80% (at minimum) of its assets in A-shares listed on the Shanghai and Shenzhen Stock Exchanges. The CAF also broke out of a wedge pattern on the highest weekly volume in a year. CAF also managed to sustain its breakout last week, despite global stock market weakness.
Sentiment
Media pundits today will tell you China's economy is "only" growing at 7%. They will warn you of China's slowing economy and the consequences that it will bring. They believe China's housing market will collapse. They believe China's shadow-banking system delicately supports its financial system. They believe China's economy is destined to collapse. The good news for investors is that stock market crashes and financial crises never occur when everyone is predicting that they will occur. Crashes and collapses occur during times of forced buying and stock market euphoria, the exact opposite of what is occurring today.
Equity fund flows is another sentiment indicator that I like to monitor closely. In 2014, investors have aggressively piled out of Chinese equity funds. For the week ended March 21, investors pulled $2B from Chinese equity funds, the largest weekly outflow since January of 2008. The "crowded" side of the trade often gets it wrong, which leads contrarians like myself to be very bullish on China.
Broad Macro View
In the aftermath of the Financial Crisis of 2008, the Federal Reserve and other central banks have undertaken highly accommodative monetary policies. Low interest rates have given investors few choices among asset classes. As the Fed and other central banks wind down their asset purchase programs, interest rates will inevitably rise (leading to declining bond prices). The lack of inflation has made commodities an unattractive investment as well. Coffee, corn, and wheat prices are all at multi-year lows. Gold suffered its first yearly loss in thirteen years, tumbling 28% in 2013. Realistically, equities have been the only asset class providing investors with a decent rate of return. I believe this theme will continue for the foreseeable future. While the Chinese stock markets have failed to participate in the global rally over the past five years, I believe that the tide will soon change.
The S&P 500 (NYSEARCA:SPY) has enjoyed a bull market run for the ages, which undoubtedly can continue. Put simply, the "buy the dip" mentality will work until it proves not to. However, there are opportunities in Chinese stocks that present more favorable risk/reward scenarios for investors. Small-caps that derive a large percentage of their revenues from China will see their stock prices appreciate the most, should the Chinese stock market take off. For the more risk-averse investor, he or she could invest in a large-cap ETF such as the iShares China 25 ETF (NYSEARCA:FXI). I plan to write-up a few of the individual names that I like the best by the end of the week.
Thank you for reading and have a great week of trading!
Disclosure: The author has no positions in any stocks mentioned, and no plans to initiate any positions within the next 72 hours. The author wrote this article themselves, and it expresses their own opinions. The author is not receiving compensation for it (other than from Seeking Alpha). The author has no business relationship with any company whose stock is mentioned in this article.