Yes, it is that time of the month. Ford Motor (NYSE:F) just released its monthly sales numbers for the United States and they were encouraging, to say the least. However, the market didn't seem to be too impressed by the presented numbers as Ford Motor shares fell more than 1% on Friday. Did investors get carried away in their optimism and were disappointed by Ford's sales results?
Well, let's look at the numbers first to see if they were decent. According to Ford Motor's latest press release, the car manufacturer posted strong year-over-year sales increases across its flagship products [emphasis added]:
DEARBORN, Mich., Aug. 1, 2014 - Ford Motor Company U.S. sales of 212,236 vehicles increased 10 percent over a year ago for the best July in eight years. Retail sales of 162,028 vehicles are up 7 percent.

"July proved to be a very good month for Ford and Lincoln with positive gains across the board in all the major segments," said John Felice, Ford vice president, U.S. Marketing, Sales and Service. "Escape and Fusion were big contributors to our sales increases, with both setting July sales records. F-Series again topped the 60,000-vehicle sales mark and we're seeing great initial demand for our launch vehicles, such as the Transit Connect, Transit Connect Wagon and the Lincoln MKC as availability builds."

Ford Fusion set an all-time monthly sales record in July with 23,942 cars sold, a gain of 17 percent. The West region of the United States continues to drive Fusion sales higher, with a 24 percent retail increase relative to a 22 percent increase nationally.

Ford Explorer sales are up 32 percent with 16,797 vehicles sold, for the vehicle's best July since 2005. Ford Escape sales are up 19 percent, setting an all-time performance record for July.

Ford F-Series sales are up 5 percent with 63,240 trucks sold, a number achieved with the lowest incentives of the three largest pickup truck manufacturers.

Lincoln sales of 7,863 vehicles are up 14 percent, giving the brand its best July result in six years. Stock for Lincoln MKC is expanding and momentum is building, with 1,534 vehicles sold in July.
Just last week I penned an article in which I argued that Mr. Market makes serious mistakes when valuing Ford Motor. And evidence of this could clearly been seen in Friday's trading session: The stock was down as investors were apparently disappointed by Ford's sales performance.
But how could Ford Motor's results been any better? The company posted a series of record sales for a variety of car models as well as many double-digit year-over-year percentage increases, and yet the market is disappointed and makes shares even cheaper?
Investment approach
Generally speaking, I like it when stocks are on sale, either because the market sells off and investors panic or because they are just plain wrong. The latter seems to be the case here. How can a company with a $10.4 billion net cash position in its automotive division and such sales results in its most important geography trade at just nine time earnings?
This doesn't make sense at all and I would recommend investors to consider Ford Motor as a long-term investment on any pullback as long as the market hasn't really figured out how to judge the company properly.
Chart situation
Though the sales data was great, Ford's shares didn't reflect the results.
Shares have fallen back below the $17 level and are still a great Buy. Though unnecessary, I consider the recent pullback to be a short-term consolidation only. Ultimately, Ford Motor shares should be able to attack the $20 level -- the fundamentals certainly warrant it.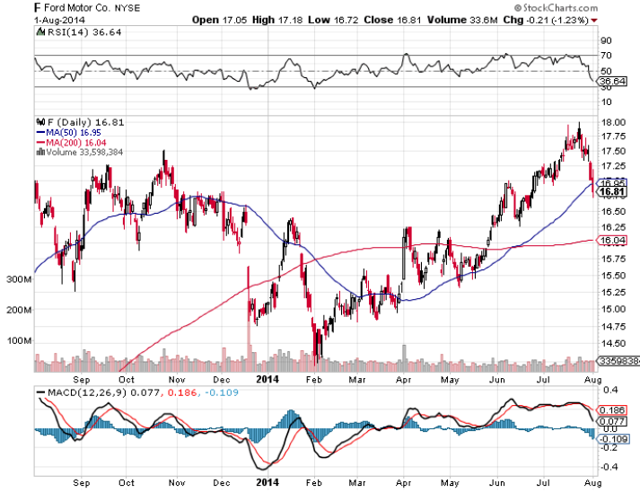 Click to enlarge
(Source: StockCharts.com)
Conclusion
Ford Motor just presented undeniably great results in its most important auto market. Remember, the automotive sector contributed 83% of Ford's second quarter pre-tax earnings and within automotive, the United States accounted for the lion share of pre-tax earnings: $2.44 billion was the reported pre-tax profit in North America far bigger than in any other geography.
At nine times earnings with top sales results and a fortress balance sheet, investors might want to pull the Buy trigger and add a few shares to their long-term investment portfolios. Top value, like Ford Motor, doesn't stay under the radar for too long. Short-term momentum could quickly push shares to the $20 level, especially when macroeconomic data points indicate a continued recovery in the U.S. economy. Strong Buy.
Disclosure: The author is long F. The author wrote this article themselves, and it expresses their own opinions. The author is not receiving compensation for it (other than from Seeking Alpha). The author has no business relationship with any company whose stock is mentioned in this article.