I love pizza so when a Domino's Pizza (NYSE:DPZ) opened in my home town, I was among the first to order there. This has inspired me to take a closer look at the company behind what is now my favorite pizza shop.
Domino's Pizza serves over a million customers a day through their 11.000 stores, spread across every continent. The company is investing heavily in the opening of new stores outside of the United States. The most recent quarterly rapport, which can be found here, shows us how important international growth is for the company. The number of stores in the U.S. has grown by 11 in the most recent quarter and 70 in the last twelve months. Meanwhile, the company added an amazing 611 international stores over the past 12 months, 122 of which were added in the most recent quarter.
Domino's has recently started paying a dividend which now stands at $0.25/ quarter. This gives us a current yield of 1.39%, which isn't very impressive. However, as the company expands internationally, I would expect EPS to increase, allowing for larger dividend payments. Analysts appear to agree with me, as the average EPS estimate for next year stands at $3.34 which is quite a bit higher than the $2.48 the company reported in the most recent fiscal year.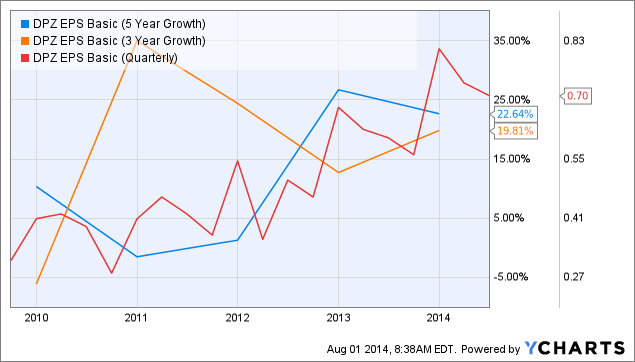 DPZ EPS Basic (5 Year Growth) data by YCharts
Domino's EPS growth rate is nothing short of amazing. The company has been able to grow its earnings per share by over 20% on average in the past 5 year. Part of the growth in EPS is due to the large amounts of shares the company has repurchased over the past couple of years. The next graph shows the decline in number of outstanding shares over the past 5 years.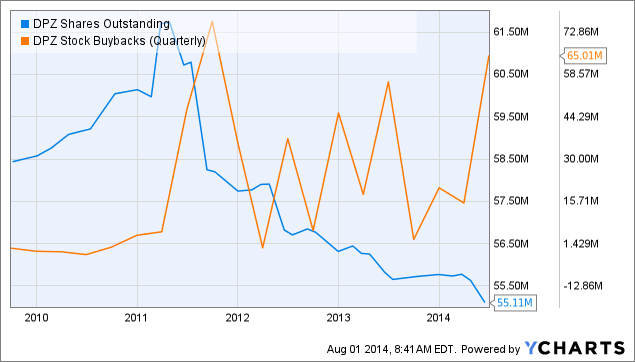 DPZ Shares Outstanding data by YCharts
Looking at Domino's balance sheet, we can see a very reasonable current ratio of 1.49, with a quick ratio of 0.95. The long term debt is quite high, at $1.524 billion, especially for a company that had only $78.9 million in net income over the first 6 months of the current fiscal year. However, I believe that as the company grows, it will become easier to sustain this debt.
Conclusion:All things considered, I think a long term investment in Domino's Pizza could prove to be very profitable. The company is expanding internationally at quite a high pace, opening more than a store a day on average over the past twelve months. Share repurchases help boost EPS, and although the current dividend yield of 1.39% isn't all that impressive, I believe it could grow quite a bit as the number of stores increase. At the current price of $72.00, Domino's Pizza is valued at 21.6 times next year's expected earnings, which I consider to be quite low for a company growing at such a pace.
Disclaimer: I am not a registered investment advisor and do not provide specific investment advice. The information contained herein is for informational purposes only. Nothing in this article should be taken as a solicitation to purchase or sell securities. Before buying or selling any stock you should do your own research and reach your own conclusion. It is up to investors to make the correct decision after necessary research. Investing includes risks, including loss of principal.
Disclosure: The author has no positions in any stocks mentioned, and no plans to initiate any positions within the next 72 hours. The author wrote this article themselves, and it expresses their own opinions. The author is not receiving compensation for it (other than from Seeking Alpha). The author has no business relationship with any company whose stock is mentioned in this article.