Demographic shifts can be key drivers of housing trends. To date, I have spent more time examining the impact of aging Baby Boomers on the housing market than aging millennials, defined here as the generation born between 1985 and 2004 (inclusive). In this piece, I combine the research of three different sources to conclude that 2015 likely represents a first make or break point for millennials to have a positive impact on the housing market and on the prospects for home builders. This piece is essentially a follow-up to last year's "The Pent-Up Housing Demand Of Young People Could Support 'Selling Seniors'" and "The Housing Recovery Will Proceed Even With The Changing Preferences For Living At Home." Here are my references:
The JCHS produces a comprehensive annual report on the health of America's housing. It covers everything from economics, social dynamics, demographics, to housing policy. In this year's edition, I focused on the discussions related to demographics. Given the raw numbers, millennials represent the tipping point for new household formation:
…the leading edge of the large millennial generation (born 1985-2004) has moved into the age groups where household formation rates normally peak.
Despite its declines in headship rates, the millennial generation is so large that the number of independent households for 20-29 year-olds is still larger than 10 years ago:
…the aging of the millennial generation over the coming decade will lift the number of households in their 30s by 2.4-3.0 million, depending on immigration trends. But these numbers vastly understate the impact of this group on housing demand since they will account for most newly formed households in the coming decade. Indeed, the millennials will make up fully 24 million new households between 2015 and 2025, thus driving up demand for rentals and starter homes.
Income levels have been holding back millennials from obtaining normal aggregate rates of household formation and home ownership. Over the last 10 years, headship rates have been relatively constant across income groups. Unfortunately, millennials as a group have shifted to lower incomes, accounting for more than half of the drop in headship rates for 20-29 year-olds. In general, higher income forms a large divide between owning and renting. For example:
the share of first-time buyers with annual incomes over $75,000, at 34 percent, is nearly three times that of renter households (13 percent).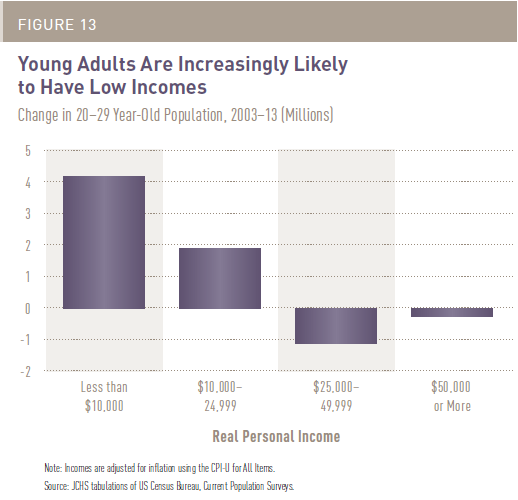 Young adults have shifted into lower real personal incomes
Source: "The State of the Nation's Housing 2014," by the Joint Center for Housing Studies [JCHS] of Harvard University (June, 2014)
It is also instructive to note that the profile of a first-time homebuyer has not changed much. According to JCHS:
First-time buyers are typically younger adults, with two-thirds under age 35 and 84 percent under age 45…They are also likely to be married-particularly those in the 25-34 year-old group, where marriage rates tend to differentiate buyers from renters. Indeed, married couples are 49 percent of first-time homebuyers in this age group but just 30 percent of all similarly aged renter households. Married couples make up an even higher share (62 percent) of all other homeowners in this age group."
Of course, the average age for first marriage has been increasing for men and women, a trend in place well before the last recession. The change in marrying age has had a dramatic impact on household formation in the past 10 years:
…the number of younger married-couple households-with homeownership rates averaging near 62 percent-dropped by more than 914,000 households in 2003-13. Meanwhile, the number of younger single-person and non-family households-whose homeownership rates averaged just 33 percent over the decade-increased by 1.0 million.
In the coming years, the oldest millennials who are still single now will finally start getting married. This lifestyle change should place notable upward pressure on household formation. JCHS does not provide an estimate for this impact. The percentage of these newlyweds that then jump into ownership over renting will likely be determined by the state of the economy (incomes) in the coming years.
Kolko puts the income story aside as he focuses in on demographic differences between millennials and generation X (the Baby Bust generation). In fact, his analysis suggests that the entire decline in homeownership for younger adults comes from shifting demographics:
The demographic shifts among young adults account for the entire decline in homeownership for 18-34 year-olds over the last twenty years. In other words, if the pre-bubble years of the late 1990s can be considered relatively normal, than today's lower homeownership rate for young adults might be the new normal, thanks to demographic changes.
Kolko's study differs from the JCHS because it uses what Kolko calls a "true homewonershp rate." Kolko notes that with the number of adults per household changing, the official homeownership rate calculated as the number of owner-occupied households divided by the number of all households makes it more difficult to understand the impact of changing demographics. Kolko's "true homeownership rate" of owner-occupied households divided by the number of ALL adults paints a different picture of ownership trends. There are two main differences in the trends of these measures: 1) the true rate shows a stable rate in the 1980s whereas the official rate declines sharply, and 2) the true rate is showing a very subtle sign of potential bottoming over the past year or so. Most importantly, the true homeownership rate puts changing demographics into proper perspective. Kolko identifies the following demographic changes for 18-34 year-olds which work against homeownership from 1983 to 2013:
The percent married fell from 47% to 30%
The percent living with their own children fell from 39% to 29%
The percent non-Hispanic white fell from 78% to 57%
I think Kolko should have considered the likelihood that income differentials are the true differentiation for the ethnic factor, but such inclusion would have greatly complicated his analysis given the two recessions during his timeframe for analysis. Nonetheless, he proceeds with a solid approach to create a baseline homeownership rate and
estimate what would have happened to homeownership if the likelihood of owning a home for someone with particular demographics in the baseline time period stayed constant and were applied to the actual demographic shifts that really happened.
The result is a chart which shows demographic shifts can explain the entire decline in the true homeownership rate for 18-34 year-olds from the 1990s to today.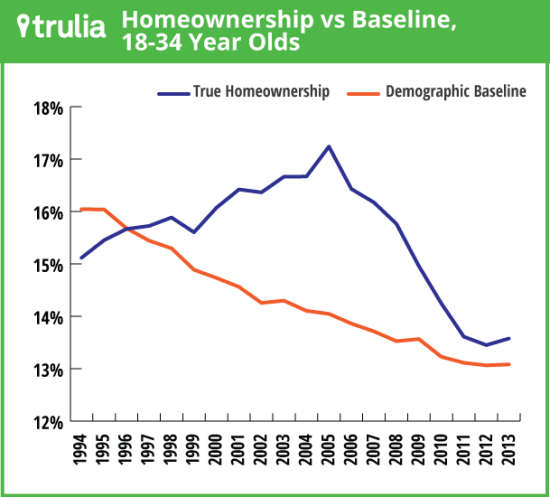 Changing demographics can explain the entire decline in the true homeownership rate for younger adults
Source: "The Recession's Lost Generation of Homeowners Isn't Millennials - It's the Middle-Aged," by Jed Kolko
Kolko uses this finding to declare that attitudes among younger adults toward homeownership have not made the huge shift that people tend to think:
…today's millennials are roughly as likely to own homes as people with similar demographics two decades ago.
The JCHS research suggests that same applies to millennials segmented by income levels. Since the demographic shifts are secular, not cyclical, in nature, we are likely seeing something close to a new normal for younger adults. Even though Kolko's analysis includes 30-34 year-olds who are technically not millennials right now, the aging of the leading edge of his demographic group will start moving into the bracket with higher homeownership rates starting next year. Thus Kolko's work seems generally consistent with JCHS in terms of my claim that millennials are poised to deliver the next critical juncture for the housing market.
Homeownership rates for 35-54 year-olds have plunged below their demographic baseline thanks to the ravages of a housing bust that hit when many were "coming of age" for homeownership. The movement of first-time buying millennials into this age group should then start to drive up this age bracket's homeownership rate.
Kolko concludes:
Turning more millennials into homeowners, therefore, may not be the missing piece of the housing recovery after all. Long-term demographic changes mean that homeownership among young adults is roughly where it should be. The real missing homeowners are the middle-aged.
I agree. However, Kolko subtly misses the dynamic point. Young adults may surely maintain the same ownership rates, but today's young adults are moving into the next age bracket. In Kolko's age brackets, today's young adults are becoming tomorrow's middle-aged. Today's middle-aged were ravaged by the housing crisis unlike any other generation. If today's young adults coming of age occurs in the midst of an on-going economic recovery, they will transform the middle-aged bracket. As the JCHS points out, millennials outnumber the next oldest generation, so their coming of age will have a notable impact on homeownership, assuming marriages and/or children arrive as expected. An improving economy will provide an extra kicker.
Housing markets are of course local. So, the kicker of an improving economy will not appear uniformly across the country. A study by the National Association of Realtors [NAR] provides some guidance on where in the country we might find increased homeownership from today's millennials:
NAR analyzed current housing conditions, job creation and population trends in metropolitan statistical areas across the U.S. to determine the best markets for aspiring, leading edge Millennial homebuyers…

NAR analyzed 100 metro areas that have a large Millennial presence, solid local job market conditions and strong migration patterns of young adults moving to that particular area to determine the best purchase prospects for young buyers. Housing affordability and inventory availability were also considered."
The NAR's study produced the following ranked list:
Austin, Texas
Dallas
Denver
Des Moines, Iowa
Grand Rapids, Michigan
Minneapolis
New Orleans
Ogden, Utah
Salt Lake City
Seattle
Honorable mention went to Madison, Wisconsin; Nashville, Tennessee; Omaha, Nebraska; Raleigh, North Carolina; and Washington, D.C.
In other words, if the leading edge of millennials are truly having a positive impact on the housing market in the coming years, these are the cities most likely to provide positive evidence. They are all now on my watchlist.
Disclosure: The author has no positions in any stocks mentioned, and no plans to initiate any positions within the next 72 hours. The author wrote this article themselves, and it expresses their own opinions. The author is not receiving compensation for it (other than from Seeking Alpha). The author has no business relationship with any company whose stock is mentioned in this article.