As an outgrowth to my research, and ultimately purchase (unfortunately a few days too early) of General Electric (NYSE:GE), I started to research the spin-off of its consumer finance arm, Synchrony Financial (NYSE:SYF). Ultimately, I became enamored of the appreciation potential of SYF, especially after pricing at $23/share, the low-end of the $23-$26 range. My investment thesis, which I will further develop in the article, is based on the following six factors:
Reasonable valuation of less than 10x trailing earnings;
Strong market position;
Positive macro-economic trends driving growth;
Strong balance sheet, including untapped credit availability;
Low-end IPO price managed by professional bankers who priced for "success";
Theoretical dividend capability of +/- $2.30/share which will translate into a healthy, but much smaller, dividend post-Federal Reserve approval.
My articles reflect my research methodology, which looks at core valuation, catalysts for future growth and macro-economic/geo-political trends. This methodology ultimately led to my "Buy" decision.
SYF Overview and Highlights
SYF focuses on offering private label credit cards to American consumers and is one the largest consumer financial companies in the world, with operations dating back to 1932. In 2013, SYF financed $94 billion worth of transactions to a diverse group of 59 million consumers with an average FICO score of 710 (694 on a weighted average basis) and earned $2 billion.
SYF partners with leading retailers such as GAP stores (NYSE:GPS), J.C, Penney (NYSE:JCP), Lowes (NYSE:LOW) and Walmart (NYSE:WMT). However, the Company's customer base is highly concentrated, with the five largest relationships (the four mentioned, plus Sam's Club) comprising 48% of SYF's revenues.
The Company also offers banking services through Synchrony Bank, formerly GE Capital Retail Bank, and held deposits of over $27 billion as of March 31, 2014.
The Gartner report, a consulting firm focusing on the credit card industry, projects transactions in SYF's primary market (credit card payments) to grow by 35% between 2012 and 2017. SYF's purchase volume increased by almost 10% in 2013.
Following the IPO, SYF has a strong balance sheet with $9 billion in equity and over $5 billion in potential borrowing capacity.
SYF was profitable during the financial crisis and in both 2011 and 2012, prior to "preparing" for the IPO, "dividended" $1.9 billion to its parent, GE. While dividends will not be resumed at the same level, these payments demonstrate the Company's extraordinary cash generating capabilities.
The Company's delinquency rates are currently lower than in 2007, prior to the financial crisis. 30 days past due is trending downward; 3.8% at June 30, 2014, 4.1% at March 31, 2014, 4.3% at December 31, 2013, 4.6% at December 31, 2012 and 4.9% at December 31, 2013.
Post-IPO there will be approximately 831 million shares outstanding (depending on underwriter overallotment exercise) and an additional 2% of the post-IPO share count has been reserved for management incentives.
As an independent company, SYF expects its cost of capital to increase 20-30 basis points; these costs have been modeled in the Company's pro-forma numbers.
SYF was being spun-off from GE, which will own 84.9% (83.1% depending on underwriter overallotment exercise) of the Company following the IPO. GE intends to fully divest itself of SYF by the end of 2015.
Valuation
As the below chart indicates, on a pro forma basis, SFY earned approximately $2.37/share over the past four quarters. These numbers also included an undefined number of deal costs (other expense), which will impact Q3 2014, but are one-time expenses. No analysts estimates will be available until August 24, but I was pleased to see a favorable TTM PE of 9.7x; if EPS grows by 10% over the next four quarters, the forward PE would be 8.8x (the comp group shown later is based on fiscal 2014 EPS, so is a "blend").

Source: Synchrony Financial Prospectus
In creating a price target, I looked at the three competitors that might be characterized as closest to SYF; American Express (NYSE:AXP), Capital One (NYSE:COF) and Discover Financial (NYSE:DFS). None of the three are "exactly" like SYF, but they all earn the majority of their income from credit card activities, unlike JPMorgan (NYSE:JPM) or Citigroup (NYSE:C), which are primarily banks.
Using the comp group average PE of 12.3x and the same group's average projected growth rate, I have a preliminary price target of $29/share, 27% higher than SYF's IPO price.

Source: Yahoo!
Beyond pure valuation, SYF boasts a strong balance sheet with $9 billion of equity, positive trends with respect to loan receivables, deposits, transaction volumes, active accounts, and past due amounts. Negative trends include a declining interest margin (subject to further tighten as interest rates increase), and a significant increase in employees and related expenses.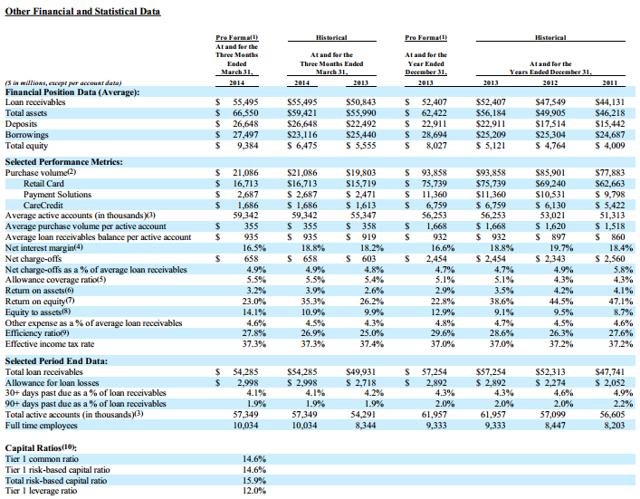 Source: Synchrony Financial Prospectus
Catalysts for Growth (Company and Event)
Given that forward estimates and the roadshow presentation were not available to me, I would characterize my relationship with SYF as "dating", not "married". However, I do expect positive catalysts that provide more reward than risk.
Analyst estimates and research will be available starting August 24. Since a whopping thirty-one firms, including bulge bracket investment banks like Goldman Sachs (NYSE:GS) and JPM, were involved (and paid) with the offering, I expect significant, generally positive research within the month (morally, a firm cannot take a Company public without "believing"). Along with "Buy" ratings, I expect a more nuanced view toward growth prospects; my best estimate is five year (annual) growth in the high single digit range over a five year period.
Good investment bankers will not take every last dollar of price; typically they want all parties, including investors, to be happy. That is why I am pleased they priced SYF at the low end of the range, and at a reasonable multiple. The decline of COF and DFS while the roadshow was occurring was also a contributing factor. However, I view the mature behavior of the Company and its bankers to provide me with a little additional built-in upside. This upside should manifest itself when analyst forecasts are issued and the stock moves closer to its peer group with respect to multiples. Of course adjustments for SYF's long-term growth forecast, unique business model and other news will also be reflected in price and forecasts.
SYF needs the approval of the Federal Reserve to issue dividends. Given the time, effort and pre-planning committed to the IPO, SYF should pass crash-testing with adequate reserves and ratios to be able to pay material dividends. Its closest competitors pay dividends of less than 2% annually. I expect SYF to start in that range (+/- 1.5%) and increase payments regularly; don't expect dividends until 2015.
GE has invested a significant amount of effort re-transforming itself back into an industrial company. Therefore, it is likely that SYF was restrained from aggressive activities that would either draw undue attention to the non-industrial side of GE and/or divert resources (monetary and management) away from the "core" business. Now that SYF is a pure-play, I would expect the Company to aggressively pursue new clients and opportunities. It has the balance sheet to expand and the expertise to handle and absorb both incremental transactions and customers.
While not exactly a catalyst, it has been reported by the Dow Jones Newswire and others, that a significant portion of SYF's IPO investors were sovereign-wealth funds from Asia and the Middle East. These funds are characterized as long-term, patient holders. Unlike many IPOs, selling pressure from early investors should be modest (for at least the first year until GE unwinds its stake).
Macro Trends
Economic Tailwinds will be in SYF's favor. Decreasing unemployment means more consumers are eligible for credit. This reflects a continuation of the positive trend SYF has benefited from in recent years. One number to watch is average FICO score, as it will be an indicator as to whether growth is coming from easing of credit standards or market expansion.
As mentioned in the overview, The Gartner Report expects credit card payments to grow by 35% in the 2012-17 time period. This positive, secular trend, will benefit all issuers, including GE. To the extent that GE partners with retailers, whose cardholders tend to be somewhat less affluent than the average cardholder (think Amex vs. Sam's Club), it should benefit from increasing credit card use from the faster growing (from a usage perspective) middle-to-lower end of the income spectrum.
Risks
SYF has almost 50% of its business with five customers (four if you count Sam's Club and WMT as one customer). The loss of any one would be a significant loss to the Company.
Everyone knows interest rates will increase, no one knows when. To the extent interest rates increase faster (or more) than SYF can increase the net interest rates to consumers, it will see a drop in its interest spread.
The economy continues to be in expansion mode. If the economy reverses, SYF will suffer in two principal ways, first defaults will reverse a positive trend and increase, also card expansion will slow or reverse (as the Company tightens its lending policy).
When SYF was a part of GE, it gained access to low interest capital when it was known as GE bank. Everybody knew the GE name and that made it an easier "sell" than Synchrony Bank. If Synchrony loses a significant portion of the $27 billion in deposits it currently holds, it will have higher borrowing costs and a lower interest rate spread.
Summary
As I mentioned at the opening, I became acquainted with Synchrony through my research into GE. I view SYF as a low-risk play on the expanding US economy. The position is considered low risk, as SYF boasts a relatively low multiple, strong balance sheet and a critical mass of existing business. There are a number of near-and-medium term positive catalysts that collectively should be positive. Of course there are potential risks that I will continue to monitor. However, overall, I viewed SYF as a position with limited downside risk and a nice potential upside (with a dividend in 2015).
This article only reflects the author's opinion. It is not designed and should not be used as the basis of an investor's buy or sell decision. Investors should always conduct their own due diligence and make their own buy and sell decisions.
Disclosure: The author is long SYF, GE, JPM. The author wrote this article themselves, and it expresses their own opinions. The author is not receiving compensation for it (other than from Seeking Alpha). The author has no business relationship with any company whose stock is mentioned in this article.