One consumer household products company, Church & Dwight (CHD), has a really promising future. Some of its major competitors are: Colgate-Palmolive (CL), Johnson & Johnson (JNJ), Procter & Gamble (PG), and Clorox (CLX).
P/E, PEG, and Market Cap
I decided to start my analysis with the P/E ratio. The P/E ratio is a very popular metric, and I calculated this ratio to see if it would provide some interesting information. I used December's end of the month closing price for each year (see above links) to be consistent. In addition, I used the annual EPS from the CHD, CL, JNJ, PG, and CLX 10-ks, respectively. CL's earnings and price were adjusted for the two to one split that occurred in May of 2013.

(Source: Self-made)
At first glance, the P/E ratio of these five companies shows that CHD is one of the more expensive stocks on the list. The values are so close to each other which limit the P/E's usefulness. In addition, the P/E ratio feels more like a starting point. It needs another variable to provide clarity, which is the growth rate in earnings. I calculated the growth rates by averaging the recent 5 years growth in earnings to represent the expected growth rates for each company. The P/E together with the growth rate in earnings form the PEG ratio. The PEG ratio in conjunction with market cap can give you an idea of which companies' stock has the potential to grow.
For example, based on the chart above, you may think that PG is relatively undervalued thereby making it a good buy. The PEG ratio in conjunction with market capitalization will, hopefully, make you see things differently. Below, notice PG's PEG ratio. Its large value indicates it is a mature slow growing company, and its very large market cap means that an increase in earnings won't have a significant impact on the stock price.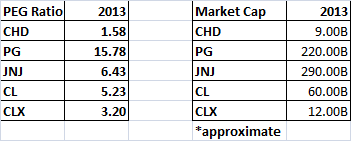 (Source: Self-made)
On the other hand, CHD has the lowest PEG ratio of the companies listed. This means it has a higher potential growth. Given its current market cap and low PEG, CHD appears to have the most potential to the upside. Although the PEG ratio may indicate some upside potential for JNJ's stock, its market cap, makes me reconsider that assessment. CL appears to offer an average opportunity with its PEG and market cap, not very appealing. CLX appears to be a decent opportunity with the PEG and market cap, but I prefer CHD's prospects.
(As a side note: If you look at the market capitalization one thing should become clear. An increase in profitability will not have a big impact on the movement of the stock price for PG nor JNJ. Think of those two companies as the Titanic and CHD as a car. It is much easier to push a car than it is to push a huge ship!)
Trojan is the Key Brand
The company is constantly investing and innovating the offerings from its Trojan brand label, which is one of its four "mega-brands". In its Q1 2014 earnings call, CHD alluded to new offerings with its adult toys (vibrators) line. According to Brian Sozzi of thestreet.com, adult toy sales between 2008-2013 rose by 12.5%, and the adult toy industry is expected to have $58 billion in annual sales by 2020. CHD already has about 70% of the market share in condoms. If it could get 70% in sex toy industry, that would equate to approximately $40.6 billion. Trojan is already a strong brand, so I believe that share of revenue could happen. That's a huge chunk of the adult toy business!
Last but not least, Wal-Mart has already begun making the adult toys more accessible online. Wal-Mart is CHD's largest client and accounted for about 24% of net sales for the past three years. With a backing from the biggest US retailer, CHD's profits will dramatically increase.
Conclusion
With its low PEG in conjunction with relatively small market cap, a push in its megabrand (Trojan), and backing from Wal-Mart, CHD will be the growth story for the future.
Disclosure: The author has no positions in any stocks mentioned, and no plans to initiate any positions within the next 72 hours. The author wrote this article themselves, and it expresses their own opinions. The author is not receiving compensation for it (other than from Seeking Alpha). The author has no business relationship with any company whose stock is mentioned in this article.