T-Mobile (NYSE: TMUS), the fourth largest wireless carrier in the U.S, is in a spectacular turn-around mode, thanks to the price reduction and un-carrier initiatives of the company. The break up fee and the airwaves obtained from AT&T (NYSE: T), back in 2011, enabled this price reduction/un-carrier strategy. The company also posted decent results in second-quarter 2014. Therefore, T-Mobile is an attractive acquisition target. Softbank is planning for Sprint (NYSE: S)/T-Mo merger, while French Iliad has also submitted an offer for T-Mobile. I was quite optimistic about Sprint/T-Mo merger before. However, as the events unfold, it seems that this will be a hard-sell after all. Consequently, in my view, the scenario has changed; either Softbank will pursue the merger and ending up paying a break-up fee, or it will back out to avoid the fee. Earnings highlights along with scenario analysis and its implications follow below.
Earning highlights
T-Mobile posted decent results in second-quarter 2014. Revenue grew by 8% Y/Y on a pro forma combined basis. Services revenue grew by 7.1% in the same period. Revenue growth was supported by increase in services revenue due to the growth of the company's subscriber base. Higher equipment sales (think iPhone) also drove the revenue in an upward direction. However, adoption of simple choice plan and some non-recurring charges capped revenue growth to some extent.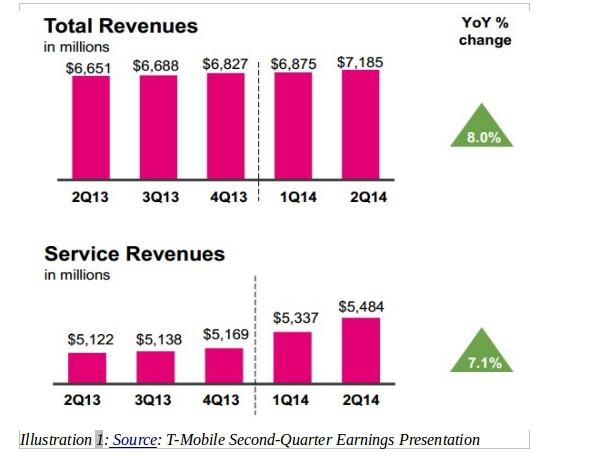 On EBITDA front, the company posted growth of 14.7% on a year-over-year basis. EBITDA margin improved from 20% to 26% sequentially. Subscriber growth along with lower equipment losses explain the growth of EBITDA.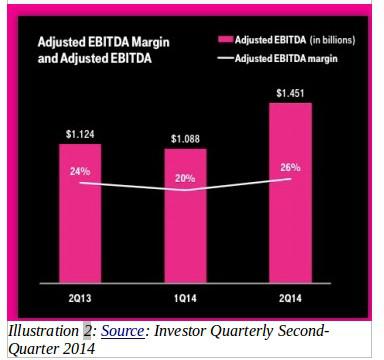 Overall, the un-carrier strategy of the company is consistently paying off by adding to the top line growth.
As long as revenue growth through subscriber addition offsets the declining average revenue per user, there should be no red flags for the top line growth of the company. Speaking of which, ARPU of the company is following a downward trend. ARPU fell from $54.04 to $49.32 in a matter of one year. However, excluding the non-recurring factors, branded postpaid phone ARPU would have been $49.93, resulting in a sequential decline of 1% or $0.55. So, un-carrier comes at a cost. The adoption of simple choice plan is affecting the revenue per user of the company.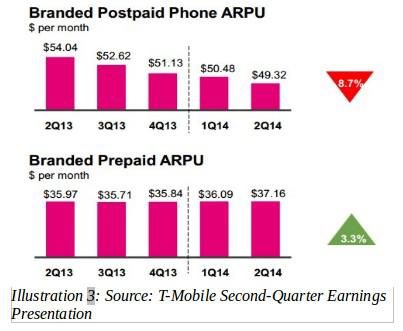 Penetration of simple choice plan that stands at 80% (expected to increase to 85%-90% by year-end) as compared to 75% at the end of first-quarter resulted in lower average revenue per user. However, simple choice plan and other un-carrier initiatives drove subscriber growth at the first place. Subscriber addition is very important, because subscriber gains now will result in higher data revenues later as LTE and VoLTE market matures.
As far as subscriber additions are concerned, the company added 1.5 million net subscribers, reflecting successful price reduction strategy of T-Mobile. Breakup of net-adds is as follows:
Net additions of T-Mobile are quite impressive as Verizon (NYSE: VZ) added 304,000 net postpaid phone subscribers and Sprint lost 181,000. So, the declining ARPU is not a worrisome factor for T-Mobile as long as it is finding momentum in net additions. Moreover, the churn rate is flat at 1.5%, pointing out that subscribers are satisfied.
All in all, this quarter's performance was impressive. Furthermore, the company has upgraded its net addition guidance. For the full year, T-Mobile now expects to add 3.1 million to 3.5 million subscribers as compared to 2.8 million to 3.3 million originally expected. So, T-Mobile is a buy amid subscriber momentum irrespective of any acquisitive development. How much is the appropriate upside though? Different acquisition scenarios should be taken in to account to answer this question.
Recent acquisitive developments
Sprint's parent is weighing options to buy T-Mobile for quite some time now. The merger will give Deutsche Telekom a long-awaited exit from the U.S. telecom industry. I was quite optimistic that the deal will go through, but some recent developments point to the contrary.
Iliad submitted a $15 billion bid for 56.6% stake in T-Mobile. This translates to $33/share, which is almost in-line with the market price of T-Mobile's stock. Deutsche is not expected to take the deal at this offer. However, an upward revision of this bid may convince Deutsche to sell its stake as regulatory scrutiny looms over the Sprint/T-Mo deal. Anyhow, the point is that this bid can be used by the FCC as a counter argument against Softbank's merger case; Softbank argues that Sprint or T-Mobile, due to their size, cannot attract capital on a standalone basis. FCC and DoJ can point toward Iliad to demonstrate that its not true.
Recent T-Mobile results also demonstrate that smaller entity can create healthy competition and exist alongside a larger organization. T-Mobile subscriber growth and AT&T's counter packages can be used as counter arguments against Softbank's case.
More importantly, Reuters reports that the FCC seeks to prevent joint bidding by nationwide carriers. Roger Sherman, the FCC's wireless telecommunications bureau chief says, "If two of the largest companies are able to bid as one combined entity in the auction, their combined resources may have the effect of suppressing meaningful competition."
Despite the fact that the above-presented argument can very much be used against any of the two larger players (VZ and T), this should be Softbank's cue to back out if it wants to avoid breakup fee.
Recent developments strongly suggest that the chances of Sprint/T-Mo merger are remote and the only question that remains is whether T-Mobile gets the breakup fee or not. Softbank can either back out before an official agreement or it has to pay a breakup fee. Softbank will probably back out, as it can use the financing lined up for a merger, or the potential breakup fee in improving and expanding Sprint's infrastructure. It can also use the funds to buy additional spectrum next year. Anyhow, this boils down to two scenarios. Either Softbank will back out or the FCC will turn down the merger. The only difference will be the breakup fee. The latter is favorable for T-Mobile. Valuation relating to both scenarios follow:
Valuation
Base assumptions
9% top line growth is assumed in line with historical growth of T-Mobile over the last two years. No growth is assumed in perpetuity. The growth assumption is upgraded from previous growth assumption of 5%, given consistent strong results of T-Mobile.
CAPM is used to calculate the cost of equity.
CAPEX is assumed to reduce in coming years as the LTE ramp-up is almost complete.
Case 1: FCC blocks the merger
Cash flows are adjusted to reflect the effect of breakup fee, in case the merger is blocked by FCC.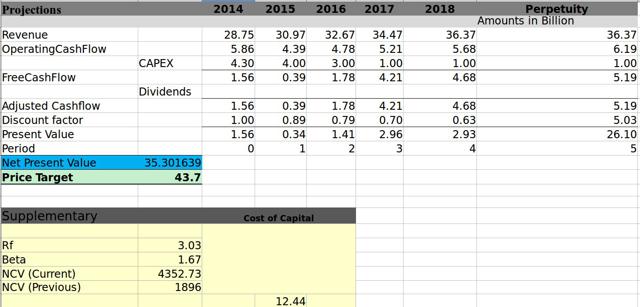 The price target is favorable in this scenario, as it reveals a 30% upside in T-Mobile's valuation.
Case 2: SoftBank backs out
No breakup fee will be scored by T-Mobile in this scenario. The valuation is adjusted to reflect the absence of breakup fee.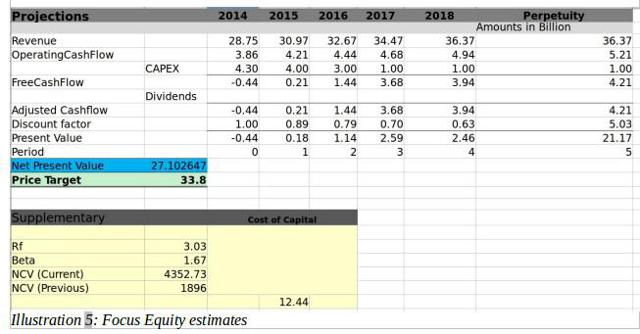 Price target reveals that the stock is correctly valued and there is little or no upside going forward.
Bottom line
T-Mobile is consistently adding subscribers due to its un-carrier strategy. Subscriber momentum makes T-Mobile a buy, but caution should be exercised, as the cash flow-based price target reveals that the stock is priced correctly. The plan of action for TMUS investors should be to buy and hold until T-Mobile stalls on subscriber growth. Moreover, the investor should closely follow any merger-related news to weigh the options. Why? Because, for instance, the Sprint/T-Mo merger could be beneficial for the investor due to synergy benefits, however, mergers like Iliad will only add to the costs and entail minimum synergies. Moreover, bid price is also a factor why investors should watch out for merger-related news.
Here is a link to the previous article "Merger Or No Merger, T-Mobile Is Poised To Win".
Disclosure: The author has no positions in any stocks mentioned, and no plans to initiate any positions within the next 72 hours. The author wrote this article themselves, and it expresses their own opinions. The author is not receiving compensation for it (other than from Seeking Alpha). The author has no business relationship with any company whose stock is mentioned in this article.