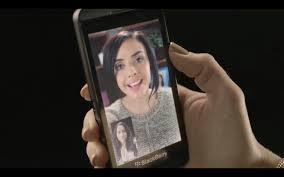 Picture: BBM Videochat in session. Source: n4bb.com
Thursday BlackBerry, Ltd. (NASDAQ:BBRY) announced it was rolling out its instant messaging service - BlackBerry Messenger ("BBM") - for Microsoft's (NASDAQ:MSFT) Windows phone platform. The move is consistent with BlackBerry's theme of becoming less dependent on the sale of handset devices, and more focused on [i] software and services, and [ii] bringing security to the enterprise. By marketing the service to agencies and corporations looking for secure instant messaging, maybe BlackBerry can kickstart BBM's growth beyond its current 85 million users, and unwed it from BlackBerry's dwindling handset sales.
Market Sanguine On Deal
The market reacted negatively to the announcement. On Thursday the stock dropped 4% from $9.71 to $9.33 per share; it finished the week at $9.30. Traders on Stocktwits saw the arrangement as a step backwards and an act of desperation:
Shares of BlackBerry were down more than 4 percent Thursday afternoon trailing the announcement that the Canadian company had released a beta version of its BlackBerry Messenger (BBM) app for Windows Phone. Though the release on a new platform promises to bring in additional users, traders on StockTwits weren't overly enthused on the news. Traders took issue with BlackBerry's proclaimed "partnership" with Microsoft, and some described the arrangement as desperate.
Below is the five day stock chart for BlackBerry, illustrating the sell-off in the shares following the BBM/Windows phone announcement.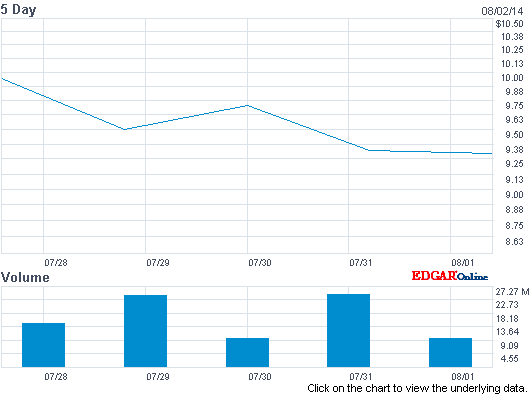 Consistent With BlackBerry's Multi-Platform Stance
BlackBerry practically revolutionized instant messaging for smartphones. The service was wildly popular because senders could ascertain whether the receiver actually opened the message; this set BBM apart from text messaging. However, BBM's popularity was wedded to BlackBerry handsets. Once smartphones from Apple and Samsung, Inc. (OTC:SSNLF) practically made BlackBerry a non-factor in handsets, BBM's fortunes also declined. For the company to survive, BlackBerry has had to offer its services for the enterprise to all mobile devices.
Last year BlackBerry made BBM available to Apple's (NASDAQ:AAPL) iOS platform and Google, Inc's (NASDAQ:GOOG) Android. The company's open architecture stance for BBM is consistent with that of its now core enterprise solutions business. Its BES12 offers solutions for multi-platforms, supporting iOS, Android, BlackBerry and Windows 8. In an environment where employees are allowed to connect to employers' email systems and access confidential information via their personal mobile devices, mobile device management ("MDM") practically requires a vendor to manage multi-platforms. That is why my heart bleeds for the Apple/IBM MDM partnership, which is [i] does not manage multi-platforms and [ii] appears to be a veiled attempt to sell more iPhones.
Five Years Too Late?
A weakness - miniscule share of handset sales - may have become BlackBerry's new strength; now that offering BBM or enterprise solutions to other devices will have little impact on the sale of BlackBerry handsets, the company's multi-platform strategy may make it more formidable. That said, is BlackBerry's new strategy five years too late? While its BBM users have declined with handset sales, younger, hipper instant messaging services have cropped up to fill that void.
WhatsApp
Founded five years ago, WhatsAPP Messenger is a multi-platform messaging service that allows you to send instant messages for far less than the cost of texting. It uses the same internet data plan as web browsing and email. With over 450 million users, the service dwarf's BBM. The service is free for the first year and costs one dollar annually thereafter. FaceBook, Inc. (NASDAQ:FB) recently purchased the company for $19 billion.
Snapchat
I first heard about SnapChat a few years ago when CNBC ran a segment on the instant messaging service. To combat people having photos and messages seen over the Internet by those other than the recipients, Snapchat allows people to send "exploding messages." Such messages known as "Snaps," allow users to set a time limit on how long a recipient can view their message, photo, video, etc. The time limit usually ranges from 1 - 10 seconds. After the time limit is up, the message is hidden from the recipient's device. Comscore estimates the company has 27 million users. Both FaceBook and Alibaba Group Holdings, Ltd have made investment offers to Snapchat, valuing the company at $4 billion and $10 billion, respectively.
Kik
Kik is an instant messaging service started for the smartphone in 2009 by a group of University of Waterloo students. In a case of the student teaching the teacher, Kik CEO Ted Livingston was accused by BlackBerry of using knowledge he gathered as an employee of then Research-In-Motion ("RIM") to start Kik, violating confidentiality agreements and infringing on BlackBerry's patents. The two parties eventually settled out of court. By making Kik available to Android and iPhone users, the upstart now has over 150 million users.
Is BBM A Trial Balloon?
BBM's security and its value to the enterprise and governments provide it with an anchor of sorts. Millions of consumers were rabid about BBM and only ditched the service after they switched phones. From consumers I have spoken to, BBM Video, which allows users to engage in live video chat, is expected to be a game changer. That said, ofthe upstart instant messaging services, how many will be around or still be relevant five years from now? The thing about millennials is that they are always trying something new, so upstart technologies can pick up users quickly. As I mentioned on the article, D-Day For Twitter, the other problem with millennials is that they are always on to the next "new thing," stymieing upstarts' staying power:
Another measure of user engagement is timeline views per MAU. In Q1 2014 timeline views per MAU were 614, flat sequentially and down 8% annually. It was also 11% off the peak of 691 in Q2 2013. That's another way of saying [i] "Twitter users are less engaged", or [ii] the young people Twitter caters to "are on to the next new thing", whether it be Instagram or Snapchat.
There appears to be a bigger game for BBM pursuant to its alliance with the Windows phone. BlackBerry ultimately wants to get BBM onto the desktop, and forging a relationship with Microsoft is a must. I see the BBM/Windows phone partnering arrangement as more of a "trial balloon" to see if the two parties can work amicably together. Once the relationship has been consummated, BlackBerry and Microsoft can bring BBM to the desktop, making BBM more valuable to the enterprise and putting upstart messaging services wedded to mobile devices in BlackBerry's rear view.
Conclusion
The market saw BBM for the Windows phone as a defensive move by BlackBerry. However, the announcement is [i] part of BlackBerry's new multi-platform strategy and [ii] a trial balloon for a much bigger BBM rollout - the desktop. While upstarts are playing checkers, BlackBerry is playing chess. The pullback in the shares represents a buying opportunity.
Disclosure: The author is long BBRY. The author wrote this article themselves, and it expresses their own opinions. The author is not receiving compensation for it (other than from Seeking Alpha). The author has no business relationship with any company whose stock is mentioned in this article.
Editor's Note: This article discusses one or more securities that do not trade on a major U.S. exchange. Please be aware of the risks associated with these stocks.