This week exposed the recent gains of Master Limited Partnerships as heavy volume drove the benchmark index down by -5.02% while the S&P 500 fell -2.67% for the week and 5.36% year to date. While over 32 units reported their Q2 results, sellers liquidated in spite of generally favorable results. Upon the filing of further condensate export approvals by producers, the Commerce Department has indefinitely put on hold future rulings related to such exports, which temporarily lifted shares of refineries. Protestors have been targeting Kinder Morgan's (NYSE:KMP) TPG pipeline extension which plans to bring Marcellus gas to the northeast by way of Dracut, MA, putting at risk the timing of another large project.
In spite of the down week, three new issues were priced this week, Transocean Partners (NYSE:RIGP), Westlake Chemical Partners (NYSE:WLKP) and VTTI Energy Partners LP (NYSE:VTTI). Each priced at the high range and moved higher upon secondary trading.
Hess (NYSE:HES) announced the formation of an MLP in early 2015 for their Bakken midstream assets, joining Shell, who previously announced their plans for their Texas and Louisiana midstream assets.
Unit Movers
High Crush Partners (NYSE:HCLP) accelerated its decline on Friday on heavy volume without any specific news. PBF Logistics (NYSE:PBFX), which reported their first quarter since coming public, dropped 10% after meeting expectations on relatively light volumes. Targa Resources Partners (NYSE:NGLS) delivered another exceptional quarter on higher LNG export volumes and raised their 2014 guidance. Enterprise Products Partners received a Texas court judgment that they must pay $535MM to Energy Transfer Partners due to backing out of non-binding letter of intent to develop a Cushing to Gulf Coast pipeline. The judgment, which is approximately 13% of EPD's annual distributable cash flow, is expected to be appealed.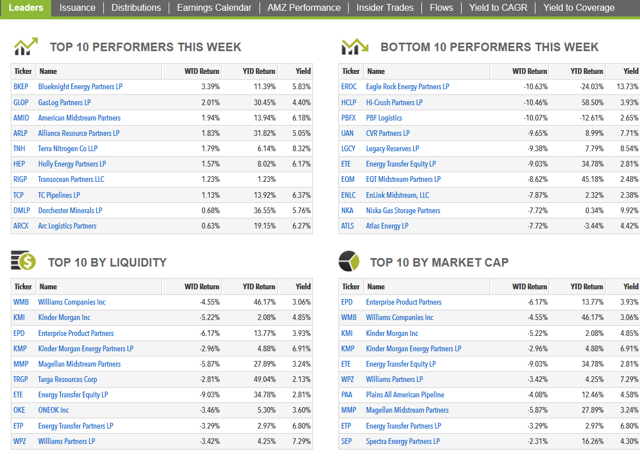 Q2 Transcript Comments
The following are a few comments taken from earnings transcripts which provide insight and opinions into market conditions:
In response to a question about the impact of lower natural gas prices on volumes, ACMP CEO Mike Stice said "I think it's just interesting to note that we are not seeing huge changes in customer behavior, but we are seeing in conversations with folks where we have lots of new development opportunities, say the South Marcellus and the Utica Dry." In response to a question about Utica volumes, Stice said "Now, there is some interesting news that if you are paying attention to some of the producer announcements, there are starting to be some exciting path forward on the oil window... what appears to be early signs of cracking the code in the oil window."
In response to questions about the $6B backlog of projects and future growth, Enterprise Products Partners' CEO Michael Creel said, "We're actually doing work on them, so it's not pie in the sky stuff. Beyond 2016, we don't have too many projects that take three or four years to build, so it's a little far out for us to have things that are already defined and board-approved. We constantly are looking at new things and we have a lot of projects that we are considering that would fall into the 2016, '17, '18 timeframe, but again they are not baked enough for us to put into a backlog, if you will. I know a lot of our competitors do that - anything that moves, they'll throw into a backlog and it'll look like a big number. We don't do that. You could look at our historic spend rate and see what we're talking about between now and 2016, and I'll tell you that we've got a lot of opportunities."
Distributions
Delek Logistics Partners (NYSE:DKL) led this week's distribution announcements with a 11.76% quarter over quarter increase. CVR Partners LP (NYSE:UAN) decreased their quarterly variable cash distribution by 13.16%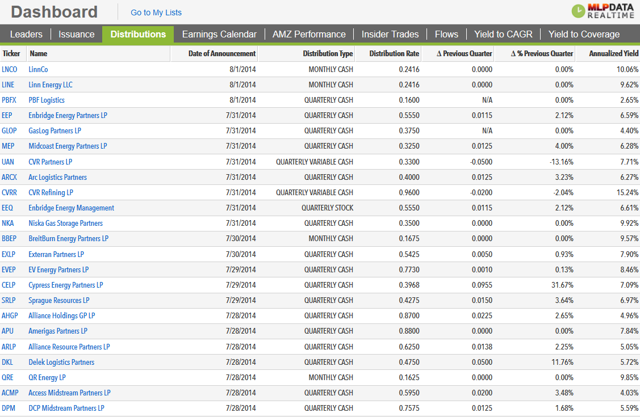 New Issuance
Westlake Chemical Partners (WLKP), a $1.2B ethylene producer with a 200 mile pipeline, priced at the top of the range, $24, and opened trading at $30 with a yield of 3.67%. VTII Energy Partners, a $300MM terminal business owned by Vitol and MISC, priced at $21 and began trading at $22.10 with a 4.75% yield. Transocean LLC priced at $22 and began trading at $24.6 with a yield of 5.9%.
To get this round-up each week, please make sure you are following MLPData here on Seeking Alpha. If you have a set of metrics you wish to see in future reports, please comment below.
All charts and tables provided by MLPData.com unless noted otherwise.
Disclosure: The author is long TEP. The author wrote this article themselves, and it expresses their own opinions. The author is not receiving compensation for it. The author has no business relationship with any company whose stock is mentioned in this article.