For those who are short term traders, Visa (NYSE:V) has been a perfect opportunity to follow an easy trend. Part of what makes it an excellent investment with little risk is that Visa is an excellent company that has an easy and understandable business. They also have a worldwide presence as well and the Visa logo is on more cards worldwide than any of its competitors. They just recently reported full year and fourth quarter 2010 earnings that were very good:
(2010 Full Year Press Release)

Some highlights for 2010:
$3 billion full year net income, an increase of 26% YOY

$4.01 earnings per share for diluted class A common stock, 29% increase YOY

$1 billion share re-purchase plan

Expected 2011 revenue growth of 11%-15%

Annual free cash flow of over $3 billion

Increased dividend by 20%
Just going back over the last several years it is easy to see the continued growth in Visa.

They have a current P/E of around 18 and for as large of a company, their growth, and cash, Visa is a safe bet and it is well off of its highs of $97.19 within the last year. As strong of a company Visa is, the easy money comes with playing the short term game and following the easy trend if it continues as there is also limited downside due to the numerous strengths of the company and continued high performance.
Over the last six months Visa has been fairly predictable as it has gone up and down from $70 to $80. The best way to play Visa is to invest in increments of 4-6 and sell in increments of 2-3. The time to start buying Visa is when it hits $72 and then continue with the other increments as it falls $0.50 - $1.00 (recommended). If it falls below $71, it can also be bought up to $72 as well. The time to begin selling is when it gets above $75 and sell every $2.00. Many times it has gone below the $72 mark, but it is always better to have a starting point and use increments both up and down.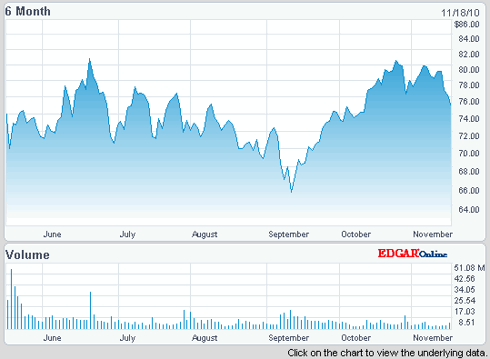 Click to enlarge
(Click to enlarge)
There have been even smaller trends when it was higher prior to the six months, but it is about timing and determining the correct trends and setting specific plans.
There are many trends in many companies and sectors if investors paid close attention, they would be able to make money on these trends and for me Visa has just been a little easier with very little risk. I watched Visa over the years and after it dropped towards $80, I thought $70 is a good point, but too low to start buying and that is why I made the mark of $72 and it has seemed to work.
Using data over the last 6 months I will show how one could have made money off of this trend instead of being about even, investing around May 17, 2010. May 18, 2010 Visa hit $70.09, June 1, 2010 - $71.49, went up around $72.84 and came down to $71.89 (time to buy) on June 7, 2010. Three days later on June 10, 2010 Visa went up to $77.45 and that would be time to sell half (recommend) to 1/3 of the full position. On 6/21 (the next time it increased $2, Visa went up to $80.90. Based on that, the average buy was $71.43 and the average sell was $79.18.
$79.18 - $71.43 = $7.75
$7.75/$71.43 = 10.85%
There was a short-term gain of 10.85%. That obviously is not huge, but in about 4 weeks time, that is good and easy money, especially when the trend is continuous and low risk. That point in time, it was the beginning of the trend, but since it continued over the 6 months an individual could have made over 50% very easily by pretty much buying on the way down and selling on the way up, but just realizing the initial opportunity and creating a plan.
(Daily Prices for the last 6 months)

Obviously that was the very beginning of the trend so an investor is not going to know that right off the bat, but by following Visa and determining a starting point to get in, especially when it is well off of its highs, has been a continuous way to make money trading it. Also, the drop was very noticeable and even if someone decided to get in sometime after that, there was still money to be made and to figure out a quality way to trade Visa.
It just dropped too low for such a high quality company and that was the real initial reason to get in and watch the trend. By following my strategy or something similar, it was a risk free way to make money in an uncertain market. Now may be a good entry point for investors that like the company, but if it goes down below $72, think about making easy money.
Disclosure: No position