Wisconsin Energy (NYSE:WEC) is one of our "stocks to watch" in the Utility sector and this article highlights some key information and analysis from our Buy Zone Report for WEC.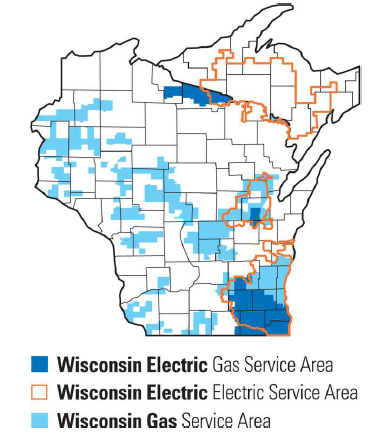 Wisconsin Energy Overview
Wisconsin Energy is the largest electric and gas utility company in Wisconsin with approximately 1.1 million electric customers and 1.1 million natural gas customers. The company has a proven management team that has a strong financial and operational track record.
Parsimony Rating
The core of our investment philosophy is to buy great stocks at reasonable prices and we use a combination of fundamental and technical analysis to determine which stocks to buy and when to buy them.
We created our ranking system, which ranks over 750 U.S. dividend stocks on a monthly basis, to help us find the best dividend stocks. In our experience, if you rank all of the stocks in a universe against their peers on a consistent basis, it becomes clear which companies are the strongest and which offer the best investment opportunities going forward. Our composite rating is derived by ranking each stock based on 28 key fundamental and technical data points in five sub-rating categories.
The table below for WEC highlights some of the key data points that we look at when determining our rating.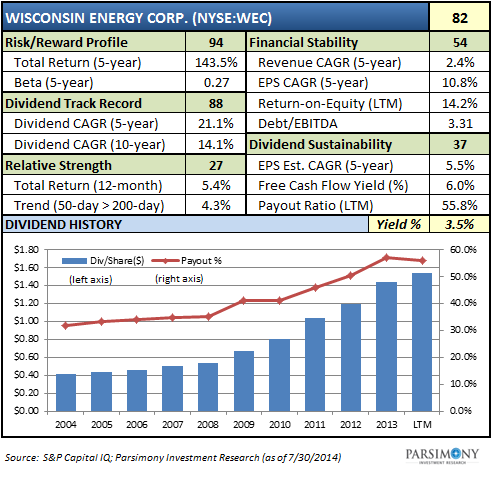 As highlighted in the table above, WEC has a solid overall Parsimony Rating of 82, primarily driven by high ratings for Risk/Reward Profile (94) and Dividend Track Record (88).
WEC has a very low beta (0.27) and the stock has exhibited low volatility in the past. The company has a decent dividend yield of 3.5% and it has delivered shareholders a 144% total return over the past 5 years.
WEC has grown earnings per share and dividends per share every year since 2003, including a compound annual dividend growth rate of 14.1% over the past 10 years. As shown in the chart below, WEC has raised its quarterly dividend 6 times in the past 20 quarters (including 3 of the past 6 quarters). In addition, the company has stated that it is targeting a dividend payout ratio of 65%-70% of earnings in 2017, which implies 7%-8% dividend growth annually from 2015-2017.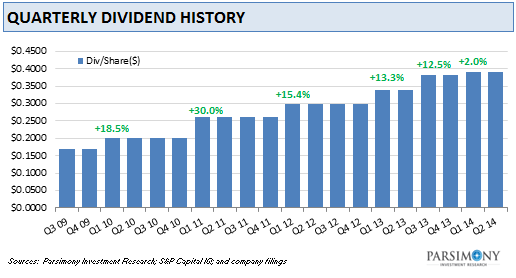 Valuation Analysis
Valuation is a key factor in determining our "Buy Zones."
We use our rating system to determine WHICH stocks to buy and we use our "Buy Zone" reports to determine WHEN to buy them. We focus on four key levels of support when determining a "Buy Zone":
Valuation - Support levels based on historical valuation multiples.
Technical - Support from short and long-term trend lines (i.e., 10-week and 40-week moving average).
Volatility - Target correction levels based on historical volatility and maximum draw down.
Yield - Support levels based on forward dividend yield.
Below is a summary valuation analysis for WEC: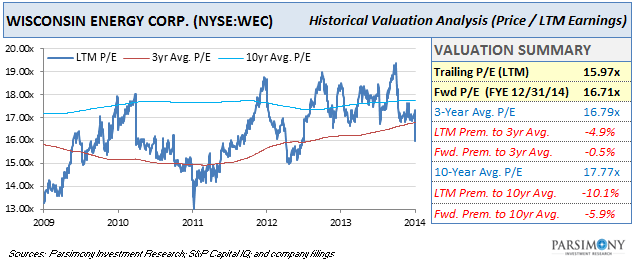 As highlighted above, WEC is currently trading for 15.97x trailing earnings, which represents 4.9% and 10.1% discounts to the company's respective 3-year and 10-year historical averages.
Based on consensus estimates for FYE 12/31/14, WEC is currently trading at 16.71x forward earnings, which represents 0.5% and 5.9% discounts to the company's respective 3-year and 10-year historical averages.
Is WEC In The "Buy Zone"?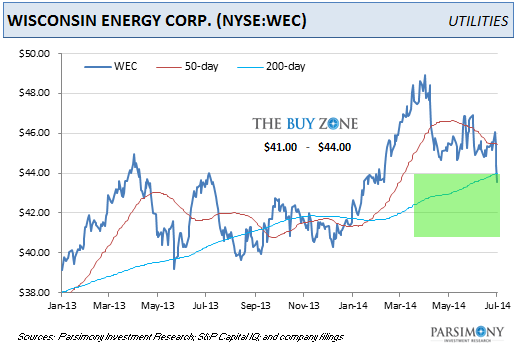 WEC is down almost 12% from its recent high and just broke into the top range of its Buy Zone. Ideally, we would like to purchase WEC in the low $40's but the stock is certainly starting to look attractive with a forward yield over 3.5%.
Conclusion
WEC is a great dividend growth stock with a stable track record and we think that investors should consider buying the dip in this best-in-class utility company.
Disclosure: The author has no positions in any stocks mentioned, but may initiate a long position in WEC over the next 72 hours. The author wrote this article themselves, and it expresses their own opinions. The author is not receiving compensation for it (other than from Seeking Alpha). The author has no business relationship with any company whose stock is mentioned in this article.