The upcoming mid-term elections bring a wave of uncertainty for Florida property and casualty insurance companies.
We have two candidates with opposing viewpoints on the insurance industry.
Before we get into our discussion, let me be clear. We aren't here to discuss politics. This is one small part of each candidate's platform and you can discuss the rest of their views somewhere else. Political views and emotions don't belong in your investing portfolio. The outcome of politics do.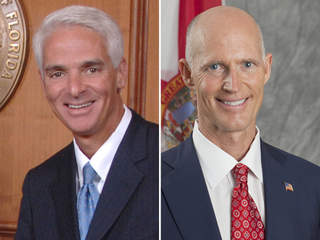 Charlie Crist left, Rick Scott right. Photo courtesy of abcactionnews.com
Florida's Hurricane History
In 1992 Hurricane Andrew was a big wake-up call for Florida property insurance companies. Previously rates in Florida had been on-par with the rest of the country, leaving property insurance companies underfunded and unprepared for their massive claims. This case study gives a good historical background of this time period.
During 2004 and 2005, Florida faced an onslaught of hurricanes. Even though citing Wikipedia is frowned upon, they have a great breakdown of the storms and damage totals for those years here.
The storms of 2004 and 2005 only exacerbated the Florida property insurance market problems. Companies such as Allstate Corp (NYSE:ALL) wanted to drop all of its Florida home insurance policies. State Farm followed suit threatening the same several years later.
Regional carriers emerged as Floridian's go-to insurers. The state created Citizens Property Insurance Corporation and it quickly ballooned to the state's largest insurer. The fact that the insurer of last resort became the number one property insurance company in the state tells you a little bit about the marketplace.
Florida Today
State Farm announced plans to begin writing new policies in low risk areas of the state. Citizens Property Insurance Corporation has reduced its policy count from over 1.5 Million policies to 933,422 policies today.
Where did those policies go? Many policies have been transferred to regional carriers through Citizen's take-out program.
United Insurance Holdings Corp. (NASDAQ:UIHC) and HCI Group, Inc. (NYSE:HCI) have benefited tremendously from this program. Companies such as Universal Insurance Holdings Inc. (NYSEMKT:UVE) have openly stated they believe in organic growth and do not wish to participate in this program. In a previous article, which you can read here, we went over which companies are growing revenues and which are not. Take-out policies have a big impact on revenues and the bottom line.
Now we will transition to how each candidate would affect the Florida property insurance market by their past decisions and their current statements/affiliations.
Charlie Crist
Charlie Crist served as Florida's governor from 2007 to 2011. He had a lot to deal with in regards to property insurance during this time.
Crist criticized the industry for raising rates even though Florida saw no major hurricanes in 2006. In response, Crist signed a law that allowed companies to purchase reinsurance from the state at below market rates, thus lowering the cost of property insurance to the consumer. The law also mandated that insurance companies lower rates, even though the insurance industry faced rising costs for claims.
This law, passed by the legislature and signed by Crist, moved a lot of risk from private insurance companies to Citizens and the state's Hurricane Catastrophe Fund. If Florida had suffered a major hurricane during this time period, taxpayers of the state would have been on the hook for billions of dollars.
As a Floridian, I vividly remember Crist on TV telling Floridians to fire Allstate. As an investor this is concerning, as a consumer in Florida it was refreshing. Of course today we are focused on the investing side.
Conclusion: Crist has proven to be a good neighbor to consumers, in theory. Per his policy platform, which you can read here, he wants to create an insurance market that encourages competition and keeps rates low.
Outcome for your Florida Property Insurance portfolio: Keeping rates low should be set by a free market, not the government. But unfortunately Florida insurance companies need to be closely regulated for financial reasons. Time and time again we have seen companies pop up in Florida and go under. Just last month Sunshine State Insurance Company was liquated by the State of Florida and had to cancel 37,000+ policies. Sunshine State is not an anomaly. Check out this article by the Tampa Bay Times on how 17% of Florida property insurance companies are at risk of failing (in my opinion 17% is a low estimate). How does this improve the overall insurance market place in Florida? It doesn't.
If Crist is elected and takes a slash-and-burn approach to rates like the first time around, it will create a ticking financial time bomb for the state, reduce profitability for all carriers, lead to the failure of additional companies, and will cause companies to think twice about re-entering the Florida insurance market at all.
Rick Scott
Rick Scott has served as Florida's Governor since 2011 and is up for re-election this year.
In his first year as governor, Scott signed a bill almost the complete opposite as the one Crist signed his first year. The law paved the way for insurance companies to pass reinsurance costs on to the consumer, raise rates to adequate levels, and cap certain claims as well as the time frame in which you can file them. One can argue, from an investor standpoint, that this was a good move for insurance companies in the state.
Scott supported raising Citizens rates in 2011. However, when the federal government wanted to raise flood insurance rates in the state, he was outraged. Hypocrisy and a double-standard at its finest. Both Citizens and the National Flood Insurance Program have been accused of wasteful spending.
Scott has proven he is good for business and, in turn, their investors. Some might say he has been too good to some, such as this Citizens deal creating Heritage Insurance Company. The governor has contested that this was not a backdoor deal/political favor, but after reading the facts I think you might disagree.
Interestingly enough I could not locate Scott's insurance platform. Here is the link to his campaign website. It is not mentioned on his website.
Conclusion: Scott has proven to be a good neighbor to insurance companies. Legislation has allowed companies to profit on hurricane premiums (reinsurance), something they previously could not do. Citizens continues to depopulate policies into regional carriers, reducing some risk for the state (but not all due to the CAT fund).
Outcome for your Florida property insurance portfolio: A re-election of Scott would pave the way for the status quo. Almost guaranteed profits for insurance companies through relatively easy rate request approvals. Continuing depopulation of Citizens due to tightening qualification standards and higher rates. Finally, more large outside insurance companies willing to do business in Florida.
My thoughts: As a former insurance agent and native Floridian, the property insurance marketplace in Florida still needs help. Here we are, almost 8 years since the last hurricane in Florida, and we still have companies going bankrupt. The majority of companies are not A.M. Best rated because they don't qualify. The Florida Hurricane Catastrophe Fund has grown to over $13 Billion, a significant amount, but one built on the backs of years without a hurricane.
Most of Florida's property insurance companies are set up as holding corporations or subsidiaries of larger companies. I believe this is wrong and it allows companies to move funds that should be kept in reserves, in the state of Florida, for Floridians. Of the two, I believe Crist would seek to change this.
What this means for you:
United Holdings, UIHC
Universal Holdings, UVE
HCI Group Inc., HCI
Heritage Insurance Holdings, (NYSE:HRTG)
Federated National Holding Company, (NASDAQ:FNHC)
If Crist wins the governor's seat I expect an instant knee-jerk drop in each of these companies' stock price. If Scott wins, I would expect the stocks to remain near or slightly above current levels.
Here is the latest polling data:
HuffPost: Link
USA/WFLA: Link
Quinnipiac: Link
Despite what you think of all of their other political qualities or ideas (which we are not here to discuss), one candidate stands out as the investor's choice. Whether that is an ethical move and good for consumers is debatable.
Disclosure: The author has no positions in any stocks mentioned, and no plans to initiate any positions within the next 72 hours. The author wrote this article themselves, and it expresses their own opinions. The author is not receiving compensation for it (other than from Seeking Alpha). The author has no business relationship with any company whose stock is mentioned in this article.