If you haven't noticed, I have been traveling a lot. That means that I have not been able to respond as quickly as usual to comments on Seeking Alpha. However, I have not slowed down on the writing as I turned in 21 articles in the month of July.
Most of my traveling has been for business, and I was in Arizona last week interviewing the management teams for American Realty Capital Properties (ARCP) and Healthcare Trust of America (NYSE:HTA). I plan to post these articles on Seeking Alpha later this week.
The other part of my travels revolves around my book on Donald Trump. That's an exciting part of work as I'm constantly roaming the streets working to uncover the mysteries behind the legendary billionaire. With over a year of work completed on my book, I have uncovered some of the most important ingredients that make up the Trump brand.
These secrets, and many more, will be revealed in short order; however, I thought I would use one of the primary attributes in this article.
Having traveled from New York City, to Charlottesville, to West Palm Beach, to Miami, to Las Vegas, to San Francisco, I have found a common thread revealed in every Trump property. That same thread is also one of the important traits that make up America's favorite entrepreneur and the vision he established at an early age. The younger Trump said:
I wanted to try something grander, more glamorous, and more exciting. I also realized that if I ever wanted to be known as more than Fred Trump's son, I was eventually going to have to go out and make my own mark.
In other words, the word luxury is synonymous with the Trump brand and if I did not know any better, I would have thought that Donald Trump created the word.
Pebblebrook Hotel Trust - A Luxury Brand to Consider
Pebblebrook Hotel Trust (NYSE:PEB) was organized in December 2009 to acquire and invest in upscale, full-service hotel and resort properties located in or near urban markets in major US gateway cites. The Bethesda-based REIT owns 30 hotels (24 wholly-owned and 6 in JV) that include 6,585 guest rooms.
Since the IPO, Pebblebrook has focused its investment strategy on owning unique, high-quality assets operating significantly below comparable operating margins. By focusing on a differentiated "Trump-like" investment strategy, Pebblebrook has positioned itself as a leading Hotel REIT with significant upside established as a result of margin expansion and string ADR (average daily room) growth.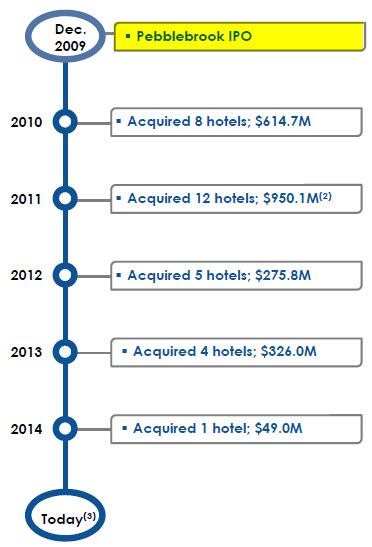 Pebblebrook's high-quality hotel portfolio is located in urban, primarily coastal, gateway cities, and the trophy-like assets are in many major US markets.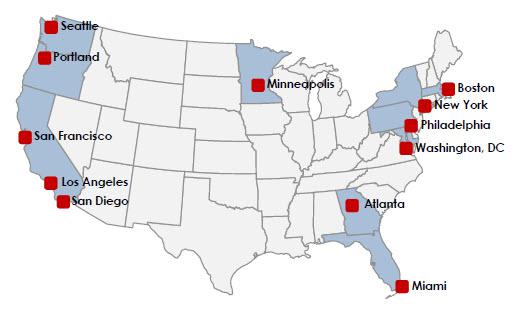 Accordingly, Pebblebrook-owned hotels benefit directly from the ever-increasing international traveler within the top five US ports of entry.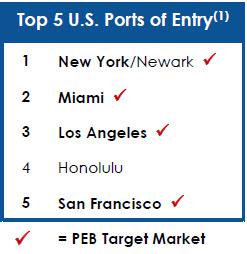 In 2013 there were 69.8 million international visitors to the US and the growth should increase considerably over the next several years.

International spending in the US is also on the rise as tourism receipts are up 4.1% (based on CAGR) over the last 10 years (since March 2014).

As evidenced by the snapshot below, Pebblebrook enjoys strong geographic diversification: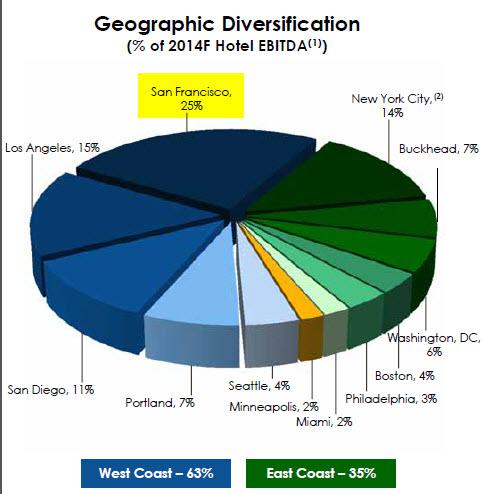 In addition, Pebblebrook has a well-balanced portfolio of independent operators (58%) and flagship (or branded) operators. The top operators (based on revenue) include Kimpton Hotels & Restaurants, Starwood Hotels and Resorts, and Denihan Hospitality Group.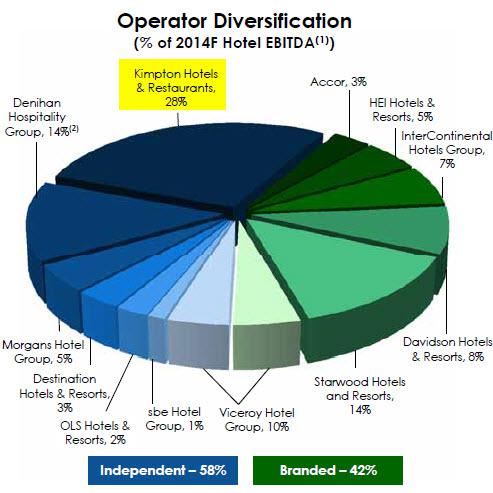 Here's a snapshot of the portfolio: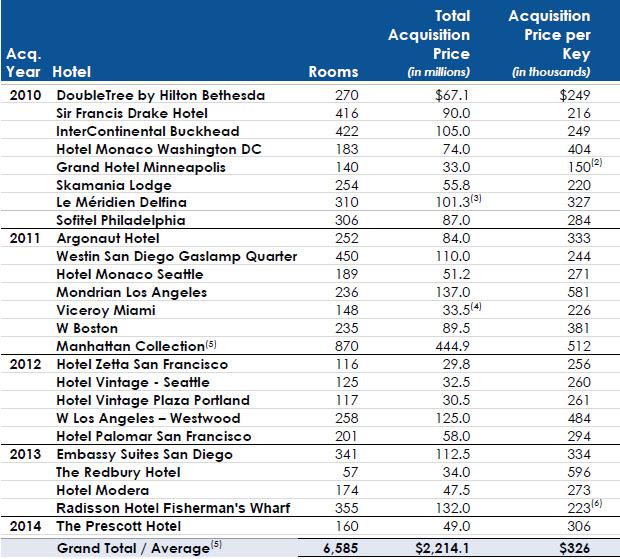 You Get What You Pay For
As I mentioned above, I'm a frequent traveler and a writer so that means I'm not a frequent guest at many luxury hotels. A few weeks ago I stayed at a Hampton Inn owned by Chatham Lodging (NYSE:CLDT) - see my article HERE - and I have sampled a few of the luxury-branded Trump owned hotels and visited the site of the Trump Hotel underway in Washington, DC.
There's really no way to compare a Hampton Inn to a Trump Hotel but for the average investor (like me) the best way to document the trade off is to say that one is ordinary and the other is extraordinary. When it comes to luxury-based products, loyal patrons will buy beyond traditional purchases, almost immune to price - kind of the complete opposite of a value investor, eh?
But the purpose for this article is not to explain whether or not I would spend the night in a luxury hotel, but instead to determine whether or not I would invest in one (or 30 in the case of Pebblebrook).
Let's examine Pebblebrook's occupancy rates. As evidenced by the snapshot below, Pebblebrook's portfolio occupancy is significantly above the US industry as well as Urban and Upper Upscale averages. The company's overall Q2-14 same property RevPAR gains in the quarter came primarily from growth in rate, which increased 7.6%, with occupancy climbing 1.42% to 87.7%.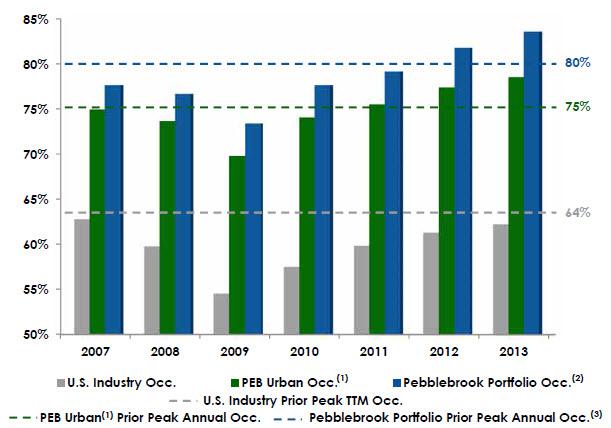 Pebblebrook commenced operations in 2010, just after the Great Recession, and so this REIT has an opportunistic advantage to benefit from the continued recovery and improving operating fundamentals.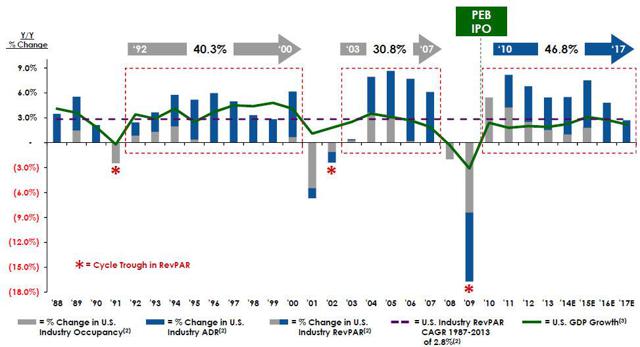 Pebblebrook's EBITDA margins should continue to improve during the next several years as asset management initiatives are implemented.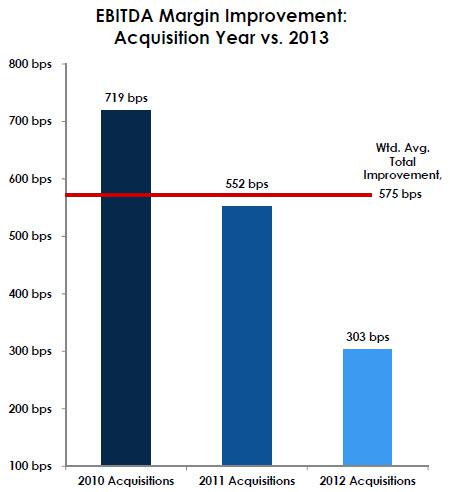 Year-to-date, Pebblebrook's same property RevPAR has increased 8.8%, same property EBITDA has climbed 14.9%, same property EBITDA margin is up 208 basis points and adjusted EBITDA is up 27.7%, or $18 million versus last year.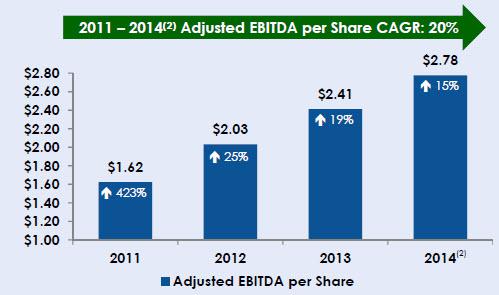 Because of the great performance generated by Pebblebrook's portfolio during the second quarter, adjusted EBITDA increased 24% and adjusted Funds from Operations (or FFO) per share climbed 29.9%, compared with the prior-year period.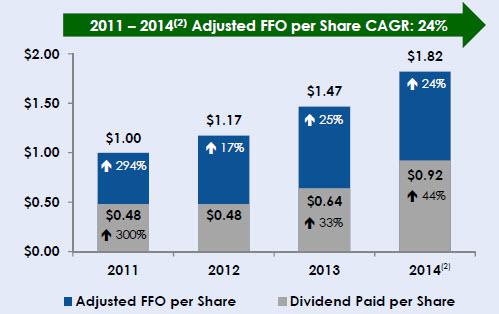 Here's a snapshot of Pebblebrook's RevPAR outlook compared with US industry averages. For Q3, Pebblebrook is forecasting same property RevPAR to increase by 7% to 8%, with the vast majority of it coming from ADR growth.

Here's a snapshot of Pebblebrook's EBITDA margin outlook compared with the hotel sector. Pebblebrook is forecasting that its same property EBITDA margins should grow an additional 25 basis points from its prior outlook for 2014, primarily as a result of better performance in the first half and a slightly better-than-expected performance in the second half. The new range now calls for growth of 150 basis points to 200 basis points, versus the prior range of 125 basis points to 175 basis points.

Pebblebrook also increased its outlook for Adjusted FFO per share - going from the previous range of $1.78 to $1.86 to the current forecast of $1.87 to $1.93, which represents an increase of $0.07 to $0.09 for the year.

Peeblerbook's short history of investing in accretive high-quality hotels is best illustrated with the following dividend chart (source: FAST Graph) below: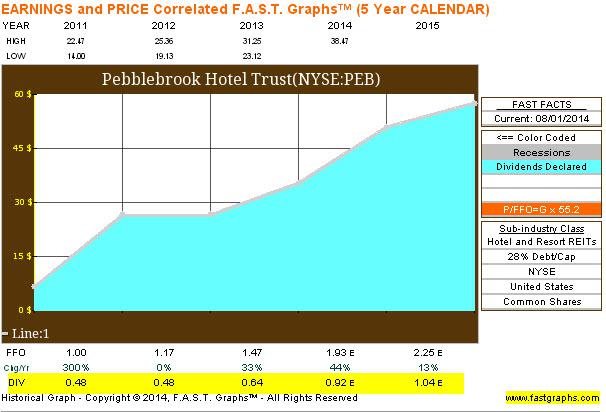 Pebblebrook is Preparing for The Storms
Pebblebrook's approach to capital markets is to utilize a conservative amount of debt to minimize risk and absorb cyclical downturns. Here's a snapshot of the company's capital structure and target balance sheet: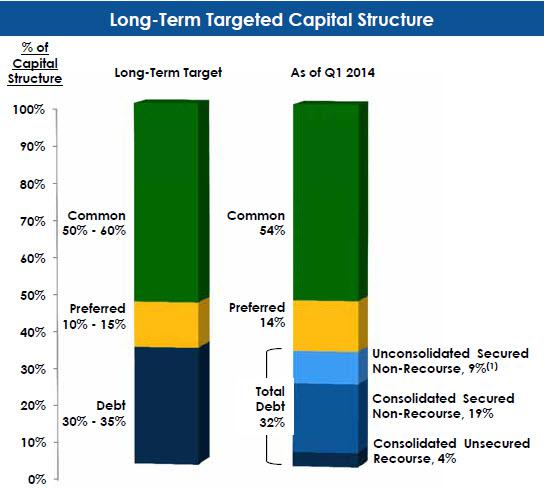 Pebblebrook has modest short-term debt maturities: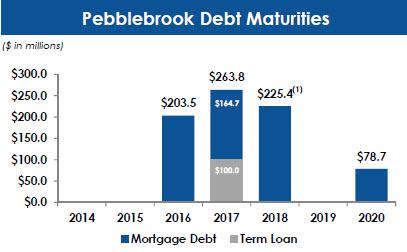 Pebblebrook has around 76% of secured (mortgaged) debt:

Pebblebrook has demonstrated a conservative history of modest debt.

Compared with the peer group, Pebblebrook has the lowest debt to total capitalization (just 17.8%):

Here's a snaphot of other debt metrics: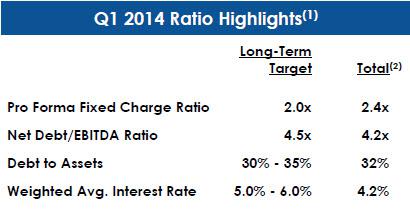 Now Let's Turn Our Attention to Value Investing
As discussed above, Pebblebrook has some exceptional qualities including (1) excellent diversification in high barrier to entry gateway markets, (2) conservatively leveraged balance sheet, (3) no legacy assets, (4) majority of independent operators (more control over capital and operations), and (5) consistent and disciplined investment approach.
Accordingly, Pebblebrook has an enhanced competitive advantage in which it can grow higher comparative rates and build higher value in the supply-constrained portfolio that the company operates. Independent unencumbered hotels typically transact at premiums to brand encumbered hotels. Based on the chart below, it's easy to see that Mr. Market has given Pebblebrook shares a 5-star rating:

Pebblebrook has established an attractive history of dividend growth; however, the current yield is a modest 2.53%.

Here is a close-up of the company's dividend history:

When you consider Pebblebrook's earnings history and share price it's easy to understand that the value proposition is based on owning premium hotels with a luxury standard. Although the P/FFO multiple denotes opulence, the durable growth prospects and strong balance sheet provide comfort with the contemplated entry price.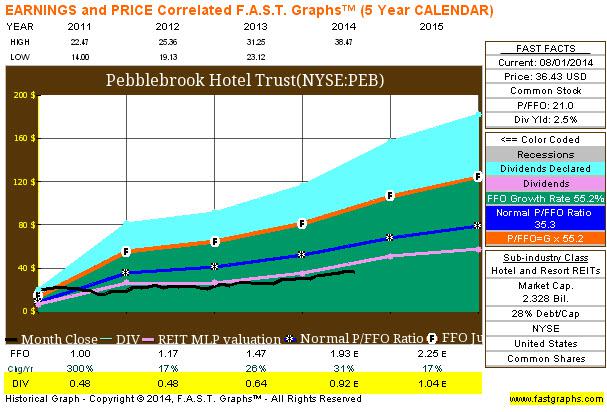 There are just a handful of REITs that I would consider buying with P/FFO multiples above 18x and Pebblebrook is one of them. As I zoom into the 3-year Fast Graph chart (below) we can see that Pebblebrook is trading in line with historic averages. Remember, this is a hotel REIT and Pebblebrook's strong guidance and operating outlook provide an attractive barometer of future outperformance.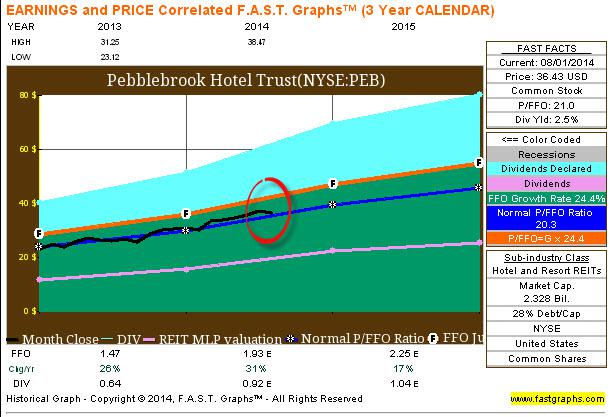 When comparing Pebblebrook's historic 2-year Total Return history we can see that the REIT has produced above average results:

Pebblebrook is trading at $36.43 and I'm going to keep my eyes peeled for a $35.00 entry point.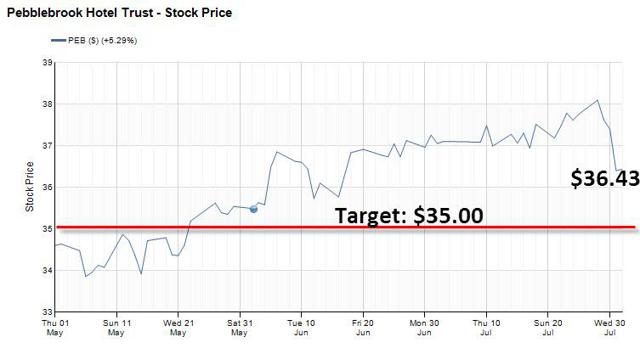 That may be hard since shares have climbed steadily over the last year; however, I'm satisfied with waiting for a better entry price.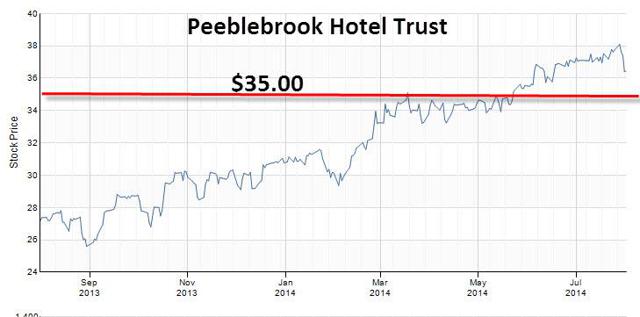 Here's how Pebblebrook's CEO, Jon Bortz, summed up the latest earnings call:
We continue to expect 2014 to be another strong year for the lodging industry and an even better year for Pebblebrook. Underlying fundamentals remained very healthy, and have improved from three months ago as well as last year. We've got tremendous opportunity in the existing portfolio to recapture significant RevPAR lost in prior years and it continues to significantly improve margins through the implementation of best practices and lot's of focus and hard work by our operators and our team.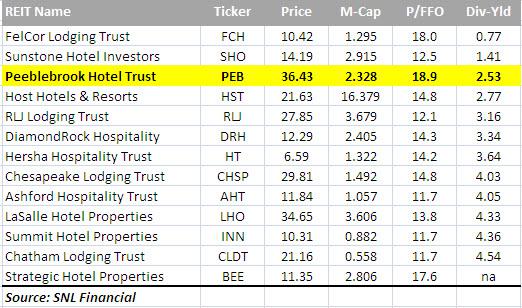 I will be attending The Money Show in San Francisco in a few weeks (August 21-23) and I will try staying at the Sir Francis Drake (owned by Pebblebrook). I'll post my review in a Seeking Alpha Instablog.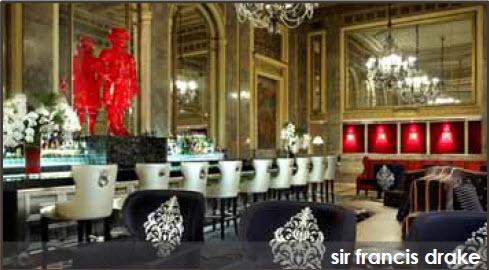 For more information on REIT investing, check out my monthly newsletter HERE.
Sources: SNL Financial, F.A.S.T. Graphs, and Pebblebrook Investor Presentation.
Other REITS mentioned: (NYSE:SHO), (NYSE:CHSP), (NYSE:HT), (NYSE:LHO), (NYSE:HST), (NYSE:DRH), (NYSE:RLJ), (NYSE:BEE), (NYSE:INN), (NYSE:FCH), and (NYSE:AHT).
Disclaimer: This article is intended to provide information to interested parties. As I have no knowledge of individual investor circumstances, goals, and/or portfolio concentration or diversification, readers are expected to complete their own due diligence before purchasing any stocks mentioned or recommended.
Disclosure: The author is long O, DLR, VTR, HTA, STAG, UMH, CSG, GPT, ARCP, ROIC, HCN, OHI, LXP, KIM, WPC, DOC, UDF, EXR. The author wrote this article themselves, and it expresses their own opinions. The author is not receiving compensation for it (other than from Seeking Alpha). The author has no business relationship with any company whose stock is mentioned in this article.