by Christopher Morris
Latest leaks from Korea suggest that new Samsung phablet will be unveiled before Apple iPhone competitor
Mobile technology fans have been awaiting news of two massive mobile releases for quite some time. But the latest murmurings indicate that the schedule many had in mind for the release of the iPhone 6 and the Galaxy Note 4 may not be far off after all.
Recent reports from Korea have indicated that the hardly anticipated Galaxy Note 4 may hit the stores before its Apple (NASDAQ:AAPL) competitor. The reputable newspaper the Korea Times has cited executives from a key parts supplier for Samsung (OTC:SSNLF), who indicate that the launch of the Samsung Galaxy Note 4 will predate the unveiling of the hugely anticipated iPhone 6.
Early September release for Galaxy Note 4
The unveiling date for the Galaxy Note 4 could be September 3 at a pre-IFA 2014 event in Berlin if the latest rumors are correct. This would make sense based on previous precedent, as the Galaxy Note 3 was launched at a similar event in Germany last year, this time on September 5.
There is no word yet from Samsung on these leaks, and the Korean consumer electronics giant will naturally play its cards close to its chest, even if it is a little more forthcoming with information than its great rival Apple. But sources from the Korea Times are clearly very confident about their prognosis. Not only have they named the presumed launch date, they have also asserted that Samsung will begin to distribute official invites in due course.
Although Samsung has released previous Galaxy Note iterations at this point in the calendar year, it was still a surprise when the Galaxy Note 4 was scheduled for this release date. This was due to the fact that the phablet would seemingly automatically find itself in a head-to-head battle with the world's most prominent smartphone, the iPhone.
Samsung strategy clear
But the latest week would seem to make sense from a strategy point-of-view. Samsung is to take Apple on in a duel - and their previous public pronouncements would suggest that this is their long-term intention - then it is surely better for them to have their products available on the market before Apple releases the iPhone 6.
With release dates not yet confirmed for Apple's next-generation flagship smartphone, even the existence of the presumed 5.5-inch phablet is still somewhat in doubt. However, in recent weeks analysts seem to have settled on the idea that Apple will indeed launch a phablet in order to create another revenue stream for the corporation.
Apple's share price has recovered extremely encouragingly recently: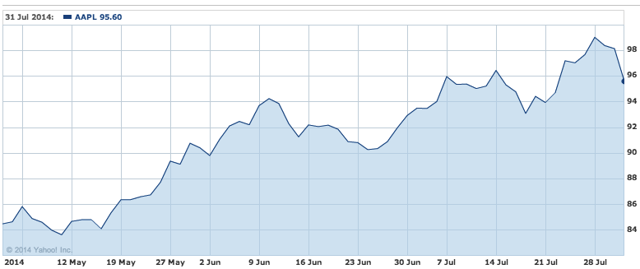 Click to enlarge
…and the development of new product lines is seen as being of particular importance to Apple's short to mid-term growth. With the city at one time skeptical that Apple would be able to deliver attractive revenue figures, its future status will be predicated on the ability to deliver new products, such as the rumored phablet and additionally its first smartwatch, the iWatch.
So Samsung is clearly intending to shore up its position in the phablet market before Apple makes its dramatic intervention. But what can we expect from the Galaxy Note 4 in terms of features, functionality and spec?
Galaxy Note 4 specs
The latest reports indicate that the Galaxy Note 4 will come with an ultraviolet sensor, which can measure UV radiation and offer the readings via the company's acclaimed S Health app. The reports emanating from career today also indicate that the Galaxy Note 4 include LTE-A connectivity for its Korean version, although there was no indication whether or not this would extend to the Western market. Additionally, the Korea Times suggests that the Galaxy Note 4 will include Qualcomm processors, and embrace support for fourth-generation LTE mobile wireless technology.
There has also been a recent suggestion that the Galaxy Note 4 will utilize a 5.7-inch display. This corresponds with a listing that was noticed on the Indian import/export website, Zauba, which suggests that this will be the favored dimension of the Galaxy Note 4.
With some reports suggesting that Qualcomm Snapdragon will be at the heart of the Galaxy Note 4, it is unsurprising that other rumored specifications include the addition of a Snapdragon 805 chipset. However, the East Asian media suggests that this particular facet of the Galaxy Note 4 could differ depending on the territory in which it is purchased. Consumers in the Chinese, Korean, Japanese and North American markets could have access to a device driven by this particular chipset, while all other regions including Europe would reportedly receive a model based around the Exynos SoC.
It remains to be seen what impact this news will have on trading. But Samsung's share price has been significantly down in the last few days: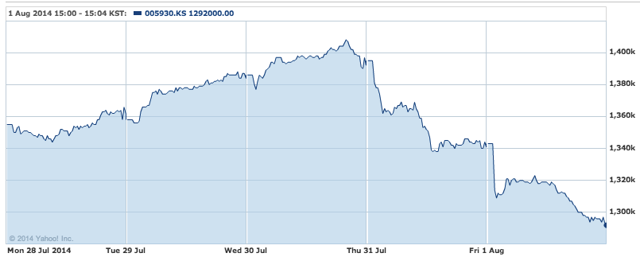 Click to enlarge
…after the company reported disappointing revenue and profit results.
Sign Up For Our Free Newsletter
Disclosure: None
Editor's Note: This article discusses one or more securities that do not trade on a major U.S. exchange. Please be aware of the risks associated with these stocks.