Globant S.A. (NYSE:GLOB) - Buy Recommendation - Short Term Price Target $12.00
The 25-day quiet period on underwriter research for GLOB will come to an end on August 11. On August 12th, GLOB's IPO underwriters will be able to publish research reports on GLOB, likely leading to at least a temporary rise in the price of GLOB shares. A temporary increase in share price has been observed in the (-5,+2) window, surrounding a company's IPO quiet period expiration. Despite GLOB's fairly slow start on the market, strong revenue expansion and impressive underwriting keeps us optimistic on GLOB long term. The quiet period expiration could open a new buying opportunity.
The 25-day quiet period on underwriter research initiated with Globant S.A.'s July 17 IPO will come to an end on August 11, allowing the IPO underwriters to publish research reports on the Argentinian IT services company and likely leading to at least a temporary rise in the price of GLOB shares.
Early Market Performance
GLOB's IPO priced below its expected range of $11-$13 per share at $10 per share and posted a first-day return of 12.5%. The stock has since fluctuated between $10.60 per share and $11.60 per share. GLOB closed at $11.42 per share on August 1st.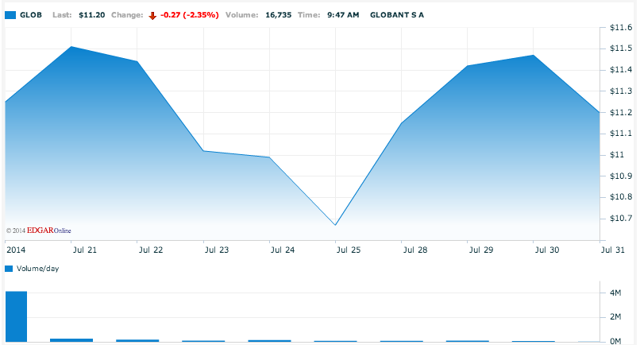 Click to enlarge
(Nasdaq.com)
Underwriting
GLOB's IPO underwriters, including Citigroup Global Markets Inc; J.P. Morgan Securities; Credit Suisse Securities (USA) LLC; LOYAL3 Securities, Inc.; Cowen and Company, LLC; and William Blair and Co., L.L.C, will seek to improve the stock's fortunes through the release of positive analyses beginning with the conclusion of the quiet period.
Underwriters, Quiet Period Expirations, and Buying Opportunities: Academic Studies
The Journal of Finance (VOL. LVIII, NO. 1; 2003) describes the process through which rising share prices typically emerge before the expiration of the quiet period, as investors purchase shares early in anticipation of positive underwriter reports.
Lead author Dan Bradley, PhD, CFA, affiliated with the University of South Florida, and his colleagues point out that analyst coverage is immediately initiated for 76% of firms at the conclusion of the quiet period, typically with ratings of 'Buy' or 'Strong Buy.' Firms with coverage initiated enjoy abnormal positive returns of 4.1% for the two days before and the two days after coverage is initiated. Returns have also been found to rise even further when more than one analyst initiates coverage-to 6.4%.
Dr. Bradley's conclusion is backed by the work of Carter, Piwowar, and Strader (2001), who report that the mean analyst rating at the end of the quiet period is a "Buy," with higher returns correlated to higher ratings. Lach and Highfield (2009) note that analyst initiations have been less positively biased since the Global Settlement and NASD and NYSE rules; however, Highfield, Lach and White (2008) still found that the five-day cumulative adjusted returns are statistically significant at approximately 2%.
Bradley et al also note a significant correlation between the quantity and reputation of IPO underwriters and increasing share prices near the expiration of the quiet period.
Our own research, performed on a sample of 2014 IPOs, reveals above-market returns of 2.3% in the 8-day (-5, +2) period (day 0 being expiration). These data are statistically significant at the 90% level. When IPOs for REITs and banks are excluded, returns increase and remain within the 90% significance level. We also noted that more underwriters could reduce the volatility of returns in the quiet period. No significant linear relationship was found between market capitalization and returns or volatility of returns in the same window of time. We also observed no significant linear relationship between the percentage of the company floated at the time of IPO and returns or volatility of returns.
In all cases, investors' early purchases often lead to a perception of rising demand, causing rising share prices before the expiration of the quiet period and creating a short-term buying opportunity.
Business Overview
GLOB designs and markets IT software solutions primarily for North American customers. GLOB lists its principal offices in Luxembourg, but its principal operating subsidiary is headquartered in Buenos Aires, Argentina. The firm generated 79.9% of its revenues through North American customers in the first three months of 2014.
GLOB is attempting to capitalize on demand for new software rising out of the rapidly shifting IT landscape that has resulted from increasing corporate interest in new technologies and IT trends including cloud computing, social media, big data, gamification, and many more.
GLOB's facilities included 25 delivery centers spread across the United States, Brazil, Mexico, Uruguay, Colombia, and Argentina, along with four client management locations in the U.S. and one each in Brazil, Uruguay, Argentina, Colombia and the U.K. as of March 31, 2014.
GLOB has collected an impressive list of high-profile customers, including Google (NASDAQ:GOOG) (NASDAQ:GOOGL), Orbitz (NYSE:OWW), Sabre (NASDAQ:SABR), Walt Disney Parks and Resorts Online (NYSE:DIS), and Electronic Arts (NASDAQ:EA).
See our previous article on GLOB for additional details.
Large Competitors
GLOB competes both with companies' in-house IT solutions and with other providers of IT outsourcing, some of which have access to greater technical or financial resources than GLOB. Major competitors include IBM (NYSE:IBM), Accenture (NYSE:ACN), EPAM Systems (NYSE:EPAM), Ideo, GlobalLogic, SapientNitro, Infosys Technologies (NASDAQ:INFY), and Aricent.
"Emerging CEO," "Entrepreneur of the Year"
Co-founder Martin Migoya has served as GLOB's CEO and chairman since 2005.
His previous work experience includes time as a technology project coordinator at Repsol-YPF, as a consultant at Origin BV Holland, and as a business development director at Tallion.
Latin Trade recognized Mr. Migoya as Emerging CEO of the Year in 2011, and he received the "Entrepreneur of the Year Award" from Ernst & Young in 2013. Mr. Migoya was selected as an Endeavor Entrepreneur in 2005 and won a Konex Award as one of the most innovative entrepreneurs of 2008.
Mr. Migoya holds a degree in electronic engineering from Universidad Nacional de La Plata and a master's degree in business administration from the Universidad del Centro de Estudios Macroeconómicos de Argentina.
Conclusion: Another Chance to Buy
Though GLOB has gotten off to a fairly slow start on the market, we believe that this firm has every opportunity to succeed moving into the future.
GLOB has amassed an impressive list of customers, although the firm does rely heavily on only a handful of those customers-nearly 40% of the firm's 2013 revenues were generated through its top ten customers.
GLOB has seen strong revenue expansion in general over the past several years, growing its revenues from $90.1 million in 2011 to $158.3 million in 2013.
Though the firm experienced a loss from operations of $5.0 million in 2013, a strong first three months of 2014 led to an operating profit of $3.4 million.
The upcoming quiet period expiration will likely make for a strong buying opportunity for growth investors interested in getting a piece of GLOB.
We invite readers wishing to join the discussion on IPO Quiet Period Expirations to click +Get real time alerts above the title of this article.
Disclosure: The author is long GLOB. The author wrote this article themselves, and it expresses their own opinions. The author is not receiving compensation for it (other than from Seeking Alpha). The author has no business relationship with any company whose stock is mentioned in this article.