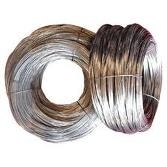 Nickel has been one of the biggest sufferers in the global commodity price meltdown. But even though this high luster, silver-white metal was making a steady comeback fuelled by investment demand this year -- mainly driven by massive Chinese imports -- the nickel market is now faced with a potential oversupply threat as strong prices are encouraging higher output amid lackluster demand.

Sluggish Stainless Steel Demand: While stainless steel accounts for over two-thirds of global nickel demand, most other uses of nickel, while performing better, are not big enough to offset the impact of the stainless industry's hand-to-mouth existence. ArcelorMittal (NYSE:MT), the world's largest steel maker, is temporarily closing three blast furnaces in Europe in response to falling demand. In October, MT's capacity utilization dropped to 71% in the third quarter from 78% in the second, and is likely to remain at around that level in the final three months. The company has also claimed that Chinese demand for steel has cooled.

Understanding the Steel Sector's Chinese Equation: Higher raw material costs and an overall gloomier economic outlook are overshadowing a solid April-June period, when MT's core profit ((EBITDA)) rose by 59% quarter-on-quarter. The $500 billion steel industry profited in the second quarter from a strong auto sector and booming demand in China, which has since cooled off a bit. The World Steel Association is still bullish, however, as it believes that the global use of steel will jump 13% this year compared with 2009, signifying a robust recovery on the depressed conditions of 18 months ago. MT and other European steel makers should show in the coming weeks whether a poor third quarter marked the start of a prolonged slowdown, or was just a brief soft patch.

Rising Nickel Supplies: Brazilian mining giant Vale (NYSE:VALE) has unveiled plans to start shipping nickel from its troubled "Goro" project in New Caledonia, while Minara Resources (OTC:MREJF), Australia's second-largest nickel producer, returned to normal operating levels after completing scheduled maintenance work on its "Murrin Murrin" nickel project. The company, which is forecasting 2010 production of 28,000-30,000 metric tons of nickel, started the maintenance work on Oct. 1.
Meanwhile, China produced 144,922 metric tons of primary refined nickel in the first nine months of the year, up 15.6% from a year ago, according to the country's National Bureau of Statistics.
Global miner Xstrata (OTC:XSRAF), the world's fourth largest nickel miner, will reactivate its Sinclair nickel mine in Australia after suspending operations due to the global financial crisis, a top official said. Xstrata had earlier restarted its Falcondo nickel mine in the Dominican Republic in October 2010 at a 50% production rate. The company is also on track to start production at its 60,000-metric ton per year Koniambo mine in New Caledonia in mid-2012.
Investing In Nickel: Nickel prices have seen steep climbs and descents since the early 1990s. Nickel demand in Europe decreased in the period 2002-2005 before recovering in 2006. In the Americas, demand fell between 2002 and 2003 before growth resumed in 2004. Nickel demand has increased strongly in Asia throughout the same period, as hyper-developing China is the largest consumer of nickel to date.

The price of nickel has shown considerable volatility over the last 30 years. The chart below shows the historic price for nickel in both real and nominal values: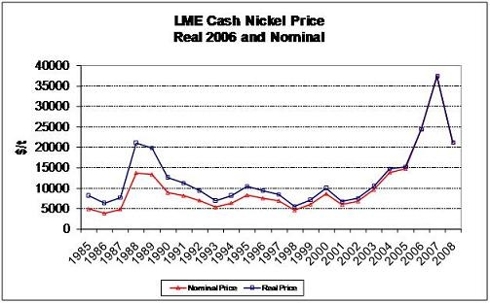 Click to enlarge

Nickel Futures LME: The London Metal Exchange (LME) offers a futures contract for nickel, which provides interested parties with the most direct access to the nickel market. It trades in lots of six metric tons, and its tick size is $5.00 per metric ton. As with zinc, it trades during the first month, in addition to 27 subsequent months.

Nickel ETF: Investors willing to invest in Nickel Exchange Traded Funds can participate in the market through an exchange-traded note (ETN) from iPath: Dow Jones-AIG Nickel Subindex Total Return (NYSEARCA:JJN).

For nickel exposure as part of a broader commodities portfolio, some other exchange-traded products also offer nickel in their holdings. These include: Elements Rogers International Commodity Index Metals Total Return ETN (NYSEARCA:RJZ); UBS E-TRACS CMCI Industrial Metals Total Return (NYSEARCA:UBM); and iPath Dow Jones-UBS Industrial Metals Subindex Total Return ETN (NYSEARCA:JJM).

Nickel Markets Long Term Outlook: With a larger population base, the next growth phase for stainless steel as well as nickel will likely be found primarily in the BRIC countries, as their inadequate infrastructure is creating an insatiable hunger for stainless steel.

Indonesia's nickel producer, PT International Nickel Indonesia Tbk, has reported a huge increase in nickel production, with first quarter 2010 net profit of 19,811 metric tons compared to its first quarter 2009 profits of 16,220 metric tons.

China's apparent consumption of stainless steel, the main driver of its nickel demand, is expected to rise by 5% in 2010. China, the world's largest stainless steel maker, resumed production to full capacity in January and is expected to boost output by 19% this year, while output is expected to be 13% in Western Europe and 15% in the U.S.

Nickel prices have climbed 20% this year, more than any of the other main metals on the London Metal Exchange, as stainless steel makers led by Madrid's Acerinox SA reported increased orders and production. According to recent estimates by London-based research group CRU, nickel production is likely to fall behind demand in 2010 for the first time in four years on increased usage by the stainless steel industry, the biggest user of the metal. Nickel deficits are estimated to reach 20,000 metric ton levels this year, after a surplus of 45,000 metric tons last year.

Disclosure: No positions