El Pollo Loco (NASDAQ: LOCO) is the talk of Wall Street. "The Crazy Chicken" has been dubbed a Chipotle Mexican Grill (NYSE: CMG) "wannabe" by many, yet has, over the course of a couple weeks, more than doubled the return generated by Chipotle over the entire past year.
With this chicken running wild, what are investors to do?
El Pollo Loco Takes Wall Street by Storm
On July 25 El Pollo Loco initially priced at $15 a share. The stock opened at $19 for the day and went on to finish near $24, representing a more than 50% first-day increase.
Since then, El Pollo Loco has continued to rally, posting double-digit percentage gains on multiple instances, and currently is trading near $40. This, incredibly, represents a more than 166% increase in just a couple weeks.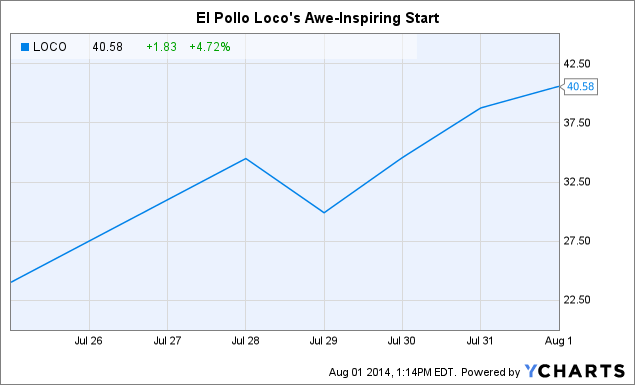 Is it Time For This Chicken to be Caged?
At this point El Pollo Loco's stock gains are simply getting out of control. It's hard to believe that after such a run El Pollo Loco can be trading with a valuation even close to something that is reasonable, but the numbers may surprise you.
With the stock price around the $40 that it currently is, El Pollo Loco trades with a price to sales ratio of 4.58 (using 2013's annual revenue). Chipotle, the company everyone is comparing El Pollo Loco to, trades with a 6.45 price to sales multiple.
Consider this, each El Pollo Loco restaurant is currently being valued at $3.59 million (current market cap/2013 year-end restaurant count). For Chipotle, this figure is nearly four times higher at $12.99 million per location. (Some of this can be credited to Chipotle operating all of its locations, while 58% of El Pollo Loco's locations are franchised).
It is worth noting, however, that Chipotle is growing much quicker than El Pollo Loco. Chipotle expects to open 180-195 new restaurants this year, representing 11%-12% year-over-year restaurant count growth. Meanwhile, El Pollo Loco only plans to open roughly 14 new locations, representing 3.5% growth. While Chipotle grew revenue 17.68% from 2012 to 2013, El Pollo Loco only managed 7.19% growth.
El Pollo Loco also comes with a lot more baggage than Chipotle. The company hasn't turned an annual profit in 7 straight years, is $288.8 million in debt, and is not at all geographically diversified, with 80% of El Pollo Loco's locations in the Los Angeles market.
The Takeaway
Unfortunately, I think too many people are getting caught up in the market's response to El Pollo Loco and are not focusing on what they should be: the underlying fundamentals.
While El Pollo Loco may still be trading at a relative discount to Chipotle, Chipotle has a long, proven track record of consistent, fast-paced growth, something "The Crazy Chicken" simply doesn't have. El Pollo has only increased its store count by 7 locations over the entire past two years. Doesn't exactly sound like a chain that is growing like a weed to me. Not to mention all the other baggage that comes along with El Pollo Loco.
Therefore, I find it completely unwarranted for the stock to be where it is today. If El Pollo Loco sold burgers instead of burritos and was not associated with Chipotle, I doubt the stock would even be worth half what it is today. As soon as Wall Street wakes up to the reality that El Pollo Loco is not even close to proving itself to be the "next Chipotle" it is going to get real ugly real fast, with a return to the levels seen in the first day of trading not out of the question.
In the long-term, El Pollo Loco has potential if the company can: 1. pay down its debt (much of the IPO's proceeds are going towards this) 2. hit management's long-term target of growing store count 8%-10% annually and 3. sustain positive comparable restaurant sales growth (the past 11 quarters El Pollo Loco has done this). Until I see crucial steps being taken by the company on these fronts, however, I will not be exchanging my soon-to-be short position for a long one.
Disclosure: The author has no positions in any stocks mentioned, but may initiate a short position in LOCO over the next 72 hours. The author wrote this article themselves, and it expresses their own opinions. The author is not receiving compensation for it (other than from Seeking Alpha). The author has no business relationship with any company whose stock is mentioned in this article.