Introduction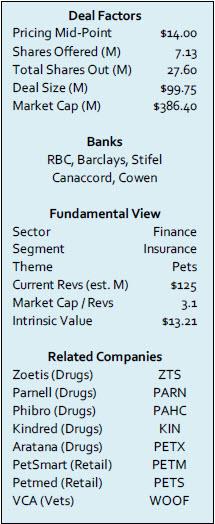 We wanted to be really excited about Trupanion (NYSE:TRUP) as a new IPO investment, but the deal seems less attractive than we expected.
The pet and animal healthcare space has performed well in the IPO market as of late. Aratana (NASDAQ:PETX) is up 160%, Phibro (NASDAQ:PAHC) is up 46%, Kindred Biosciences (NASDAQ:KIN) is up 129%, and Zoetis (NYSE:ZTS) is up 24%.
So far, the only dud has been the recent Parnell (NASDAQ:PARN) IPO, which priced at $10 and has been trading at about $7/share.
This note outlines the pros and cons of the company and the deal. As can be seen right in the wrapper to the right, the valuation is high based on the filing range.
In short, this is still a company and a story we like, but due to the margins, investors should be valuation sensitive. At a revised lower price, this deal could be very attractive.
Positives
1. The market opportunity is solid - very few of the nearly 200M pets in the US have health insurance. The company cites pretty high "attach rates" in some countries, but our own guess is that some single digit percentage is likely in the US. Even using an 8% penetration rate (versus the 25% suggested by the company), the TAM is still around $8B annually.
2. The two underlying drivers are like bedrock - the human/pet attachment and dramatically increasing treatment options with huge costs to pet owners.
3. Trupanion has built a better pet insurance product with much better coverage, much more granular pricing, and simpler terms for consumers. They have used a very data-intensive approach to basic price policies using enough factors to provide excellent coverage, but with reasonable profits. For example, a breed with a history of problems living in NYC will pay more than a more robust variety living in Cincinnati. Their database and improved pricing model is a competitive advantage.
4. Go-to-market strategy, which is based on relationships with veterinarians, will be an important asset and serve as a barrier to entry as they expand and deepen over time. This method has also proven to keep pet acquisition costs low relative to future cash flow and lifetime value.
5. The business model is highly recurring in nature as pets tend to remain insured and new enrollments add to the base of revenue faster than churn of the existing insured base. This dynamic could turn into a negative factor, but not for many years and by then rates and profit per new pet may offset some of the impact of churn off a larger base.
6. Finally, the management team is actually fairly impressive despite the fact that the CEO is basically an ex-cigar-store-owner. The key operational executives have appropriate backgrounds from large insurance companies or in animal care and medicine.
Negatives
1. Although glamorously described and well told as a story, at the end of the day Trupanion is an insurance company - that means 20% gross and 10% net operating margins. In contrast to other models, only 10 cents on the dollar will flow to the bottom line. It's a lower return business than many growth-style investors like, because it takes longer for revenue gains to create returns for shareholders.
2. The insurance-driven business model yields a base-case intrinsic value (IV) for 2015 of $13.21 / share which is at the low end of the current filing range. Because we wanted to like this story so much, we took some extra time to do a "stretch" case IV (included here) which comes to $20/share. Investors should note that the stretch case includes a 30x multiple on earnings, which is high for an insurance company.
3. Lastly, one can drive a truck through the range of potential market penetration numbers which range from as high as 40% (Sweden) to single digits (France, Denmark, Netherlands). The real data that we are missing is the distribution of the US pet population by demographics. Urban and affluent pet owners are the most likely ones to spend a few hundred dollars a year on pet insurance. The TAM is not an issue today but may be controversial over time, especially if there is better competition.
Conclusion
We really like the story, management team, and fundamentals of Trupanion. Our enthusiasm is tamped down considerably based on the insurance business model, which generates relative low gross and net margins for a growth business.
Based on our IV models, we'd be very interested in the deal at a price below the filing range. We'd encourage investors to do their homework and stick to their conclusions about the stock as it prices and opens for trading.
We've included two IV models to help probe the upside. This feels like a good story to own, but probably at a price, and possibly one to be patient with as more shares come off lockup in late 2014/early 2015.
Appendix I - Intrinsic Valuation Models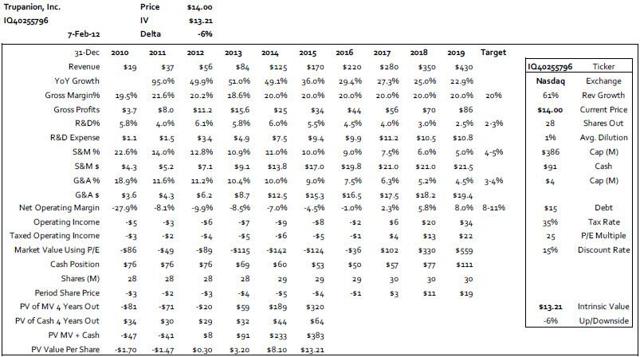 Click to enlarge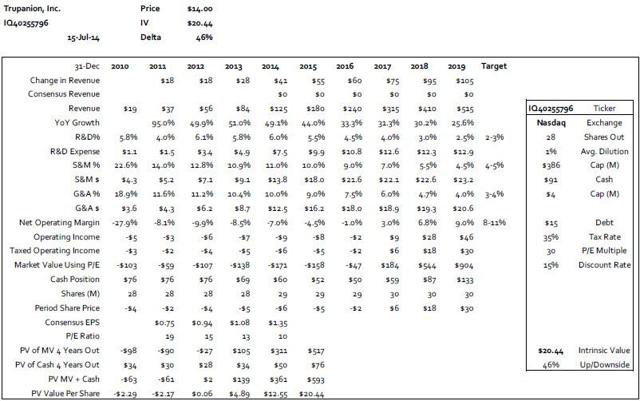 Click to enlarge
Disclosure: The author has no positions in any stocks mentioned, and no plans to initiate any positions within the next 72 hours. The author wrote this article themselves, and it expresses their own opinions. The author is not receiving compensation for it (other than from Seeking Alpha). The author has no business relationship with any company whose stock is mentioned in this article.