Common knowledge has it that cardiovascular disease is the number one health enemy on the planet. From this fact, it follows that the pharmaceutical company who can first offer a safe and effective drug that significantly reduces the risk of heart disease-related deaths stands to make a fortune, and not just a small one, for both the company and its investors. Merck & Co. (NYSE:MRK) is now trying to accomplish what Pfizer (NYSE:PFE) failed at 4 years ago, and so far, the initial results are encouraging.
In a small trial study of 1,623 at-risk patients, the administration of anacetrapib in conjunction with regularly-prescribed statins showed a 40% decrease in LDL or harmful cholesterol. What was even more exciting was the whopping 138% increase in HDL or "good" cholesterol. Without raising blood pressure or levels of aldosterone, this new drug seems to support the inverse correlation between high HDL and reduced risk of heart problems.
For those interested in the possible online trading profitability and investment potential of Merck, this may be an opportunity to sow into a future money harvest. In response to the positive first findings of this new drug, shares began trading up $.77 or 2.3% to $34.87. Although still down 5% for this year, the early optimism for a long-awaited heart drug that could have a potential sales life of over $19 billion dollars may stir some investment interest in online trading circles.
After the disappointing and expensive failure of Pfizer's torcetrapib in large-scale testing, Merck wants to proceed with optimistic caution. A new, expanded 2 ½ year study of 30,000 high-risk candidates from around the world that will cost the company an estimated $150 million dollars is next on the docket. Results will not be available until 2015, and this hopefully-successful data will be absolutely necessary before attempting FDA approval. There is always the concern of competition from a rival company such as the Swiss-owned Roche (OTCQX:RHHBY) who may be running as much as 2 years ahead of Merck. On the other hand, recent cut-backs of 4,800 jobs might suggest that the competition is having problems of its own.
Merck is not putting all its eggs in one basket. In addition to testing anacetrapib as the next blockbuster drug, the research and development arm has as many as 19 other new medications or drug combinations in the works. Because each new drug's potential as a high-profit maker is curtailed when its protected-patent expires and generic versions become available, companies such as Merck are willing to invest heavily, to the tune of $2 billion a year, in continually producing new replacements. With a credible reputation for past discoveries as varied as B12, cortisone, streptomycin, and newer wonder drugs such as Zocor, this company has increased its future development potential by recently acquiring Shering-Plough Corp for $41 billion, a move which has vaulted Merck into 2nd place behind Pfizer as a world pharmaceutical giant.
Currently ranked 5th in emerging markets, Merck has a strategic determination to increase foreign sales, especially in Asia and specifically in China. Two new drugs, a rotavirus vaccine and a cardiovascular drug, will be introduced in India during the first half of 2011. By focusing on further diversification of its product lines, Merck is moving aggressively to capture a larger portion of the human health product market.
As with any highly-touted but unproven discovery, there remain many important questions to be answered. Is anacetrapib truly safe and free from harmful side-effects? Can artificially raising HDL be as effective as the body's natural responses? Why did a higher percentage in the first trials die from this treatment than those within the placebo group? Cancelling its torcetrapib promotion cost Pfizer an estimated $800 million. The world of human health care pharmacology and research seems something like a high-stakes horse race. Winners can make a good deal of money for their investors. Those who come in second, or worse yet, finish out of the money can be costly even to leading companies such as Merck and Pfizer.
With over 300 years of pharmaceutical history, a program for expansion into world markets, and a highly-invested research component, Merck seems to be doing all it can to protect its success. For those who are ready to bet on anacetrapib to win, this may be the opportune time to buy stocks in Merck & Co.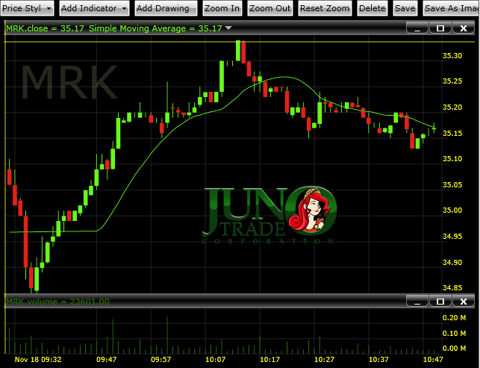 (Click to enlarge)
(Click here for interactive chart)
Disclosure: Author long MRK