Michael Kors (NYSE:KORS), the luxury goods maker named after the award winning designer, is set to announce its Q1 2015 earnings today. Kors' dresses and handbags can reach upwards of $4,000 and $2,000, respectively. The company has also introduced lower-priced lines of handbags ($400), watches ($300) and dresses ($200) in order to reach the masses. The brand catapulted into the nation's consciousness when Mr. Kors was named one of the judges for "Project Runway" in 2004. In 2011 he took his luxury brand public and its growth has been impressive ever since, even after reaching significant scale. For fiscal year ended March 29, 2014, Kors had revenue and earnings of $3.3 billion and $661 million, respectively. Revenue grew 68% and 52% in FYE March 30, 2013 and FYE March 29, 2014, respectively. Earnings also grew 215% and 66% over the past two fiscal years.
The company's historical financial performance is below: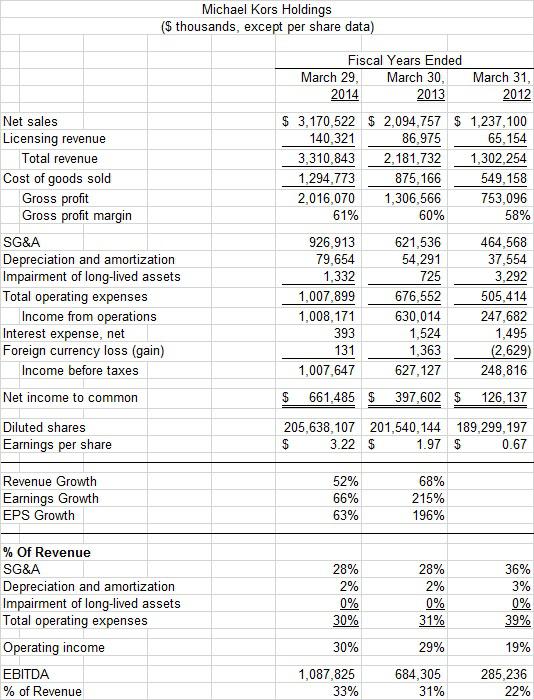 Caught In Coach's Backdraft?
A lot of Kors' growth has come at the expense of Coach, Inc. (NYSE:COH). According to Barclays, Kors' share of the $11.4 billion North American premium handbag and accessories market has grown to 18% from 3% in 2009. Coach's share has fallen from 35% to 24% over that period. During its June 19th Investor Day, Coach's management delivered bad news to investors that its revenue growth would decline by double digits and it would close several stores as a result:
Coach warned of double-digit revenue declines, 70 store closings and pressure on gross margins in its next fiscal year. The company also admitted that it had under-invested in the business and missed key fashion trends - a death knell for a fashion brand... The stock fell nearly 9% the following day; the stock has declined approximately 13% in total since the infamous Investor Day.
Coach's decline in same store sales also brought into focus Kors' expansion plans. In mid-July analysts began to question whether Kors' goal of expanding to 400 outlets, up from 288 at the end of its most recent fiscal year, would make it too ubiquitous. The stock tumbled from $91 per share on July 9th to below $80 on July 15th. The shares are at $82 heading into earnings. Its earnings guidance will go a long way to assuaging investors that its growth aspirations will not tarnish its brand.
Analyst Expectations
Average analyst estimates call for revenue of $852 million, a 33% increase above Q1 2014. Wall Street is also expecting earnings per share to increase 33% to $0.81 per share from $0.61 a year ago. With a market capitalization of $27 billion, the stock trades at 25x earnings, which is fair given its earnings expectations.
Conclusion
I believe Kors will beat its earnings estimate and is a buy at these levels. Its store expansion heading into what I would expect to be a slowing economy is a concern though.
Disclosure: The author has no positions in any stocks mentioned, and no plans to initiate any positions within the next 72 hours. The author wrote this article themselves, and it expresses their own opinions. The author is not receiving compensation for it (other than from Seeking Alpha). The author has no business relationship with any company whose stock is mentioned in this article.