Knightsbridge Tankers Limited (VLCCF) is at a very opportunistic crossroad at present. After a recent tumble from its $16.00 high in early June, the stock appears to be settling near multiple significant support levels:
Horizontal price support at the $11.00 level:
The stock has previously used the $11.00 price level as a point of both significant support and resistance. As shown on both daily and weekly charts below, most recently, the stock broke out above this prior resistance level in early March and has since used this level as strong support (in mid to late April). It is worth noting also, on its weekly chart that the stock used the $11.00 level as support in late 2012 and eventually fell below this level in April, 2013; only to break back above the level in March, 2014, as mentioned above.
200-day simple moving average support at $11.09:
The stock broke below its 50-day SMA (simple moving average) last October, only to then test its 200-day SMA about a month later. As seen in the daily chart below, the stock used its 200-day SMA as support, pivoting from the level in December and beginning a new uptrend. A similar pattern can be seen currently, with the stock trading just above its 200-day SMA.
R1 support (yearly) at $10.92:
As most technical traders know, pivot point support and resistance levels can be very useful when attempting to predict a change in a stock's direction. Without going into a full explanation of pivot point levels and their uses, it should be noted that, on its weekly chart, Knightsbridge Tankers Limited is trading just above its yearly R1 resistance/support level. As you can see, the stock tends to use its pivot point support and resistance levels as areas of strong support or resistance. As such, and as mentioned, it is worth noting this third level of support along with the other two mentioned above.
VLCCF Daily Chart:

VLCCF Weekly Chart:

With all that said about Knightsbridge Tankers Limited's support, when analyzing the risk-to-reward ratio for this trade, the conclusion would be that the downside risk is minimal. The stock is, as of this writing, trading at $11.31, just $0.39 above the lowest support level mentioned above. As such, this gives us a downside risk of only 3.57%.
Now let's look at upside potential for Knightsbridge Tankers Limited. Viewing the daily chart above, we could argue that the stock may find resistance around the $14.50 price level, as has done previously this year. Using $14.50 as a technical price target, this would give us an upside potential of 28.21%.
We should also look at the average analyst target which, for Knightsbridge Tankers Limited is $15.80. Using this average analyst price target, we have an upside potential of 39.70%.
For the sake of argument, let's split the difference between our technical upside potential (28.21%) and our analyst average upside potential (39.70%) and call it a nice, round upside of 34.00%.
Given this, our risk-to-reward ratio for a trade in this stock would be 1:9.5. Any trader worth his salt knows that those numbers make for a very appealing trade.
But, of course, we can't just trade on technical assumptions, so let's dig a little deeper.
As mentioned, the mean analyst target for Knightsbridge Tankers Limited is $15.80. The breakdown for analyst recommendations stands at three strong buy recommendations, three buy recommendations, and three hold recommendations, with a high target of $19.00 and a low target of $13.00.
Fundamentally, the company holds up well. Though a micro-cap, Knightsbridge Tankers Limited has an appealingly low price-to-book ratio of 1.10, is modestly leveraged at only 24.54%, has a strong annual net profit of $13.8 million, and also offers a 6.86% annual dividend yield.
While total assets have dropped a bit year over year, Knightsbridge Tankers Limited's annual balance sheet shows a rise in cash on hand from $71.77 million in 2010 to $98.25 million in 2013 as well as a steady rise in current assets from $77.92 million in 2010 to $104.74 million in 2013. Adding to this, total liabilities have consistently declined from $166.05 million in 2010 to $102.41 in 2013.
It is also worth noting that China is the largest producer and consumer of iron ore and metallurgical coal, used to manufacture steel. Naturally, the country's steel production is of significance to dry bulk shipping companies like Knightsbridge Tankers Limited. As such and as shown by the graph below, China's steel production is strong and currently hitting record highs (Source: World Steel Association):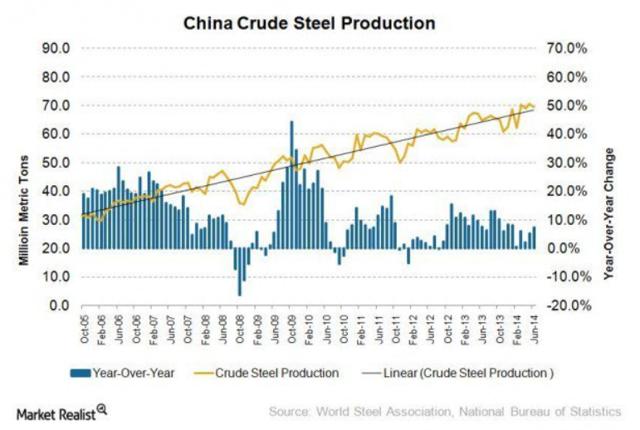 In addition to this, the Guggenheim Shipping ETF (NYSEARCA:SEA), an index weighted with dry bulk shipping companies, has risen 1.08% year-to-date. Though slight, this increase is also a positive sign for dry bulk shipping investors.
In summary, the purpose of this article is not to sell you on a long-term investment in Knightsbridge Tankers Limited. That's up to you. The point is simply that if you feel that Knightsbridge Tankers Limited is a potentially good investment, the timing for a trade in this stock seems very opportunistic at present. Using the above mentioned support levels as a stop loss point, our risk in this trade would be very minimal considering the potential reward.
Disclosure: The author has no positions in any stocks mentioned, but may initiate a long position in VLCCF over the next 72 hours. The author wrote this article themselves, and it expresses their own opinions. The author is not receiving compensation for it (other than from Seeking Alpha). The author has no business relationship with any company whose stock is mentioned in this article.
Additional disclosure: Article sources: Yahoo! Finance, StockCharts.com, Kapitall.