Swiss pharmaceutical company Novartis (NYSE:NOV) faces expiring patents on some of its highest revenue generating products, including the $6-billion-per-year hypertension drug Diovan. Nevertheless, most analysts remain positive on the drugmaker. The company's Investor Day held earlier this week had little immediate impact on analysts, with several interpreting the information to justify their existing opinion.
Novartis said it is stepping up cost-cutting and productivity improvement measures to free up more funds into research and emerging markets. Novartis' new CEO Joe Jimenez earlier said the company is on track for a "focused diversification" strategy as other competitors criticized the drug maker for "giving up" on discovering new medicine in favor of expanding generics.
The median price based on the the 17 most recent targets tracked by Alacra Pulse is 66 Swiss francs, slightly up from 65 a month ago and higher than Tuesday's closing price of 55.40 Swiss francs. The mean target is 64.51 Swiss francs. Of these analysts, 15 have a positive rating, 2 are neutral and 2 are negative.
Current 12-month price targets of selected sell-side and independent analysts. Click image to enlarge.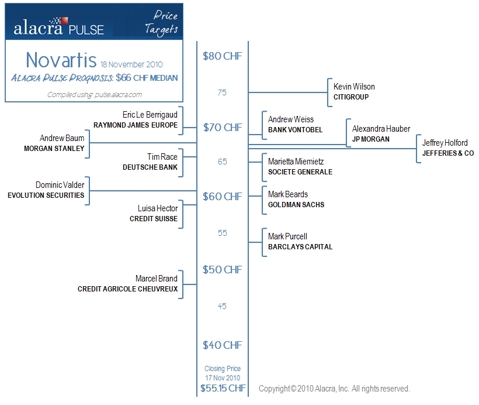 Bullish analysts buy into the company's argument that consensus growth estimates are too low.
Novartis' new multiple sclerosis treatment – Gilenya – could grab 13 percent of the market over the next 12 months, according to Leerink Swann & Co. analysts, who initiated coverage with an Outperform. Leerink analysts said, "We recommend that long-term investors build a position in NVS as we believe it offers exciting new product opportunities led by Gilenya and Tasigna, which together have $5 billion in revenue potential in '16E."
Citi's Kevin Wilson sees the recent share price weakness as an attractive entry opportunity. He rates Novartis a Buy with a 12-month price target of $75.
Bank Vontobel analyst Andrew Weiss said a stronger Swiss franc should also spur interest in Novartis. "We expect growth of 8 percent in local currencies. That should excite investors and keep them convinced that Novartis can continue to grow above the market, at least in the short term," said Weiss, who has a Buy rating and 69 Swiss franc price target on the pharmaceutical firm.
Alexandra Hauber of JP Morgan sees huge upside to current consensus expectations if Novartis delivers on its ambitious strategy outlined at the Investor Day. She reiterated a 67.60 Swiss franc target and Overweight rating.
As for losing its blockbuster hypertension drug, analysts aren't that worried. "Diovan is going to hurt, but it's priced into the stock already," said Channing Smith, a money manager at Capital Advisors. He expects low-double-digit earnings growth, "much higher than the industry average," supported by Alcon (NYSE:ACL), improving margins, new drugs that will surprise on the upside, and expense controls. Novartis purchased a 77 percent stake in the eye care company earlier this year.
Miller Tabak equity analyst Les Funtleyder reiterated a Buy rating on the Amerian Depository Shares of Novartis and had raised the price target to $65, from $58. "Given that the current market (for multiple sclerosis drugs) is in the multiple billions in size and that Gilenya is the first oral agent, we would expect the drug to become a blockbuster," Funtleyder said. He said the launch of Gilenya will happen slowly, as "a good portion of MS patients who are well-controlled on current treatment are reluctant to switch".
Standard & Poor's analysts Sho Matsubara and Herman Saftlas are not as optimistic about Novartis compared to other analysts. S&P lowered its rating on the ADS of the Swiss drugmaker to Hold from Buy last month. The analysts reiterated a price target of $62 on the ADRs. In a posting on the S&P MarketScope service, the analysts said the rating change came "in light of recent pipeline setbacks, and our view that new products will not mitigate NVS' maturing portfolio and pricing pressures in Europe and the U.S."
Novartis is among the least favored big pharma companies at Credit Agricole Cheuvreux, where analyst Marcel Brand prefers Roche (OTCQX:RHHBY). He has an Underperform rating and 48 Swiss franc 6-month price target.
Another naysayer is Barclays' Mark Purcell who was not impressed with the underlying Q3 numbers. He has an Underweight rating and 53 Swiss franc target.
(Source: Dow Jones Newswires,TheStreet.com, Bloomberg BusinessWeek, Reuters, Barrons, Financial Times)