Background:
Micron Technology Inc. (NASDAQ:MU), established in 1978, is an Idaho-based multinational chip maker and renowned manufacturer and marketer that specializes in semiconductor devices, providing memory solutions useful for a multiplicity of industries, including "computing, networking, server applications, as well as mobile, embedded, consumer, automotive, and industrial designs," in its own words. Holding a sizeable 28.7% of market share, Micron Technology regularly earns praise from industry evaluators, and has frequently been proclaimed an industry leader. In 2014, in fact, the EE Times and EDN each awarded Micron with "Memory Product of the Year" awards. More recently, too, the company has earned praise for its Hybrid Cube. At the managerial level, the Micron Technology executive board seems to be well-run, with director Daniel Skinner winning the JEDEC Award of Excellence for spearheading mobile low-power DRAM developments with both the LPDDR3 and the soon-to-be-released LPDDR4 devices. The LPDDR3 chip in the devices allows for better graphics on large screens, and ameliorates 3D graphics on smartphones, tablets, and other small screen devices. The company's main products include NAND flash memory, dynamic random access memory (NASDAQ:DRAM) and NOR flash memory; particularly where this technology is concerned, Micron has been internationally recognized: in 2012 and 2013, Reuters named it one of the top 100 global innovators. It has also collaborated with such well-known companies as Intel in assorted partnerships geared at furthering its sales. Further, it is not just internationally acclaimed - it is also internationally functional, with facilities located in the U.S., China, Israel, and other parts of Europe and Asia.
Recent Positive Trends:
MU is currently being hailed as a very valuable stock to purchase. While, for example, Micron Technology had a low run evidenced by $0.04 per share in 2013 quarterly results, it has seen significant increase in the value of its share for this year for a value of $0.79 per share due to higher revenues and the stabilizing PC DRAM environment. The upward trend in the value of MU was further forecasted by I Know First's algorithm, which indicated a buy signal for a period of one year. It is pertinent to know that after a year, the stock appreciated by more than 160%; the returns from I Know First Average were 65.8% versus the S&P 500's return of 16.9% over the same time period, indicating higher predictive value for clients to make use of this helpful tool when making investment decisions.
One of the reasons behind the success Micron Technology has experienced is the high margins Micron placed on its DRAM processing chips. Micron was able to employ these high margins without compromising sales because of low market competition. In addition, MU's 2.5-billion-dollar acquisition of Elpida Memory, a major Japanese competitor that accounted for 18% of DRAM market share at the time of sale, further empowered Micron to command high-margin sales. Subsequently, Micron was able to jump from tenth in the industry in terms of revenue in 2012 to fourth by the next year: market prices for DRAM processing chips were already at oligopolistic levels, and Micron market share grew from just over 10% in 2012 to over 28% in 2013.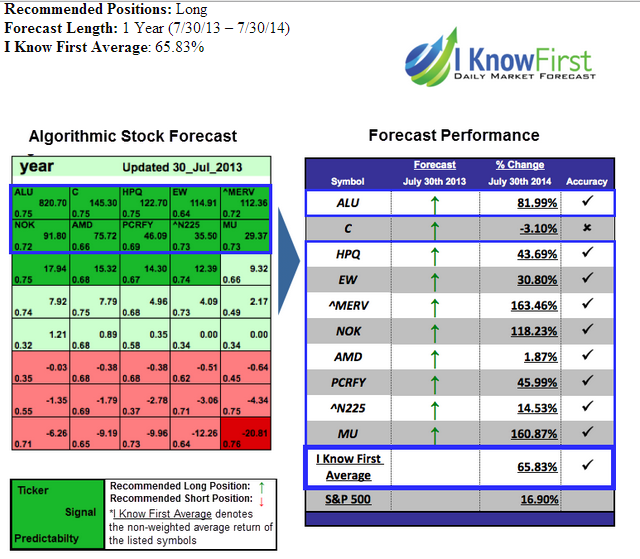 Figure 1. I Know First algorithmic predictions from Jul 30, 2013 to July 30 2014 on the right forecasting MU's explosive growth in advance.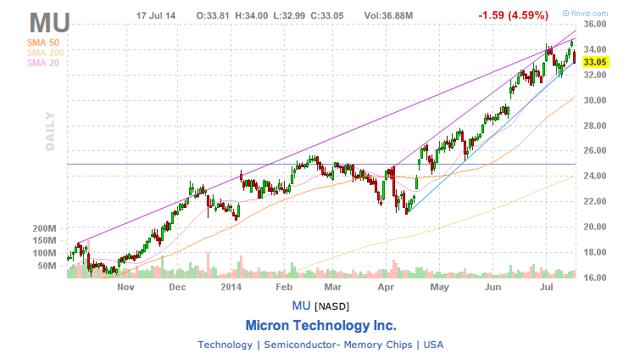 Figure 2. MU share price from Nov. 2013 to Jul. 2014.
As a result of Micron's strong performance and healthy balance sheets, the majority of analysts are, as was previously mentioned, predicting a positive forecast in the short- and long-term periods. Both Bank of America (NYSE: BAC) and Merrill Lynch (NYSE: MER), for example, upgraded MU's rating from "underperform" to "buy". Needham & Company, an independent investment banking and asset management firm, also promoted Micron's rating from a "Buy" to a "Strong Buy". . Yahoo! Finance ranks Micron Technology a 2 out of 5, where 1 is a strong buy and 5 is a strong sell, forecasting the projected mean and median price of Micron Technology at $38.73 and $38.50 respectively.
Moving Forward:
However, there exist reasons why it may not be wise to immediately succumb to MU's success.
While it is evident from the quarterly results of fiscal 2014 that MU believes in continuing its good run in the upcoming quarter, it is important to shed some light on factors that suggest otherwise. One of the main challenges Micron Technology will face is the competition with rival companies, who aim to outpace it by developing newer products and gaining an advantage in the market. Companies that are commonly known for competing with Micron include Samsung Electronics Co. Ltd. (OTC:SSNLF).; SanDisk Corporation (SNDK); SK Hynix, Inc. (OTC:HXSCL); Spansion Inc. (CODE), and Toshiba Corporation (OTCPK:TOSYY). Samsung, in particular, recently launched its 3D NAND in place of the older planar NAND. This advantage in the market inevitably puts Samsung in the driver's seat, allowing it to reap profits while companies utilizing older technologies try to catch up with its innovations.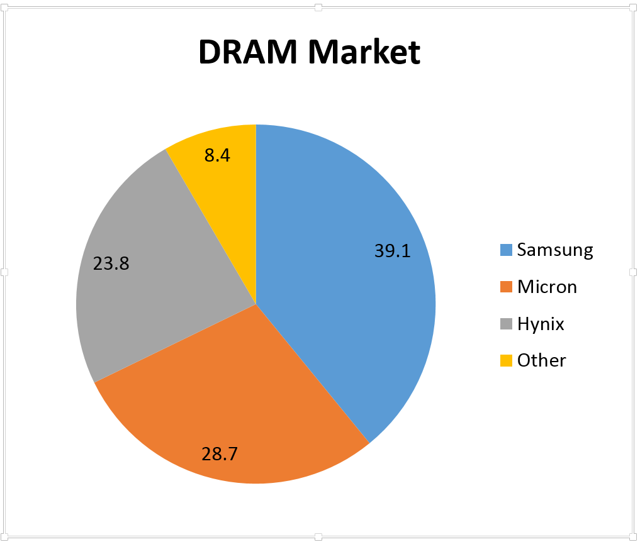 Figure 3. Pie chart of the competition in the DRAM market as of the fourth quarter of 2013. Note that three firms account for 91.6% of market share.
While Samsung is definitely one point of concern as the industry begins its transition to 3D NAND flash, other considerations also exist for MU: considerations which MU itself acknowledges may become problematic.
In MU's latest 10-Q report, for example, Micron emphasized a concern that many analysts are also mentioning in their assessments of the company: namely, that the risk of rapid decline in the average selling prices of MU's memory products relative to its manufacturing costs is quite high. If MU may sometimes have to sell products at below-profit price to go forward with sales, its profits will suffer, and that will lead its share value to drop.

Figure 4. Average selling prices of MU's trade NAND and DRAM products are going down, as evidenced above.
Both Zacks and MU agree that this issue is of significant concern. In Micron's most recent Form 10-k annual report, filed to the SEC on Oct 28, 2013, Micron themselves described the situation: "we have experienced dramatic declines in average selling prices for our semiconductor memory products which have adversely affected our business."
We have already discussed this consideration, but to reiterate: if selling prices drop faster than MU can reduce its manufacturing costs, then MU will suffer.
In addition to this, other risks prevail: MU's success depends on the relative non-prevalence of other companies in the industry, which is highly competitive at the moment. If even one other company succeeds in better adjusting to the changing climate of DRAM prices, then MU's share price may dramatically drop: some even suppose that this is why MU sought to acquire Elpida, the Japanese company that constituted a major competitor to MU prior to being acquired by Micron.
In Micron's most recent Form 10-K annual report, the company also identified its $5.65 billion debt as potentially standing in the way of agreements with certain companies, in addition to diluting earnings. Specifically, Micron released that "Debt obligations could adversely affect our financial condition. We are engaged in a capital intensive business subject to significant changes in supply and demand and product pricing and recent periods of consolidation, any of which could result in our inccurrence or assumption of indebtedness." The only way MU can sufficiently account for its debt while making a profit is to maintain sufficient inward cash flow; again, this success can be challenged by competitors, limited access to external financing, the global economic climate, MU's ability to develop new relevant technology, and other such external and futuristic factors. Especially now, as the industry grows, it will be more and more difficult for MU to meet and exceed estimates in the same ways it has in the past, and this may mean that it will also be harder for MU to make scheduled debt payments and adequate capital investments. Cash flow also, of course, depends upon average selling prices, which, as we have said, are decreasing, thereby negatively affecting revenue.
It should also be noted that, as Reuters emphasizes as early as 2012, Micron Technology has long been a "boom and bust company", so to speak: it has a propensity for fluctuating rapidly. For example, stocks rose to $47.38 in 1995 before crashing down to $8.36 in 1996: an 82% loss. Micron Technology had its dot-com bubble crash too, when stocks nosedived from $91.00 to $16.39 in the span of one fiscal year. Most recently, stocks tumbled from $11.89 to $3.97 in 2011, causing investors to lose potentially two-thirds of their stocks' price. With the bull market that has caused the stock to jump from the $5.43 it was trading at in December of 2012 to $34.02 on July 15th, 2014, historical records suggest a fall soon as the one- or two-year period of MU-related optimism fades.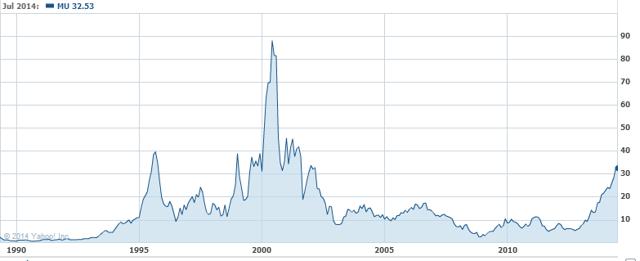 Figure 5. Micron historical prices chart from May 1989 to July 2014.
Algorithmic Analysis
I Know First: Daily Market Forecast provides accurate investment forecasts based on advanced self-learning algorithms to inform and build effective investment strategies. Our market forecasting system predicts successfully across more than 2000 markets, including stocks, world indices, currencies, and commodities. These algorithms - developed on the basis of machine learning, artificial intelligence and neutral networks - were used to forecast Micron Technology's stock price in the 1-month, 3-month, and 1-year time frames as of July 16th, 2014. I Know First algorithms incorporate and analyze variables such as cash flow, trend-analysis, moving averages, and more for purposes of identifying market structure and trends, finding predictable patterns, and producing accurate forecasts. In addition to external qualitative and quantitative analysis performed by investors, these forecasts assist traders in deciding when to enter and exit a trade. Specific trading strategies can be found on our website.
The Micron Technology stock price is forecasted to decline in the 1-month and 3-month horizons, according to our algorithms. In the chart below, MU is surrounded by a blue box atop a dark red background. Dark red hues indicate a forecast of depreciating stock price. The negative number in the middle of the aforementioned boxes represents the direction and magnitude by which the algorithm predicts the stock will move. I Know First algorithms also include a predictability quotient, indicating the level of confidence we have that our algorithm is correct in its forecast; this is represented by the decimal number at the bottom of the stock. Investors can further increase the accuracy of I Know First forecasts by comparing the stock's present signal and predictability to I Know First historical forecasts of the same stock. Further explanations are available here.
The I Know First algorithm currently forecasts that Micron Technology will be bearish in the 1-month and 3-month time horizons, and seems to thus far be accurate. More precisely, note that the forecast was last updated on July 16th; at the moment, on July 31st, MU is still experiencing a negative trend; we successfully, therefore, identified the current negative trend in advance. This lends further weight to the algorithm's predictive ability in the short term.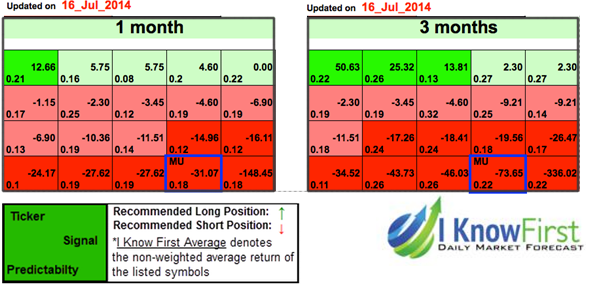 Figure 6. Algorithmic forecast for MU on July 16, 2014: bearish across the 1-month and 3-month time horizons.
Conclusion:
Despite the strongly held belief by most people in the market, who use the results of third quarter fiscal 2014 as a basis to project further optimism and further investments in MU stocks, it seems that MU stocks and revenue will take a hit in the upcoming 1 month and 3 month period, as predicted by I Know First's algorithm. The underlying weaknesses inherent in MU stock stems from the accruing debt, the risk associated with acquiring raw materials for manufacturing of signature products, and the competition with other rival companies such as Samsung. In the long run, however, though this may be hard to comment upon, the company does have a potential to come up strong, as it has demonstrated via its several years of upwards success.
Business relationship disclosure: I Know First Research is the analytic branch of I Know First, a financial startup company that specializes in quantitatively predicting the stock market. This article was written by Daniel Barankin (University of Toronto), an I Know First intern. We did not receive compensation for this article (other than from Seeking Alpha), and we have no business relationship with any company whose stock is mentioned in this article.
Disclosure: The author has no positions in any stocks mentioned, and no plans to initiate any positions within the next 72 hours. The author wrote this article themselves, and it expresses their own opinions. The author is not receiving compensation for it (other than from Seeking Alpha). The author has no business relationship with any company whose stock is mentioned in this article.