Autozone Inc. (NYSE:AZO) has been a top performer in the last ten years with 800%+ returns. Its performance over the last year has also been strong with gains of nearly 75% vs. the stock markets rise of ~13%. Obviously, this recent rise has pushed valuations up, but to get a better idea of where valuations currently stand relative to the stocks history, the chart below shows Autozone's price to sales ratio over the last decade.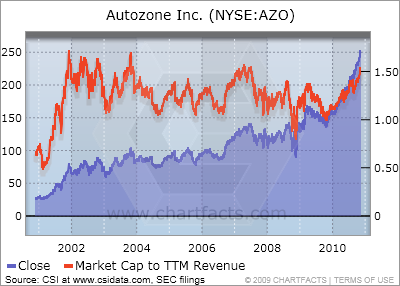 Autozone's price to sales ratio currently stands at 1.51 compared to a 10-year high of 1.71 and a 5-year high of 1.57. This is a level from which any further short-term gains were quickly given back in the past, and intermediate-term returns were not strong. However, Autozone's P/S is only a little bit above the median P/S of S&P 500 stocks, so this may not be very negative for the stock.
One factor that has likely been a large driver of past strong performance, is share buybacks. Over the past 10 years, the number of shares outstanding has been reduced by over 50%.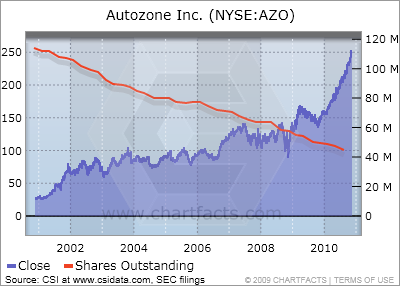 However, there is a good reason to believe that the recent pace of buybacks is unsustainable. In recent years, liabilities have been rising faster than assets, and the book value of Autozone has turned negative.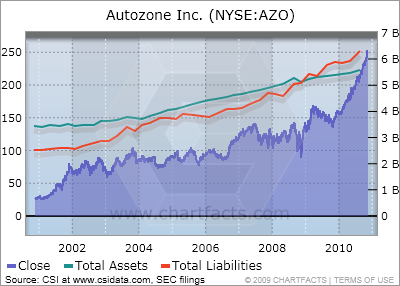 While there are a lot more factors that should go into analyzing a stock before buying, a cursory look shows that Autozone's valuations may be a bit too high and a strong driver of past performance may not push so hard in the future.

Disclosure: No positions