By David Russell
The bulls started shopping at Chico's FAS (NYSE:CHS) yesterday, and they're still in the store.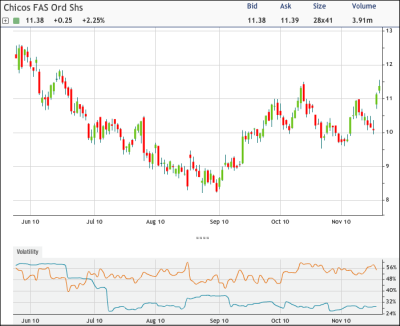 optionMONSTER's Heat Seeker tracking system detected the purchase of about 5,000 January 10 calls for $1.95 against open interest of 4,683 contracts. It comes one day after the specialty retailer rallied 11 percent following a strong third-quarter earnings report.
The shares advanced another 2.25 percent to $11.38 in late morning trading today. They're still down 20 percent in the last six months following a selloff in retail stocks between May and July, but have recently been showing signs of forming a bottom.
CHS's sales momentum accelerated during the quarter ended Oct. 30 and management, said the trend has continued this month.
Some 8,800 January 11 calls were also bought, mostly for $1.35. That's up from the $1 to $1.05 premium yesterday, when approximately 10,000 of the contracts were purchased.
Overall option volume in CHS is almost 4 times greater than average so far today, with calls accounting for 84 percent of the activity.

Disclosure: No position