Sirius XM radio (NASDAQ:SIRI) recently released its quarterly earnings which at first glance seemed very impressive. The shares were indicated to open at $3.49 per share, up over 3% from the previous day's close. From there things headed south as investors were given a chance to fully digest the news. In the article below, I will detail my current thoughts on the company.
Revenue Exceeds $1.0 Billion, Up 10% From Second Quarter of 2013
Net Income of $120 Million
Adjusted EBITDA Grows 31% to a Record $370 Million
Free Cash Flow Increases 42% to a Record $335 Million
Share Repurchases Exceed $1.6 Billion in 2014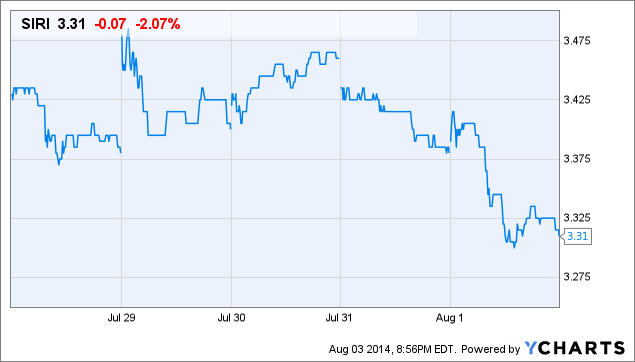 SIRI Price data by YCharts
SIRI press release started off with a bang, as the bulleted points show above paint the picture of a healthy, vibrant company. The 5th bullet point detailing the company's share repurchase activity seemed particularly appealing. The following quote attributed to Jim Meyer, Chief Executive Officer of Sirius XM Radio neatly sums up the repurchase activity.
"Our extraordinary operating performance supported the buyback of over 350 million shares in the quarter, or approximately 6% of our outstanding stock.
Wow! what's not to like here. EBITDA and free cash flow growth with a large portion of it used to reduce the share count. Upon further examination of the share count numbers the appeal of the story fades. As we can see from the table below, yes the company did shrink the share outstanding but notice the diluted share count really didn't budge.
| | | | | | | | |
| --- | --- | --- | --- | --- | --- | --- | --- |
| Net income per common share: | 3 months ended June 30th 2014 | | 3 months ended June 30th 2013 | | 6 months ended June 30th 2014 | | 6 months ended June 30th 2013 |
| Basic | $ 0.02 | | $ 0.02 | | $ 0.04 | | $ 0.04 |
| Diluted | $ 0.02 | | $ 0.02 | | $ 0.04 | | $ 0.04 |
| Weighted average common shares outstanding: in millions | | | | | | | |
| Basic | 5,865,032 | | 6,354,755 | | 5,979,273 | | 6,307,541 |
| Diluted | 6,210,078 | | 6,447,517 | | 6,054,771 | | 6,526,698 |
Figures derived from recent earnings release.
The option overhand issue remains here as the shares repurchased seemed to be enacted on the open market. If we take into account the amount of options that can be converted into shares, SIRI has an additional 345 million shares outstanding. To add further context to the number at a current price of $3.30, the shares are worth over $1 billion.
My original thesis concerning SIRI revolved around the company using their cash flow to aggressively reduce their share count. Capital return plays can be enormously profitable if they are executed properly. One of the key tenets of this strategy is for management to reduce the shares and to exercise some restraint in issuing options which can further dilute the share count. SIRI seems to lack this discipline and I am quite disappointed with them.
I have exited the position with some regret. I had all the intentions of making my SIRI holding an investment, yet I was forced to relegate it into a profitable short term trade. The trade netted me a 5% gain which is acceptable. The proceeds will be used to reinvest in another opportunity in the near future. On a personal note, I continue to enjoy the service and have recently renewed my subscription. I find the service invaluable in keeping up with financial news when I travel. I would like to thank you for reading and I look forward to your comments.
Disclosure: The author has no positions in any stocks mentioned, and no plans to initiate any positions within the next 72 hours. The author wrote this article themselves, and it expresses their own opinions. The author is not receiving compensation for it (other than from Seeking Alpha). The author has no business relationship with any company whose stock is mentioned in this article.
Additional disclosure: Investors are always reminded that before making any investment, you should do your own proper due diligence on any name directly or indirectly mentioned in this article. Investors should also consider seeking advice from a broker or financial adviser before making any investment decisions. Any material in this article should be considered general information, and not relied on as a formal investment recommendation.