By Chris McKhann
The option volume in the SMH semiconductor exchange-traded fund is heavy this morning, but the activity is looking for the downside even as shares rise.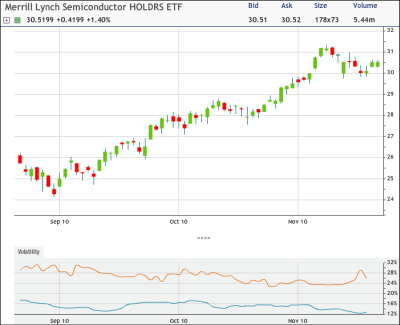 The Semiconductor HOLDRS Trust is up 1.4 percent to trade at $30.54. Shares hit $31.33 last week, their highest level since June 2008. The ETF has climbed 25 percent from the 52-week low at the end of August.
The volume today is dominated by a large put spread. A trader bought 10,000 of the January 30 puts for $1.16 and sold 10,000 of the January 26 puts for $0.23. The volume at both strikes was more than twice the previous open interest.
The spread cost $0.93, which is the trade's maximum risk. It will pay $3.07 if shares are below $26 at expiration.
Usually these types of put spreads are outright bearish bets on shares, using the sale of the lower-strike put to offset the cost of the directional position. But two minutes after the spread traded, 250,000 shares of the SMH were purchased in one print for $30.35.
This would create a hedged structure that will profit if shares move higher or lower from here. Time decay will eat away at the position, so the worst situations would be if shares are right around $30 at expiration or below $18.

Disclosure: No position