After strong production growth in the third quarter of 2010, Canadian oil major Nexen Inc. (NXY) provides 2011 guidance for production volumes and capital investment.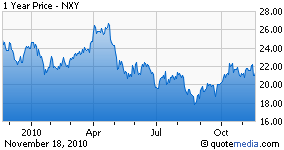 The company expects 2011 production volumes to range between 230–270 MBOE/d (thousand barrels of oil equivalent per day), before royalties and capital expenditure budget ranges between $2.4–$2.7 billion.
Nexen also pointed out that its 2010 production volumes are expected to reach 240–250 MBOE/d level; well within its original guidance of 230–280 MBOE/d. Capital investment for this year will be approximately $2.9 billion. Given recognition of Golden Eagle discovery, Nexen expects reserves addition in the range of 50–100 million barrels of oil equivalent at the end of 2010.
The company prioritizes its 2011 activities that include a continued ramp up of Long Lake, completing the development of Usan discovery with first oil production in 2012, sanctioning discoveries, proceeding with the development of Horn River shale gas lands, securing a contract extension in Yemen and continuing with the implementation of the exciting global exploration program.
At LongLake, Nexen expects annual bitumen production volumes in 2011 to be approximately 38–45 Mbbl/d (net 25–29) as compared with approximately 25 Mbbl/d in 2010.
Nexen's diversified portfolio of exploration and production (E&P) assets provides the company with a multi-year inventory of development projects and a positive long-term production growth profile. It plans to deploy nearly 25% of total 2011 capital budget for the E&P program.
The company is moving ahead with plans to resume exploration program in the Gulf of Mexico. At Knotty Head, Nexen is working closely with Hess Corp. (NYSE:HES) to move the Pony and Knotty Head discoveries toward sanctioning.
While success on the exploration front may improve sentiment on the stock, we think it is a long-term story. Our areas of concern also include the problems on the execution front in the company's line-up of long-cycle projects. All these are reflected in the company's discounted valuation. Our short-term rating for the stock is Underperform with the Zacks #4 Rank (Sell). However, long-term rating remains unchanged at Neutral.